Although the electoral campaign in Argentina has not yet officially begun, the main political parties running for the October elections are already fighting against each other.
The main evangelical organizations, the Catholic Church, the Delegation of Argentine Israelite Associations (DAIA) and a Muslim entity, have asked the candidates to "present their ideas and projects clearly and realistically, without falling into unnecessary aggressions that end up discrediting the proposals" .
PERSONAL AND INSTITUTIONAL TRANSPARENCY
In a joint statement that is unprecedented in the country, almost all the main Argentine religious leaders said that politics "should be altruistic and not be reduced to discredit the adversaries, nor to a superficial game of vain exchanges".
"Personal transparency and honesty, along with transparency in the institutional role of each of the powers, has an indissoluble relationship with the well-being and trust of citizens", they pointed out.
The statement emphasized that "the judiciary in particular should leave no doubt of its full independence and disengagement from the political sphere".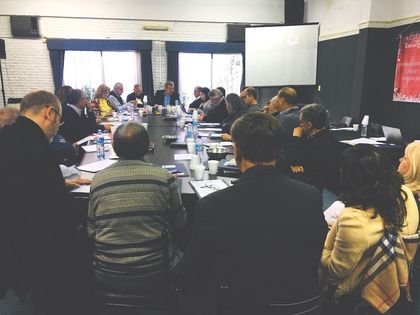 A meeting of Christian Alliance of Evangelical Churches of Argentina (ACIERA). / ACIERA
"THERE ARE PEOPLE BEHIND THE FIGURES"
"Being able to choose our authorities, gives us an unbeatable opportunity to start a dialogue about our present and our future, which represents the hope we have for our country", the religious leaders underlined.
They explained that their "task is to help politicians remember that behind the figures - sometimes they seem to worry only if they rise too much - and of the crises, there are faces, names and stories".
"STATE POLICIES BEYOND THE ALTERNATION"
According to the statement, "the country's major problems, such as structural poverty, drug trafficking, education, environmental crisis, the unemployment, and the inflation, are resolved with state policies beyond the alternation, understanding that the achievements of each period must have continuity".
"The nation has already been founded, it is not refounded every four or eight years", they concluded.
The manifesto is signed by the Presidents of the Episcopate (CEA), of the Christian Alliance of Evangelical Churches of Argentina (ACIERA), of the Argentine Federation of Evangelical Churches (FAIE), of the DAIA, of the Islam for Peace Institute, and of the Institute of Interreligious Dialogue.