Tim Farron, the former leader of the Liberal Democrats in the United Kingdom, is happy to be free "to talk about the Gospel", now that he is no longer in charge of the political party.
The politician defines himself as a "Bible-believing Christian" and described in an interview with British radio broadcaster Premier what were difficult times in front of a party in which many did not accept the fact that he was a Christian.
During the 2017 election campaign, he was frequently asked about his views on homosexuality as a Christian. "The difficulty is that, if you are a Christian, you have a very clear idea of what sin is. It is us falling short of the glory of God". And all people, including Christians are "guilty", he explained.
But for non-Christians, the idea of 'sin' sounds "condemnatory", Farron said. In a secularised society, Christians need to be aware that "we are talking different languages".
Trying to explain the biblical vision of sexuality was difficult for him, mainly because many asked but never really gave time to explain it, Farron said: "You only get 20 seconds to get your message across".
IS THERE AN ANTI-CHRISTIAN AGENDA?
Farron denied some kind of "wicked agenda to get Christians out" of the political arena.
But "there are some, though, that cannot really comprehend how there can be someone with strong convictions, a Christian, and really being passionate about people's rights to make their own choices – essentially, that is what liberalism is".
"In the United States, you have to invent a faith to be taken seriously, but in this country [the United Kingdom] you have to pretend you haven't got one. Both of those standpoints are bogus and ridiculous", he said.
In all this, "the danger is that in society we are now tolerant of everything, a part from the things we don't like".
"NOW I HAVE FREEDOM TO TALK ABOUT THE GOSPEL"
In the midst of the controversy, which hurt the aspirations of his party in the election, Farron at times felt "isolated", he told Premier. "I had a wonderful team around me but, with one exception, there were no other Christians". After the vote, he resigned.
"There is a sense that I now have freedom that I never had as a party leader". He wants to "use" this new role to help give a different vision of Christians in society.
"It is now an opportunity for me to talk about the Gospel, because I can".
"I am a Bible-believing Christian, call me evangelical if you want, who is a liberal and of the left. And that is surprising in both camps, and that is great, because you get a hearing in both camps. And the aim is that the Gospel gets heard".
"Christianity is the acceptance of Jesus Christ as your redeemer and your ruler and you live for him. And that is a legitimate worldview".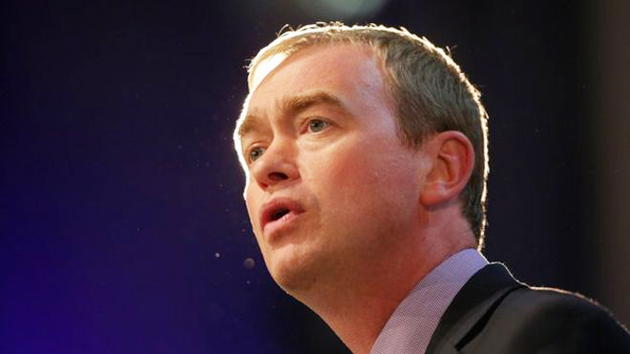 Tim Farron is the former leader of the United Kingdom Liberal Party . / BBC
CONSISTENT CHRISTIANS SEEN AS "PROBLEMATIC"
Farron went on to say that Christians should "not sound like victims", not in a country were there is religious freedom. "Christianity should always be counter-cultural. If you are not persecuted a bit, there is something wrong".
Secularism has changed the atmosphere in Western Europe, Farron analysed. "We are in a situation now, in which the absence of faith is considered to be neutral. Holding a faith is considered to be eccentric and tolerable (maybe even a little bit charming) so long as it does not affect your worldview. The minute it begins to affect your worldview, and is not merely cultural, that's seen as problematic. Christianity is probably not the only worldview that is in that category, but it is the one on the top of the list".
But the Liberal Party "was founded by an evangelical Christian", who was, "its most successful leader".
But though Christians have become a minority, there many people "still believe that they are attacking the establishment, when they attack Christians".
CHRISTIANS SHOULD BE IN EVERY AREA OF SOCIETY
Should Christians have a desire to enter politics? "We have got biblical examples like Joseph and Daniel, people who end up in very senior positions in relatively ungodly societies. So, there is nothing wrong in holding office in Babylon", Farron believes.
"Christianity is living for Jesus Christ, attempting to be humble, forgiving people who don't deserve forgiving, accepting that you don't deserve forgiving but that you have been forgiven".
This way of life is "utterly radical", Farron stated, and needs to be lived out not only in politics but in "any situation you are in, as a parent, as a politician, as a journalist, and as a bus driver".