Around 70.8 million people fled war, persecution and conflict in 2018, 2.3 million more than a year ago. This is the highest level that the UN Refugee Agency has seen in its almost 70 years.
According to the UN Refugee Agency, this figure is "conservative" and likely to be higher, as the 4 million people displaced by the Venezuela crisis "are only partly reflected in the statistics".
Data from UNHCR's annual Global Trends report, released this week, shows that 13.6 million people were newly displaced in 2018, which means that there were 37,000 new displacements every day.
111,000 UNACCOMPANIED CHILDREN REFUHESS IN 2018
Furthermore, "every second refugee was a child", and a total of 111,000 unaccompanied and separated child refugees were forced to survive alone in 2018.
"What we are seeing in these figures is further confirmation of a longer-term rising trend in the number of people needing safety from war, conflict and persecution", said the UN High Commissioner for Refugees, Filippo Grandi.
Grandi pointed out that "we are also seeing unprecedented engagement by new actors including development actors, private businesses, and individuals […] We must build on these positive examples and redouble our solidarity with the many thousands of innocent people who are forced to flee their homes each day".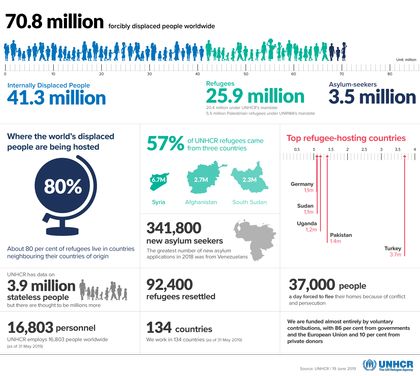 Around 70.8 million people fled war, persecution and conflict in 2018. / UNHCR.
TWO THIRDS OF WORLD REFUGESS COME FROM JUST 5 COUNTRIES
As in 2017, over two thirds of the world's refugees come from just five countries: Syria, Afghanistan, South Sudan, Myanmar and Somalia.
For the fifth consecutive year, Turkey hosted the largest number of refugees worldwide, with 3.7 million people. The main countries of asylum for refugees were Pakistan, Uganda , South Sudan and Germany.
Meanwhile, UNHCR reported that, according to government statistics, 92,400 refugees were resettled globally in 2018 by 25 countries, fewer than 7% of those awaiting resettlement worldwide.
Canada resettled the largest number of refugees (over 28,000) refugees, with the United States coming in second with 22,900, followed by Australia, the UK, and France.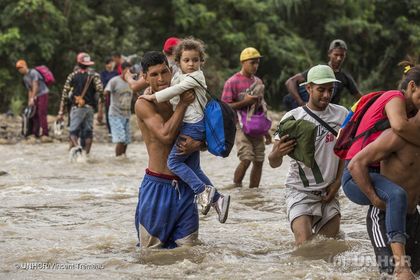 The UNHCR reported that every second refugee was a child. / UNHCR.
REFUGEES, ASYLUM SEEKERS AND INTERNALLY DISPLACED PEOPLE
The UN report identifies three main groups: first, the refugees, people forced to leave their country because of conflict, war or persecution. In 2018, the number of refugees reached 25.9 million worldwide.
The second group is the asylum seekers (3.5 million in 2018). These are people outside their country of birth, who are under international protection but are yet to be granted refugee status.
The third and biggest group (41.3 million) includes the people displaced to other areas within their own country, a category commonly referred to as Internally Displaced People or IDPs.
569 DIED IN THE MEDITERRANEAN SINCE JANUARY
Leaving their countries to look for a better future puts refugees in danger everyday. That is the case of the 22 migrants who are reported to have died in the Alboran Sea, the western Mediterranean between Spain and Morocco, this week.
A ferry travelling between Nador, in northern Morocco and Motril, in the south of Spain, spotted the boat in trouble on Wednesday afternoon and rescued the 27 people who were still on board,of the 49 who started the trip.
According to the International Organization for Migration, 569 migrants have died or went missing since January throughout the Mediterranean, 173 of them while attempting to make it to Spain.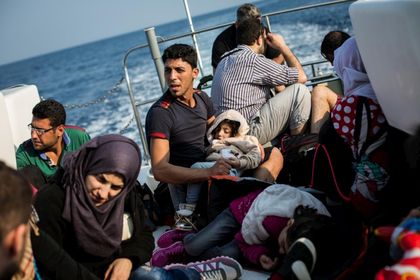 569 migrants have died or went missing since January throughout the Mediterranean. / UNHCR.
A CHRISTIAN RESPONSE: WORLD REFUGEE SUNDAY
The United Nations declared June 20, World Refugee day, and the World Evangelical Alliance (WEA), along with the Refugee Highway Partnership (RHP) has called on churches to participate in the World Refugee Sunday (WRS) on June 16 or 23, the Sundays before and after that day.
"The situation may feel overwhelming, but if local churches take time to pray, to reflect on God's perspective on refugees and displaced people, and then reach out to those in their surroundings who may have been forced to flee, they can make a great difference in people's lives" , said Bishop Efraim Tendero, Secretary General of the WEA.
The WEA and the RHP provide resources for Christians and churches to celebrate that day and make an impact.