Over Easter, 13-22 April 2019 a team of 14 people went to serve at the hotspot and refugee camp Moria under the leadership of EuroRelief on the beautiful island of Lesvos (Greece).
The volunteers came from one church in Casteldefells in Spain and from various cities/churches in Germany.
It was our prayer to see the situation of the refugees from God´s perspective and invest our Easter in the view of the resurrection power. Through media, we had heard a lot about the camp and felt compelled to donate our time to one of the neediest people in Europe.
On arrival, we received an excellent briefing from Andrea Wegener, GAiN Germany/EuroRelief and learned about the situation of refugees:
At present, 68,5 million people worldwide are refugees. Of these, 40 million are internally displaced people. The majority of refugees (57%) are from Syria, Afghanistan and South Sudan. More than 53% are under the age of 18.
The island of Lesvos has 85,000 inhabitants. Now it is home to 10,000 refugees. Through the past years though more than 500,000 refugees arrived on this island as their first European port.
At Camp Moria about 6,000 people live. On average 41 people arrive each day.
It is a military camp laid out for max 2,000 people and sanitation for 800. One can only imagine what this means now for the 6000 people living there. Due to it being military premises no photos were allowed to be taken from the inside.
Andrea was sharing that refugees often experience 3 traumas. First trauma makes them leave their home, the second they experience often on the last few meters before entering the shore (due to water leaks in the boat, coast, waves…) and the third while entering the camp Moria.
Self-harm among the minor boys is a huge issue. More than 50% of them cut themselves.
Alcohol and drugs find their ways into the camp. Girls are attacked and need to be protected.
There is a waiting list of 500 mentally ill people at the camp and people suffer under depressions. They come with all these expectations which cannot be met in Europe.
If we would have gone a year ago, the camp was in a far more disastrous condition. Now only 6,000 people live there and majority comes from a few nations which provides more peace and stability.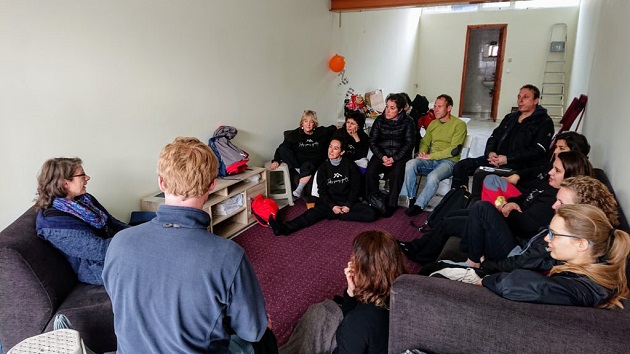 Training session for the volunteers of the team, in Lesvos. / E. Rodemann
Fantastic organisations like EuroRelief, Water Shed, Gateways2Life, All4Aid serve in amazing capacity. EuroRelief has gained great trust from the Greek government and does an incredible job on site. Christian organisations like Greater Europe Mission, Youth with a Mission, Campus/CRU send volunteers and since the start of the refugee crisis more than 5,000 people have come to serve.
Our days were filled with serving in various shifts.
Most of us worked through the day and until after midnight, while the 3 men on the team had to work the midnight shifts.
We did multiple things. A lot of cleaning of containers (the homes of the refugees), of setting up beds, of helping clean tents, hang up blankets as tent dividers, distributing doctor's tickets, did census and checked who lived where, did gate guarding, played with the children and engage with people.
Wherever we were invited for tea, if time was available, we took time to spend with people and listen to their stories. It was absolutely incredible to see the generosity of the camp people in the midst of so much poverty. One hardly dared to take a biscuit but this is how they expressed their appreciation of us being there. They could hardly believe we came and paid it all out of our own pockets.
In our week being there we had 3 boats come in. Our tasks were to welcome them, distribute the first meal, helped them to get their first official papers, housed them in a huge tent with everyone new, set up some tents for the new arrivals who have scabies and needed to be separated. Once the first boat in our week arrived, we had the final confirmation of the need to be present.
Did all these activities make sense to us?
No, but we knew we had come to serve.
Only in our time of debriefing we understood some of the things we were doing. Gate guarding was not only for protection for the people in the different sections but also against human traffickers. One of us had even seen an attempt of a child being trafficked and was able to rescue it.
Cleaning the containers of the people was not just to make it look nice but eradicate all the insulting Arabic writings on the wall which no one had done for the past 3 years, but now there was time. People came to thank us for making their homes nicer and quite a few joined us. This surely added to the fun!
My heart though foremost is not filled with pictures of tents and containers and the strain of living in such tight circumstances, of having to share tents and containers with families and only having a blanket or a tiny wall in between but with images of people we have met.
I think of the children running towards us everywhere wanting to say hi and receive a cuddle. In particular Nura from Somalia, who had her birthday at camp this week and her mum had not a single present for her (she was very upset when she found out).
I will remember the various shifts of gate guarding in section B with the minor boys. 150 of them in rooms and tents in one area. Omar and Nasa were two of my highlights there. First night they were so naughty and tried to either entertain with their music or irritate us. It was so heart-warming when I said good bye to them on the last day and one of them came to apologize.
I will remember Anna from Afghanistan who has a fighting spirit in her. She became a Christian in India and though she is now in camp, has started a WhatsApp group and gets 20+ women to do sports each morning at 6:30h and uploads free books on how to deal with anxiety and trauma.
I will also not forget Fatima who is only 23, a beautiful lady, and suffering under nightly nightmares, lost her mum and dad was killed by the Taliban. She loves going to church on Sundays as this provides rest to her soul.
One of the new arrivals also burnt himself into my heart. He fled via Turkey with his wife and teenage daughter. While getting onto the boat he lost his wife and now has no chance of contacting her and know here whereabouts. Both are without a phone. One can only imagine too well what happens with single women travelling.
In all the injustice and hopelessness we have seen this week, one of the most comforting things for me is the story of one of the first refugees in the Bible, the woman Hagar in Genesis 16, which Andrea shared with us at the beginning. When God encounters her in her greatest need as an Egyptian slave and then fleeing from Sarah, she names the place Jahwe el-Roi, "You are the God who sees me! I have now seen the One who sees me!" What a promise!
God sees all of them. We might be burdened by what we have seen and heard, but God is the one who cares the most deeply and all encompassing. He is the best advocate of the poor and needy.
We pray:
"Lord, may my heart be broken for what breaks your heart!" Bob Pierce
- For politicians to have the wisdom on how to deal with migrants according to how God sees them
- For political parties to fight for justice
- For Christians to volunteer in the various refugee ministries and be the salt and light
- For refugees finding eternal hope in God
If you like to watch the daily vlogs and get some more insights, you can find them here: Day 1, Day 2, Day 3, Day 4, Day 5, Day 6, Day 7, Day 8.
Evi Rodemann, Lausanne Movement. Visit Evi's website.