Diaconia, the social branch of the Spanish Federation of Evangelical Religious Entities (Ferede), has launched a provocative campaign to raise awareness about the so-called 'sugar dating', an increasingly widespread practice that leads to situations of sexual abuse and exploitation, especially for very young women.
"Do you want to be a sugar baby?" , say the posters placed at strategic points in the Madrid underground. The advertising image plays with the appeal effect that several platforms and mobile applications are already using to attract young women, promising easy money and a high standard of living just for accompanying adult men, who are willing to pay for their company.
'Sugar dating' is not a way of looking for a partner, nor is it the classic model of prostitution that has thrived for years in Spain, and which is causing more and more social rejection and is even leading to initiatives in the national Parliament.
It is something more subtle that is sold as a voluntary agreement between adults, a woman with a businessman, but it hides toxic relationships, if not a situation of sexual exploitation and even falling into a prostitution ring.
All of this is explained in detail on the 'Defuse human trafficking' website of Diaconia Spain.The evangelical organisation has been a pioneer organisation in Spain for many years in denouncing human trafficking and sexual exploitation.
Shedding light on a growing problem
According to Eva Márquez, head of Diaconía Spain's human trafficking programmes,"there are practices that have been normalised in our society and are an entry to sexual exploitation. It seems to be clearer in Spain that human trafficking mainly takes place in the context of prostitution. However, there are other practices that can also lead to this problem".
"We believe that this is the first time that there is a campaign to warn about 'sugar dating', which is a way of normalising an unequal relationship, in which a man with high financial power looks for young women to satisfy his pleasure", Márquez told Spanish news website Protestante Digital.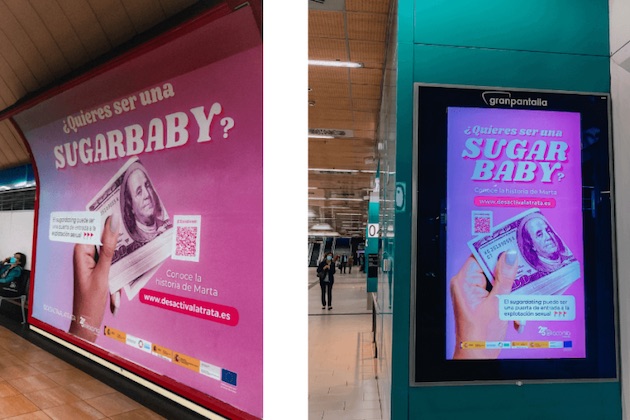 [photo_footer] The posters in the Madrid metro / Diaconía. [/photo_footer]
Social debate
Spain is the fifth country with the most 'sugar dating' users, but it is still a silenced issue.
Márquez recalls that on the day of the presentation, some of the media were interviewing girls in the metro, and they found that "there was a very high percentage of girls who had already been contacted by social media to be 'sugar babies'. It is true that not many of them agree to it, but the offer is becoming more and more present".
The companies that promote sugar dating sell it as a way to achieve dreams, to be free... "Nobody talks about the dangers", adds Márquez.
"'Sugar dating' relationships take place in intimacy, and it is very difficult to access that sphere and then be able to know what is happening in this relationship. It can easily lead to a situation of violence. That is why we want to raise awareness that these are unequal relationships, because as soon as someone pays, there is a power relationship.
Diaconia has been offering training for many years through seminars, talks and visits to schools, as well as directly with administrations, and in the care of people affected by trafficking. Márquez points out that "obviously, not everything is prostitution, not everything is human trafficking, but this practice can lead to situations of coercion and abuse".
Diaconia also offers help to anyone who may be in a 'sugar dating' relationship and wants to break away from it.
But above all, Márquez stresses, "it is important to start a social debate. It has taken years for the prostitution debate to be at the forefront, but there are other practices that are still not present. It is important that we get involved and that the administrations begin to see the problem".