During the celebration of its 40th Federal Congress, the Spanish Social Democrat government party, PSOE, committed to advance the abolition of prostitution, an important proposal put forward by party leaders, who hope to pass a law in the next few years, before the end of their mandate.
It was the first time that the PSOE was so clear about the abolition of prostitution, which remains unregulated in Spain. The road has not been easy, because every time the debate comes up, many call for the regulation of the activity, as if it were just another type of work.
"It cannot be considered a job something that is essentially violence and exploitation, a business based on the bodies of women and girls, and therefore a violation of human rights", Asun Quintana told Spanish news website Protestante Digital.
Quintana is the president of the Seneca Falls Christian platform and of the Women and Society working group of the Spanish Evangelical Alliance, which has called as well for the "abolition of prostitution".
Several voices support the criminalisation of the client as the most effective tool, both to reduce the consumption of prostitution and to protect women who have entered this world deceived or forced by human trafficking gangs.
For Loida Muñoz, head of the A21 Christian anti human trafficking platform in Spain, the proposal for abolition "is positive", although "it must be accompanied by an effective plan that guarantees that all women receive an equal access and opportunities help, and the necessary accompaniment, so that all their rights are ensured and they are not abandoned".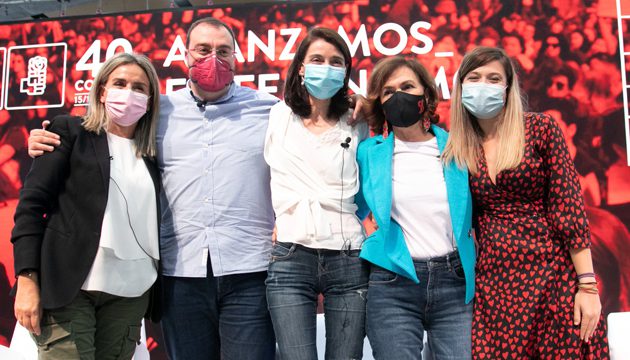 [photo_footer]During the 40th PSOE Federal Congress, a discussion on the party's abolitionist position was organised / PSOE.[/photo_footer]
Prostitution: Violation of human dignity
In response to questions asked by Protestante Digital, Muñoz mentioned a report published by the European Parliament in 2014 that examined the relationship between sexual exploitation, prostitution, and its impact on gender equality.
The report "recognises that prostitution, forced prostitution and sexual exploitation are highly gendered issues and violations of human dignity".
It also points out that prostitution "perpetuates gendered stereotypes" and "have devastating and long-lasting psychological and physical consequences for the women involved, even after they have left prostitution".
The report stresses that "prostituted persons are particularly vulnerable socially, economically, physically, psychologically, emotionally and in family terms, and are more at risk of violence and harm than persons engaged in any other activity".
Furthermore, it shows that "80-95% of prostituted persons have suffered some form of violence before entering prostitution (rape, incest, paedophilia); 62% of them report having been raped and 68% suffer from post-traumatic stress disorder".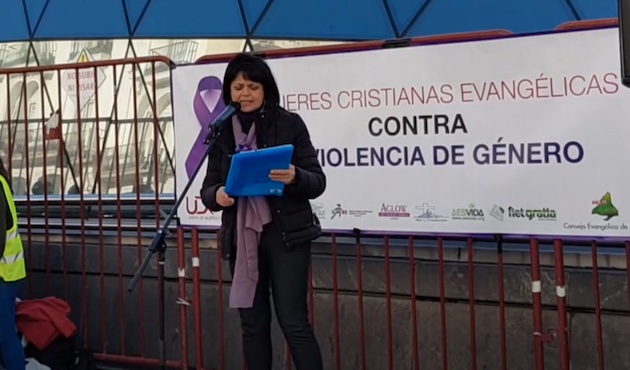 [photo_footer]Asun Quintana, speaking at the event of the International Day for the Eliminarion of the violence against women, held in 2019 in Madrid.[/photo_footer]
Human trafficking, the engine of prostitution
The European Parliament warns that prostitution "feeds the trafficking of vulnerable women and under-age females, a large percentage of whom are between 13-25 years old, both globally and across Europe".
Quintana explains that "human trafficking is not the same as prostitution", although "the two are closely related, as prostitution feeds and promotes the human trafficking. They are like two sides of the same coin".
"It is interesting to analyse the experience of countries such as Sweden, which was the first European country to adopt the abolitionist model", says Muñoz..
The Swedish ambassador recently participated in the #StopDemand event in Madrid, where the results of this policy, imperfect but with evident benefits for society as a whole and in particular for women, were shown.
An appropriate legal framework
Regarding the legal framework, Quintana and Muñoz agree that two laws should be developed: on the one hand, an abolitionist law against prostitution, and on the other hand, a law against human trafficking.
Quintana underlines that "Christian feminist NGOs support the adoption of an abolitionist law against prostitution, which includes measures for the prosecution of the crime (punishment of traffickers, procures and clients), the protection and care of victims, and the prevention (awareness-raising, education and training)".
At the same time, the anti-human trafficking law "should not replace the passing of a prostitution abolitionist law, as it could exclude from its application all those victims of sexual exploitation and procuring, who technically cannot be considered as victims of trafficking: for example, prostituted women who have not been previously recruited for human trafficking, and/or on whom threat, coercion or deception have been used".
Muñoz, who in A21 leads several public initiatives to denounce human trafficking, agrees that "this comprehensive anti-human trafficking law should include all types of exploitation, and should focus on prevention, assistance and protection for victims, ensuring that it complies with the mandate established in the international conventions".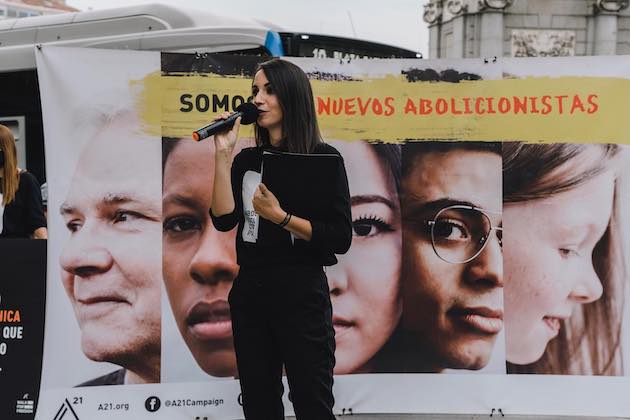 [photo_footer]Loida Muñoz, speaking at the Walk for Freedom 2021 event. /A21 Spain[/photo_footer]
Towards a paradigm shift
The problem with prostitution and sexual exploitation is not only legal. It is a practice that continues to be accepted by Spanish society.
According to Quintana, it is necessary to "educate and change the mentality of society in general about prostitution and the idea of women as sexual objects. In order to do this, we have to work in families, schools and institutes, churches, the health system...".
"Christians should be pioneers in denouncing inequality as an injustice, and in promoting equality as the Bible inspires us", she adds.
In A21 they work "in three areas that we consider strategic: first, reaching out, through prevention, awareness raising and education; second, rescue, networking with the different actors involved in this fight".
"Finally, restoration, where through different integral programmes as well as residential resources, survivors of trafficking are offered accompaniment throughout the process, until they are completely independent".
In this path of offering freedom to those who suffer, we can all get involved in one way or another. "We always ask: What do you have in your hand and how can you use it? What is your sphere of influence? Whatever it is, it can play a key role in the fight against human trafficking", concludes Muñoz.