Just 40 kilometres from the Romanian border with Ukraine is the town of Suceava. The Evangelical Church of Bethel has been involved in welcoming those who cross that border fleeing the war to seek refuge in the neighbouring country.
"There are many people who come to save their lives and seek refuge", Cristian Harasemuic tells Spanish news website Protestante Digital. After 20 years of ministry in Spain, he now serves as a pastor at a mission point of the Bethel Church in a village near Suceava.
He goes to the border customs office practically every day to coordinate and help with the reception of refugees arriving in Romania. "There are no words to describe this", says the pastor.
According to the United Nations High Commissioner for Refugees (UNHCR), there are over 453,000 Ukrainians in Romania, which has become the country with the second largest number of refugees from the Russia-Ukraine war, after Poland. "Many people who are arriving are wondering why God is putting them through this", adds Harasemiuc.
Aid campaign from Spain
The Evangelical Baptist Church of Vilafranca del Penedès in Catalonia, along with the Bethel community, has launched an aid campaign for Ukrainian refugees arriving in Romania.
"It is a privilege for us to serve the Lord by loving in deeds, trying to support what this congregation [Bethel] is doing", says the church pastor, Gabriel Torrents.
One of the main goals of the campaign is to send a container with food and basic goods. "We already have a truck and we need to fill it", he explains.
They are also looking for families willing to receive the people who have already begun to arrive in Spain, as well as financial donations that will be transferred each month to the church in Suceava. "May we be a blessing to all the people who are arriving", points out Harasemiuc.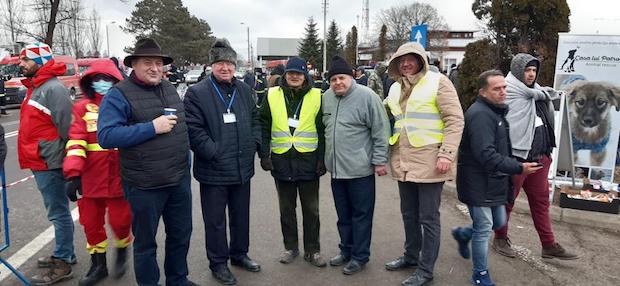 [photo_footer] Pastor Cristian Harasemiuc (on the right in hood and waistcoat), goes almost every day to the border customs to help in the reception of people arriving in Romania. / Briselica Bethel. [/photo_footer]
Interview with Cristian Harasemiuc
Question. What is the situation on the Romanian border with Ukraine?
Answer. The situation here is very bad, very serious. There are many people crossing the border. Besides Ukrainians, there are people of other nationalities coming to the country, such as Indians, Egyptians or Moroccans. Most of them are desperate mothers with their children. There are many people alone who are only coming to save their lives and seek refuge. The situation is very difficult.
Q. How do the people arrive?
A. We have been at the border customs since the first day of the war. We have been with a leader of our church who knows Ukrainian and also has knowledge of the legal procedures. The refugees arriving from Ukraine come with a backpack and a suitcase. It is very cold outside and they come without blankets and food. I can imagine what it would be like to spend your whole life keeping everything and end up leaving with asuitcase. It is hard. They come to an unknown country. They do not know anyone, the culture or the language. If I put myself in their shoes, there are no words to describe it.
Q. You are receiving many of these people in your church.
A. We have already helped more than 2,500 people through our churches. Several evangelical churches that want to help have joined to try to open shelters in every city close to the border.
We set up the Kairos Mission and we have a shelter there, where we take in the refugees. Once there, we ask them about their plans, if they want to go somewhere specific in Romania and what they want to do. We also give them a hot meal and then they are sent to host families in our churches, to another shelter we have or to public transport to travel to Bucharest or to another city in the country. Those who stay, go to the homes of families in the churches who have volunteered to host refugees.
In the church, we have formed teams to pick up people arriving at customs. Other teams are in charge of transport, others of translation and others of logistics, working on finding transport tickets for the refugees who want to move. We are doing everything in the most organised way possible and also trying to involve as many people as possible.
We strive to ensure that the people we pick up at the border can reach their destination safely and with their needs covered so that they can resume their lives.
Q. How are you experiencing this urgent effort as a local church?
A. The church receives the people warmly. It is also very painful to see them, realising the need and the love that we have to offer at this time. But the church has poured itself into this situation. Personally, I am impressed by the families who have offered their house, their car, food, clothes, money and whatever they have. I am proud of all the brothers and sisters in the faith who have offered themselves in this way. I see it in the church, but I also see it outside the church. All the people come to customs to help. It is impressive.
Q. Your church, along with the Evangelical Baptist Church of Vilafranca del Penedès in Catalonia, are coordinating a campaign to collect basic goods to bring them to the Romanian border with Ukraine. How did the initiative come about?
A. I lived in Spain for 20 years. I was part of the Romanian church leadership in the country. We collaborated with Gabriel Torrents, the pastor of the church in Vilafranca, to the point of opening a church in another city called El Vendrell.
I returned to Romania two years ago. Shortly after returning, the pandemic began and now we are experiencing the war in Ukraine. We have always understood that God wants to use us here, and that we can be a blessing to all the people who are arriving, to show them God's love and tell them what Jesus Christ has done for them.
Q. Do people in Romania fear that the war will also cross the border?
A. There is some fear, especially among women. But I think we have to have faith and trust in God. If we are here, we are here to be a blessing. But there are rumours and fears that the war will also reach Romania. We hope everything will be over and that we will be able to continue our lives as usual.
Q. What prayer requests do you want to share with other European Christians?
A. There are many, but above all for the church that remains in Ukraine and for the people who are leaving the country and who come to us saying that they were Orthodox but no longer believe in anything because God has allowed this. Many people wonder why God is putting them through this when they had their lives, their jobs and businesses, paid their taxes and their donations to the Orthodox Church, and they come to the conclusion that God does not exist.
We try to tell them that we are here because God is with us and shows His love and care, and that everything we do is not because we are better, but because we have a God who teaches us what love is.
Pray for the families, especially the mothers. Many pregnant women come to us in fear and trepidation.
Pray for our churches, because this is a test of faith for us, to see if we practice what we know. Pray for our young people, who are also engaging in this situation and it is having an impact on them. Many are asking us to come to the border to help.
Pray for the pastors, because there are big changes in and around our cities. People are talking about invasion and war, and pastors must continue to preach the gospel in the midst of it all. May the Lord strengthen us and may we be a light in all this situation.