Pope Francis visited Morocco, the North African country ranking 35th in the 2019 World Watch List of Open Doors.
During his visit, the head of the Roman Catholic Church applauded what he considers to be a good traditional coexistence between Muslims and Christians in the country.
Francis also praised King Mohammed VI for promoting a moderate Islam, in a country where just 31,400 of its more than 36 million inhabitants are Christians.
"God created men and has placed them in the world so that they live as brothers, respecting each other's diversity and helping each other in their needs", the highest representative of the Roman Catholicism pointed out.
A DIFFERENT REALITY
His words contrast with those of Rachid Souss, a Christian from Agadir who in October 2018 told Evangelical Focus that "we, Christians, still claim our rights".
"In the last three years we have carried out several initiatives, such as writing letters to the authorities, presenting requests with specific demands, but we have not received an answer yet", he then said.
Souss also made clear that "we do not have security problems with the authorities", since discrimination against Christians mainly came from neighbours and was especially visible in the marketplace.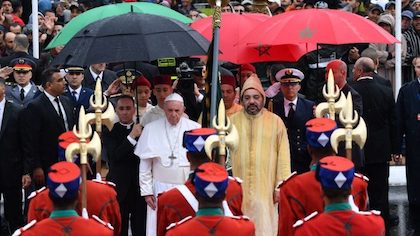 The Pope and King Mohammed VI during the reception at Francis arrival in Rabat. / Vatican News.
MOROCCAN CRIMINAL CODE PUNISHES THOSE WHO "SHAKE THE MUSLIM FAITH"
The Moroccan government fought the problem of fundamentalism in 2004, after a terrorist attack which killed 43 people in Casablanca in 2003.
However, according to Open Doors, the Article 220 of the Moroccan Criminal Code punishes "shaking the faith of a Muslim", therefore restricting the freedom to speak about one's faith - even in the private sphere.
MOROCCO, A MODEL OF MIGRATION MANAGEMENT?
During his visit, Pope Francis mainly focused on the migratory reality of a country through which thousands of people have circulated in the last months to reach the European continent.
More than 64,000 have done so throughout 2018, according to the Ministry of the Interior.
THE POPE AGAINST BUILDING WALLS
"The question of migration will never be resolved by raising barriers, encouraging fear of others or denying assistance to those who legitimately aspire to a better life for themselves and their families", said the Pope, who also congratulated Morocco for its model of reception and protection of migrants.
But Francis seems to ignore the agreement that Morocco recently signed with Spain to stop the arrival of migrants, which allows Spain to return a part of the people rescued to the coasts of the African country, as newspaper El País reported in February.
Additionally, the European Commission has commited to pay 140 million Euro to Rabat to support border management.