Authorities in China have detained the pastor and more than 100 members of a prominent, unofficial church since Sunday Dececember 9, according to media and advocacy agencies.
Security authorities raided the 800-member Early Rain Covenant Church in Chengdu, Sichuan Province at about 6 p.m. on Sunday and also took some church leaders and members from their homes or off the streets, according to the South China Morning Post.
5 TO 15 YEARS IN PRISON
Pastor Wang Yi was reportedly detained on Sunday night for allegedly "inciting subversion of state power", and officials also seized his wife, Jiang Rong, from her mother-in-law's home; her whereabouts were unknown at this writing.
Chen Yaxue, Wang's 73-year-old mother, told the SCMP that the couple's 11-year-old son remains with her while security personnel maintain 24-hour surveillance outside her home.
The charge against Pastor Wang calls for a sentence of up to five years, or 15 years in extreme cases.
Wang has reportedly yet to be allowed to meet with lawyers or family members.
"CHRISTIANS USUALLY CHARGED WITH SUBVERSION"
Advocacy group China Aid said in a statement that Chinese Christians are often charged with "inciting subversion of state power".
"The Communist Party views religion as a threat to their ideological control and, as such, their rule," the group noted.
"However, China's Christians practice their religion peacefully and never intend to threaten government power".
PASTOR WANG OPEN LETTER
Church members released an open letter Pastor Wang wrote in September in which he said he would use non-violent methods to stand in faith and oppose laws that contradicted the Bible and God, according to the SCMP.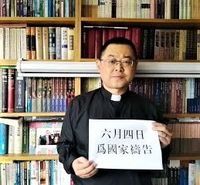 Early Rain Covenant Church pastor Wang./ China Aid.
The pastor had given instructions that the letter be publicized if he went missing for more than 48 hours, the newspaper reported.
"My Savior Christ also requires me to joyfully bear all costs for disobeying wicked laws", Pastor Wang wrote, according to SCMP.
HUMAN RIGHTS ACTIVIST AND PASTOR
He had been a human rights activist and a constitutional scholar before becoming a pastor, SCMP reported.
In 2006, he met with then-U.S. President George W. Bush in the White House.
PRACTICING THEIR FAITH OPENLY
"The round-up in Chengdu is part of a broader crack-down on unofficial or underground churches that Beijing has escalated this year", SCMP reported.
"The moves were bolstered by amendments to the Religious Affairs Regulation that gave grass-roots officials more power to act against churches and impose tougher penalties for 'unauthorized religious gatherings'".
Church members have practiced their faith openly, posting sermons online and evangelizing on the streets, RCMP reported.
Weekly gatherings across more than a dozen meetings in Chengdu draw more than 800 regulars, the newspaper reported, adding that the church also has about 100 seminary students and an elementary school with about 40 children.
USCIRF: CHINA, A COUNTRY OF CONCERN FOR RELIGIOUS VIOLATIONS
The crack-down on the Early Rain church came as the U.S. State Department announced on Monday that it had included China among 10 countries designated as Countries of Particular Concern for severe religious rights violations.
The U.S. Commission on International Religious Freedom (USCIRF) on Wednesday released a statement condemning the arrest of Pastor Wang and the other church members.
"These actions, in addition to the continued systematic repression of Uighur Muslims, Tibetan Buddhists, and Falun Gong practitioners, continue a pattern of escalating violations of religious freedom and other human rights under President Xi Jinping", USCIRF stated.
"USCIRF strongly condemns these actions by Chinese authorities and calls for the immediate release of Pastor Wang and all of his fellow church members".
China ranked 43rd on Christian support organization Open Doors' 2018 World Watch List of the 50 countries where it is most difficult to be a Christian.