A success or a disappointment in the fight for a more sustainable world? The answer after every COP (Conference of the Parts) is always difficult to respond.
What is sure is that COP27 in Sharm El-Sheikh was one in which faith groups, and especially Christians, were more present than before.
This is what Matthias K. Boehning, Co-Director of the World Evangelical Alliance Sustainability Center (Bonn, Germany) told Evangelical Focus as he left Egypt.
Read in the interview below about the ups and downs of the global climate gathering and the role Christians should play in caring for the planet.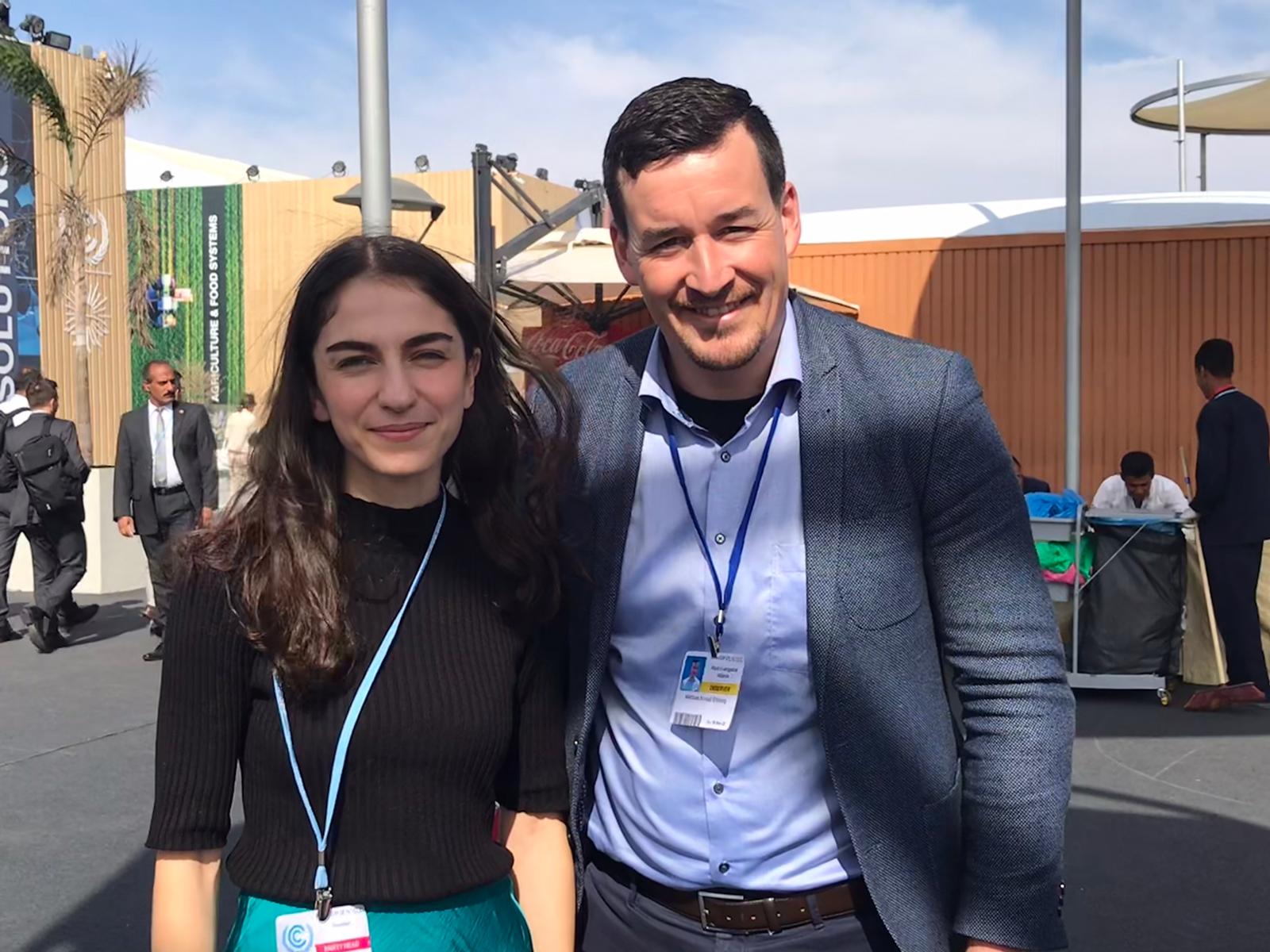 [photo_footer]
Matthias Boehning, of the WEA Sustainability Centre, during Cop 27 in Sharm El-Sheikh, after talking to Sweden's Environment Minister,
Romina Pourmokhtari
. / Photo: Twitter @weasc
[/photo_footer]
Question. From everything you've seen in Sharm El Sheikh, what has encouraged you most?
Answer. Despite the sobering, in part very disappointing, results of the global climate conference, there were many very encouraging aspects in Sharm El-Sheikh. First and foremost, I would like to mention the enormous level of civil society presence and publicity. This was so encouraging precisely because it was a real surprise for many conference participants.
In the run-up to the conference, there was good reason to worry that civil society voices in a country like Egypt, which is not squeamish about human rights groups and other civil society activists, would hardly be heard at all in the context of the climate conference.
Another contributing factor was that while the beach and diving resort of Sharm El-Sheikh is a wonderful tourist destination, it also entails prohibitively high prices for accommodations for civil society organizations with tight budgets. Against this background, it was impressive to see daily loud demonstrations (especially demanding the complete phasing-out of fossil fuels), group dances and even small demonstration marches not only in front of the entrance to COP27, but also in the so-called "Blue Zone" (the inner conference area to which only representatives of accredited organizations have exclusive access). In my personal perception, especially the activities inside the "Blue Zone" were stronger and more extensive than ever before at the climate COPs I have witnessed myself so far.
As a second point, I would like to mention the numerically strong presence of faith-based organizations and their extensive activities (discussion panels, press conferences, thematic events, etc.) within the "Blue Zone". I have been going to global UN conferences for several years now, but I have not experienced such a level and depth of faith-inspired content. And it makes a difference that faith actors are adding their voices: Because solving the problem of climate change is not just about data, technical solutions, and policy tools. The environmental crisis we are experiencing is first and foremost a moral and spiritual crisis that exists at the level of individuals, with their attitudes and views, and adds up globally.
Q. What are the key aims not achieved during COP27?
A. While the decision to establish a global "Loss and Damage Fund" was a "historic victory" of COP27 in the unanimous opinion of government representatives from all over the world as well as the participating observers, unfortunately little progress was made in other areas.
First and foremost is the urgent need for decisive action against the further increase in CO2 emissions. The text of the final declaration does not contain a clear commitment to reduce CO2 emissions globally from 2025 onwards (the latest scientific reports call for precisely this in order to be able to maintain the target of a maximum of 1.5° global warming at all), nor does it contain any further concretization of the goal of globally phasing-down coal formulated at COP26 in Glasgow.
Similarly, the text lacks a clear commitment to phasing out all fossil fuels or strong formulations on the choice of acceptable forms of energy in the further development of countries worldwide. All this is very disappointing and quite a few government representatives (especially Frans Timmermanns, Vice President of the European Commission, and the representative of Australia who spoke for the so-called "Umbrella Group") pointed out in frustration that with the weak decisions of Sharm El-Sheikh, the ambitious path towards a maximum of 1.5° will hardly be able to be maintained.
Q. As an evangelical Christian representative, what were your inputs in the gatherings you have been part of?
A. As World Evangelical Alliance, we were involved in numerous events and activities leading up to the COP and on the ground in Egypt. And were able to effectively bring the perspectives of evangelical Christians worldwide to the conference proceedings. With our World Map of Prayers for Creation we visited country pavilions and informed the representatives of different countries about the location-specific prayers of Christians from their home countries.
In bilateral talks with decision-makers, we delivered the demands of Christians to the climate conference which were collected by the "Renew Our World" campaign. Our Secretary General, Dr Thomas Paul Schirrmacher, was one of the most prominent signatories of a statement titled "Faith leaders urgent call for higher ambition at COP27", which reaffirmed some important positions in the final phase of the negotiations and which was also picked up by the global press.
A personal highlight for me was the personal, confidential conversation with the environment minister of a leading industrialized country, in which I was able to convey that numerous Christians around the world are praying for her and placing their hopes in her for a high level of ambition in the fight against climate change. Visibly moved after our brief conversation, the minister turned back to her documents in preparation for her next appointment.
Q. Are there other initiatives from Christian organisations that you found interesting these days in Sharm-El Sheik?
A. The Christian Renew Our World campaign of Tearfund and numerous partner organizations from a wide range of countries around the world was represented by a large activist group on site and communicated core demands from a Christian perspective in an effective way to numerous conference participants - from the thematic expert to the ministerial level. As WEA, we are part of Renew Our World and support the campaign to the best of our ability.
Likewise, the Christian Climate Observers program was represented by a large group in Sharm El-Sheikh and again did a fantastic job. My WEA colleague Dr. Chris Elisara, Co-Director of the World Evangelical Alliance Sustainability Center, is part of the leadership team for this program.
Beyond evangelical circles, we were involved in the formation of a new Multi-faith/Multisector Alliance for Climate Action. The initiative came primarily from the ACT Alliance and the Partnership for Faith and Development. The goal is to advance concrete collaborative projects between faith-based and secular actors in four areas of action: Systematical engagement of faith-related media on climate issues, Development of a Multi-Faith Just Transition Fund, a Global Energy Access Initiative, and Mobilization of women and youth leaders for achievement of carbon emissions goals through engagement of women faith leaders and their networks.
Q. What would you tell evangelical Christians around the world about the state of the planet?
A. Unfortunately, there is no beating around the bush and remaining vague. The state of our planet is very worrying. If you want to read scientific facts about it, I recommend reading the latest report of the Intergovernmental Panel on Climate Change (IPCC).
With our children in mind, the authors write: "Children aged ten or younger in the year 2020 are projected to experience a nearly four-fold increase in extreme events under 1.5°C of global warming by 2100. Such increases in exposure would not be experienced by a person aged 55 in the year 2020 in their remaining lifetime under any warming scenario".
Those who are more skeptical of climate science can simply take an honest look at the news from around the world about extreme environmental disasters: The devastating floods in Pakistan that killed nearly 1,700 people and severely affected more than 33 million Pakistanis was the worst natural disaster for the country in decades.
And this year's heat wave in Europe led to one of the most dramatic wildfire seasons ever recorded on the continent. Furthermore, 2021 saw Europe's most expensive weather disaster on record, a $43-billion flood that hit Germany and Belgium.
So even without science, we feel it both at home and in the big wide world: climate change is happening, and it has dire consequences for us humans, our economic systems, and our natural environment.
Q. What can be done?
A. We should all internalize on a deep heart level that our current models of economic activity, production and consumption can no longer continue in this way. Faith, science or communal, socially charitable action with other people for other people are three possible approaches to this realization.
In the next step, many ask themselves: What do my small actions contribute to improving the situation? But besides the fact that many individual climate-friendly actions add up globally, this question misses the point. For when we understand deep down that our global model of living is in disarray, we act differently out of conviction and advocate for the necessary change in our political decisions, our purchasing choices, and our lifestyle choices.
The gentle, yet relentless, starting point for this may be for us as believers to reflect deeply again and again on what it means in 2022 to love God (the Creator God who has entrusted us with his precious gift of creation) and to love my neighbor (including my global neighbor who is suffering catastrophically from the effects of climate change in many parts of the world).
[analysis]
[title]
The WEA Sustianibility Centre in Bonn
[/title]
[text]
The World Evangelical Alliance's team working for sustainability is based in the German city of Bonn. The tema is co-lead by Matthias K. Boehning and Dr. Chris Elisara.
They work to represent evangelical Christians and "connect with the United Nations, governments and other (religious and faith-based) non-governmental organizations in order to contribute to the implementation of the Sustainable Development Goals".
A specific working group of the World Evangelical Alliance, "the WEA Creation Care Task Force (CCTF) works to equip evangelicals to care for creation and raises awareness on how to deal responsibly with the environment".
Learn more by visiting the Sustainability Centre's website and Twitter, Facebook and Instagram profiles.
[/text]
[/analysis]
[donate]