Iran ranks 9th in the Open Doors World Watch List (WWL) of countries where it is most difficult to live as a Christian.
According to Open Doors, in Iran 194 Christians were arrested, 114 in one week just before Christmas 2018, and several house churches were raided across nine cities.
Christians in Iran are sentenced to prison terms for holding private Christmas gatherings, organizing and conducting house churches, and constructing and renovating houses of worship, the US Commission on International Religious Freedom's 2019 report says.
IRANIAN POLITICAL CRISIS
Anti-government demonstrations began to spread across multiple cities in Iran in November, and Iran's security forces have responded by killing about 1,500 protesters, according to news agency Reuters.
Furthermore, Iran and the United States came to the brink of war in Januauy, after two weeks of violence killed dozens of Iraqi militiamen and wounded hundreds of U.S. Soldiers.
Although last Thursday the US Senate passed a resolution requiring congressional sign-off for future military actions against Iran, and the World Evangelical Alliance recently called "these countries to resist hostile rhetoric and to de-escalate the crisis", the current political situation of the country does not help Christians either.
"SHARE THE GOSPEL WITH THOSE WHO NEED TO HEAR IT THE MOST"
But there is hope in the midst of the hard times that Iranian Christians are experiencing, and many of them risk their lives to share the gospel and encourage fellow believers to be the light that the country needs.
During three years, Maryam Rostampour and Marziyeh Amirizadeh covertly gave New Testaments to twenty thousand of their countrymen and started two secret house churches, knowing that Islamic laws in Iran forbade them from sharing their Christian beliefs.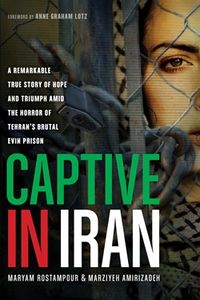 Cover of the book Captive in Iran. / Tyndale.
They were arrested in 2009 and held in the Evin Prison in Tehran, a place where inmates are usually tortured through methods such as threats of execution or rape, sleep deprivation, electroshock, and severe beatings.
"At first we were praying for our release. But after a few days we realized that God had given us an opportunity to share the message of Christianity with people who needed to hear it the most", Rostampour told Al Arabiya English in an interview.
The women shared the gospel with hundreds of prisoners and led Christian prayers. "We were not allowed to have a Bible, but we lived out its teachings in the prison", Amirizadeh said in the same interview.
259 DAYS IN PRSON
"The guards couldn't stop us from talking to prisoners about Christianity and that made them furious. We were already in prison, so what more could they do to us?".
At first, some inmates insulted the women, calling them 'dirty Christians', but later accepted them and apologized for the comments. Even some of the prison guards came to trust them.
"In Iranian prisons, people do not have any rights and it was worse for us because of our Christian faith […] When we got sick and told the doctors our charges were because of our Christian faith, they would refuse to give us medication", Amirizadeh and Rostampour recall.
The women were released after 259 days in prison, following intense international pressure. Despite the oppressive circumstances, Amirizadeh said she felt more free in prison than on the streets of Tehran.
"ONE DAY IRAN WILL BE A FREE COUNTRY"
Rostampour and Amirizadeh, who now live in the US after being granted asylum, continue to speak out against Iran's leadership, and wrote a book in 2014 about their experience in prison, titled Captive in Iran.
"Our message to the Iranian regime is: you cannot suppress 80 million people. You cannot prosecute everyone against you in Iran. There aren't enough prisons for that. We believe that one day Iran will be a free country", the authors conclude.