The 2018 Nobel Peace Prize has been awarded to Denis Mukwege and Nadia Murad for "their efforts to end the use of sexual violence as a weapon of war and armed conflict".
The award was announced Friday at the Norwegian Nobel Institute in Oslo. The recipient is chosen by a committee of five people elected by the Norwegian Parliament.
Both "have made a crucial contribution to focusing attention on, and combating, such war crimes", the committee said in a statement.
"Denis Mukwege and Nadia Murad have put their personal security at risk by courageously combating war crimes and seeking justice for the victims. They have thereby promoted the fraternity of nations through the application of principles of international law", it added.
ACTIVIST NADIA MURAD
Nadia Murad is a Yazidi woman, who was among the around 3 000 Yazidi girls and women who were tortured and raped by Islamic State militants in 2014, and later became an activist for the Yazidi people, campaigning to help put an end to human trafficking.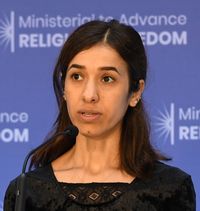 Nadia Murad. / Wikepedia Commons.
In 2016, she, along with Lamiya Aji Bashar received the EU Parliament's 2016 Sakharov Prize in Strasbourg, where she said that "terrorism and radicalism are the enemies of makind [...] Europe must remain as model for the coexistence of people and cultures".
The Nobel Prize statement recalled that "her assaulters threatened to execute her if she did not convert to their hateful, inhuman version of Islam", but "she has shown uncommon courage in recounting her own sufferings and speaking up on behalf of other victims".
DOCTOR DENIS MUKWEGE
Denis Mukwege is a Congolese gynaecologist who, along with his colleagues, has treated victims of sexual violence in his country.
He is very famous in the Democratic Republic of Congo, where some people think that he should not be involved in politics, but just in helping women in need.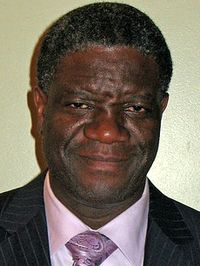 Denis Mukwege. / Wikepedia Commons.
Mukwege lives under the permanent protection of UN peacekeepers at his hospital, after the death threats he received because he has criticised the government for its inaction and involvement in the Eastern Congo conflicts.
"He is the foremost, most unifying symbol, both nationally and internationally, of the struggle to end sexual violence in war and armed conflicts. Mukwege's enduring, dedicated and selfless efforts in this field cannot be overstated", the statement said.
The committee stated that "he has repeatedly condemned impunity for mass rape and criticised the Congolese government and other countries for not doing enough to stop the use of sexual violence against women as a strategy and weapon of war".
EU CONGRATULATE WINNERS
The European Union says this year's Nobel Peace Prize "celebrates the strength, the courage and the vision" of co-winners.
"They worked tirelessly within their communities to bring about change and put an end to the use of sexual violence as a weapon of war", EU foreign policy chief Federica Mogherini pointed out .
Meanwhile, European Parliament President Antonio Tajani commended their "courage and resilience",and said that "in their fight for common human values, (they) richly deserve the Nobel Peace Prize".
COPTIC CHRISTIANS ALSO NOMINATED
There were 331 candidates for the Nobel Peace Prize for 2018, the second highest number ever. Of those, 216 were individuals and 115 were organizations, according to Nobel organizers.
Although the committee cannot revealed the names of the nominees until 50 years have passed; early this week, the development organisation Coptic Orphans announced on its Facebook page the nomination of the Coptic Christians in Egypt.
The prize will be presented in Oslo on December 10, the anniversary of the death of Swedish industrialist Alfred Nobel, who founded the awards in his 1895 will. It comes with an award of $1.1 million.