Iraqi Yazidi Daesh survivors and activists Nadia Murad and Lamiya Aji Bashar received the EU Parliament's 2016 Sakharov Prize during a ceremony in Strasbourg on Tuesday 13 December.
After escaping sexual enslavement by Daesh, they both became spokespeople for women affected by the terrorist group's campaign of sexual violence and for the persecuted Yazidi minority.
Murad, 23 years old, and Aji Bashar, 19 years old, now live in Germany and have become active in raising awareness of the plight of the Yazidi community in Iraq, a religious minority subjected to a genocidal campaign by Daesh militants and of the situation of women affected by the terrorist group's campaign of sexual violence.
"MORE THAN 3,500 CHILD AND WOMEN ARE STILL HELD HOSTAGED"
Aji Bashar started by dedicating her prize to "every woman and girl who has been sexually enslaved by Daesh, and everybody around the world victim of terrorism. All of them deserve this prize."
She remained the audience that "there remain more than 3,500 child and women held hostage as slaves under Daesh. Every day they die a thousand times."
In an emotional speech, Bashar narrated her ordeal at the hands of Daesh and how she was seriously disfigured during her escape, while her childhood friend and another girl died. "I was sold four times by Daesh", she told MEPs.
After all those difficult experiences, Bashar believes she can be "a voice to the victims. And the Sakharov Prize gives me great strength and this is why I have taken the decision to become a voice for the voiceless."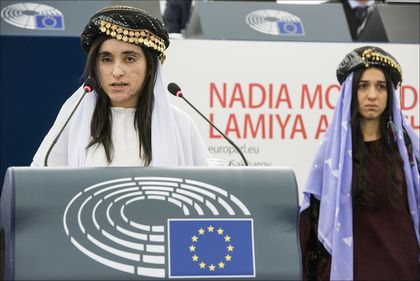 Lamiya Aji Bashar duting her speech. / EP
"THE YADIZIS AND THE CHRISTIANS NEED INTERNATIONAL PROTECTION""
"I asked you, urge you, to promise me, to promise us, that never again will you allow these things to happen, that you will listen to us, so that justice will be done", the Sakharov winner said.
And added: "We need Europe so that we can come back to our country, to build up our country again and feel peace."
"The Yazidis and the Christians need international protection, and some kind of rehabilitation programs", she concluded.
"DAESH COMMITED GENOCIDE"
In her turn, Nadia Murad told MEPs about the day most of her family were killed and she was taken as a sex slave: "Daesh and the extremists came in on the third of August [2014] to erase the Yazidis from existence. They gave us one option: death or [converting to] Islam."
"There is no doubt Daesh committed mass genocide. This genocide did not only consist of killings, it also sought to enslave women in a systematic manner and to take children", she explained.
Murad believes that "Daesh wanted to break our way of living, so they started by killing the disabled, the elders and the women that cannot decide by themselves, then, they destroy places of worship and infrastructures."
"TERRORISM AND RADICALISM ARE THE ENEMIES OF MANKIND"
"Terorism and radicalism are the enemies of makind. I learn from my small comunity that, when we pray every evening, we pray for all the people in the world, before we pray for ourselves."
Murad told the Parliament that "today, my community has disintegrated under the weight of genocide. The half million Yazidis in Iraq are the last members of this community in the Middle East."
"EUROPE, A SYMBOL OF HUMANITY"
"We see Europe as a symbol of humanity, and Europe is indeed confirming that today. Europe must remain as model for the world and a model for the coexistence of people and cultures", said Murad.
She also argued that "we must work with the Islam community around the world, so that they can change the Islam teachings."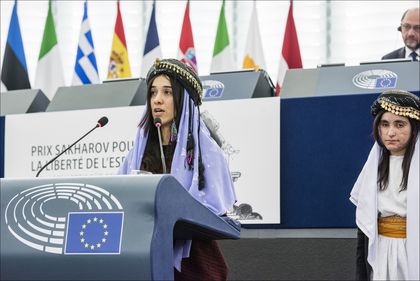 Nadia Murad during her speech. / EP
PROTECTION FOR RELIGIOUS COMMUNITIES
"The religious communities in Iraq must be protected after this genocide . They can be protected through the establishment of a protected zone, under the protection of the international community, in coordination with the Iraqi and Kurdistan governments", Murad declared.
She emphasised the importance of a migration policy: "If the world is not able to protect us in our land, I invite you to open your doors, to provide refuge to a half million Yazidis from Iraq, to organize a mass migration similar to what happened after the Holocaust."
The speeches by Murad and Aji Bashar were followed by a standing ovation. The EP president introduced Aji Bashar´s younger brother, who had been reunited with his sister after 18 months in a camp.
"EUROPE MUST PROTECT PERSECUTED PEOPLE"
During the ceremony, Parliament President Martin Schulz said that "both, Nadia Murad and Lamiya, fight for those left behind. They fight against impunity and for justice."
Schulz stated that the International Criminal Court must investigate the crimes committed by Islamic State and Europe had a duty to protect persecuted people. Although "we, the democratic communities living in more prosperous parts of the world, sometimes refuse however to give this people protection. This is a source of shame. This is unbearable."
THE SAKHAROV PRIZE
The Sakharov Prize for Freedom of Thought was set up in 1998 and is awarded each year by the European Parliament to honour individuals and organisations defending human rights and fundamental freedoms. The prize is accompanied by an award of €50,000.
Nominations for the Sakharov Prize can be made by political groups or by at least 40 MEPs. Based on the nominations, the foreign affairs committee, chaired by Elmar Brok, and the development committee, chaired by Linda McAvan, vote on a shortlist of three finalists.
After that, the Conference of Presidents, made up of the Parliament President and the leaders of the political groups, select the winner.
Last year the prize was awarded to Raif Badawi. The Saudi blogger who has not been able to receive the prize in person is still in prison for hosting online posts that were considered blasphemous by Saudi authorities on his website.