New laws on abortion and same-sex marriage were passed in Northern Ireland on October 22.
In what was the first session in the Stormont parliament in Belfast in over two years, representatives that oppose the change of legislation backed by the Wesmtinster Parliament in London, were not able to stop the application of the new norm.
Abortion will be legal starting on March 2020. During the next five months, abortion will be unregulated.
Until now, abortion in Northern Ireland was only legal in very specific cases. Pro-life groups say that more than 100,000 lives of unborn babies had been saved so far.
Media described the new legislation as the "most liberal abortion regime in the UK". Women and girls in Northern Ireland will be able to terminate their pregnancies up to the point of viability without prosecution.
"WE WEEP FOR OUR NATION AND PRAY FOR OUR LAND"
"Today we lament and mourn. We weep for our nation and pray for our land", said Peter Lynas, Director of the Evangelical Alliance Northern Ireland. "Tomorrow, we will continue to believe that both lives matter. We will continue to speak out for those who have no voice. We will continue to pray and resource the church in is Kingdom mission".
Writing on Twitter, Lynas added that "polling shows the majority of people in NI view this as a bad law being implemented through a bad process leading to bad consequences for women and unborn children".
The Evangelical Alliance and other faith and secular groups have worked together in a number of campaigns to defend that both the live of mothers and unborn children matter.
UNITED WORK OF PRO-LIFE GROUPS WILL CONTINUE
In September, 20,000 walked in silence against this drastic relaxation of the abortion law. "We werere not asked about this undemocratic change, which does not reflect public or political opinion here", they said.
The collaboration between diverse pro-life groups will continue with the aim of revoking the law. "When the Assembly is reconvened, we will work to reverse this bad law".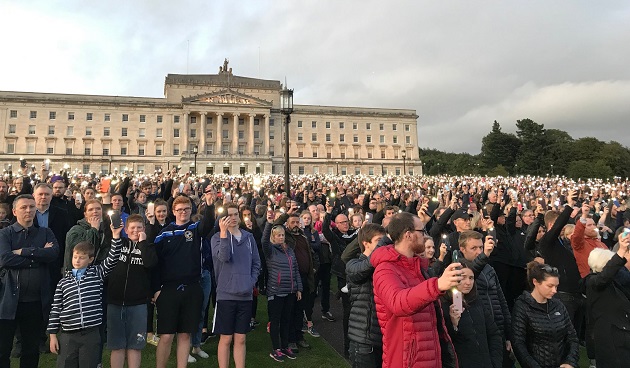 In September, thousands protested in front of the NI Aseembly against the liberalisation of abortion laws. / Twitter @Peter Lynas
'PRO-ABORTION ACTIVISTS TOOK ADVANTADGE OF LACK OF GOVERNMENT'
Co-founder of pro-life group Both Lives Matter, Dawn McAvoy, said: "We have had over 1000 days without government, and pro-abortion activists have sadly taken advantage of that. Their answer to pregnancy crisis is abortion. We say women deserve better than abortion. They deserve to be supported to choose life. So we ask our politicians to not waste any more days".
Meanwhile, the CEO of the Christian group in politics CARE, said: "Today is a tragic day for anyone who supports the value of life in Northern Ireland. (…) This is not progress; it is a retrograde step. The people of Northern Ireland deserve more than this". She added: "We continue to believe that both lives matter and our work to be a voice for the voiceless and to argue for a better way that upholds the dignity of both mothers and babies will go on".