Thousands protested on 6 September against a proposed law change that could legalise abortions in Northern Ireland for up to 28 weeks.
Currently abortion is only allowed under limited circumstances.
NI Voiceless, the group that organised the gathering, said many citizens of Northern Ireland were frustrated because they "were not asked about this undemocratic change, which does not reflect public or political opinion here".
Protesters walked in silence and stopped in front of the Parliament of Northern Ireland, the Stormont. There, they shined lights for six minutes representing the six counties of Northern Ireland.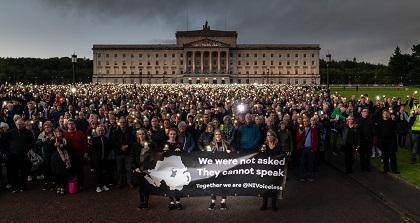 The demonstration ended in front of the Northern Irish parliament. / @NIvoiceless
EVANGELICALS JOIN PROTESTS
Peter Lynas, Director of the Evangelical Alliance Northern Ireland, said: "This was a gathering of all faiths, and none", in which thousands wanted to protest because "we weren't consulted, these people have no voice".
He asked politicians to "go back in there [parliament] and do the business necessary to stop this abortion law coming through because this is not what the people of Northern Ireland want".
Lynas said it was an "absolute travesty" to "impose" the law on the people "without proper regulations".
"We were 20,000 or more people gathered in this place saying 'no', we can't do much more than that, that was our role, to protest. We hand this over to politicians and trust in God in this moment. 100,000 people are alive in orthern Ireland now because we don't have that law".
"We don't want that to change", Lynas added. "We want to be a beacon of hope and a beacon of light instead".
"BOTH LIVES MATTER"
Christian advocacy group CARE also joined the protest. "There is real anger and unrest here about how Westminster has imposed such profound social changes on Northern Ireland without any consultation", the group said. "Our current law on abortion is a life-affirming one and we believe it sends a positive message that both the lives of mothers and babies matter".
Other Christian organisations and churches also joined the protest.
NEXT STEPS
Arlene Foster, leader of the DUP (Democratic Unionist Party, the biggest unionist party in parliament), joined the protests saying people should "stand together" to protect "both lives".
Just after Friday's protest, NI Voiceless called to "stand for the value of human life" by supporting groups that are working on behalf of the unborn, and encouraged people to "serve women and families".
CONTEXT
On 10 July, the United Kingdom Westminster parliament (London) voted to introduce amendments to Northern Ireland's Bill that would introduce big changes in abortion laws - unless the Northern Irish Assembly (Parliament) was restored before the end of October. This is unlikely to happen after two years in which it has not been functioning.
Political representatives, pro-life organisations (including Christians) and individual citizens have raised their voice in the last months saying these changes do not represent the will of the majority of Northern Irish people. Polls say more than 60% are against the approval of the new proposed abortion law.