Scottish Christian churches have lost almost four in ten visitors since 2000. Back then, 620,000 attended church services (12% of population), now only 390'000 do so (7%).
According to the "Scottish Church Census" study carried out by the Brierley Consultancy, the numbers of Christians who are active members of a church in Scotland could fall to 290.000 by 2025.
The study found that 42% of Scottish churchgoers are 65 or over. "This is twice the proportion in the population, and has obvious implications for the future."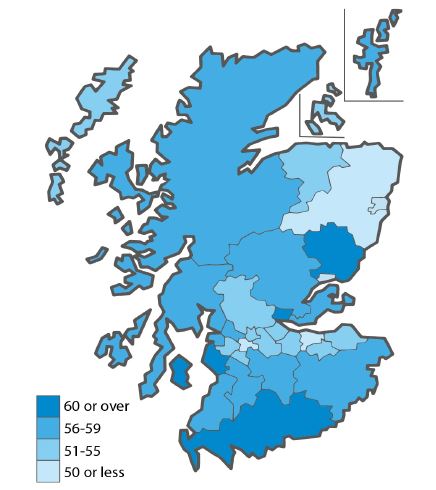 Average Age of Scottish Congregations in 2016. / Brierley Consultancy
PENTECOSTALS AND EVANGELICALS
"A significant finding was the decline in attendance across all denominations except for the Pentecostals where attendance has almost doubled since the third Census in 2002 and stands at 19,000, 5% of all Scottish churchgoers in 2016", the report explained.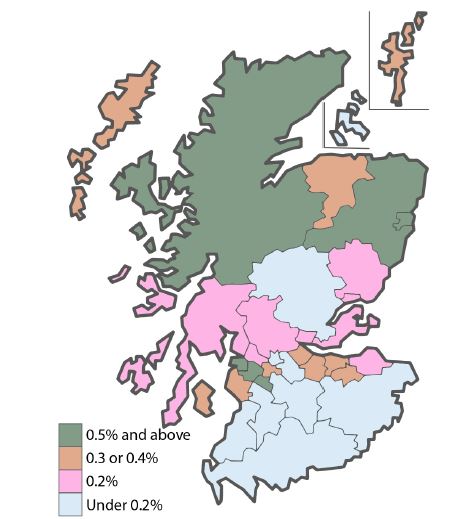 Percentage of Scottish Population attending Pentecostal Churches in 2016. / UK Church Statistics - Brierley Consultancy
The number of evangelicals also grows. "A third (35%) of churchgoers were Evangelical, up from 26% in 1994, while another third, 32%, were Catholic, with 16% Broad/Liberal (twice as many women as men), 13% Reformed, and 4% Low Church."
Catholics and Charismatic Evangelicals are the youngest churchgoers.
The number of congregations in Scotland in 2016 was 3,700, down from 4,100 in 1984.
GROWTH THAT HELPS TO SLOW DECLINE
While many congregations have died out, others have been planted. "Some 12,000 people regularly attend some 300 new churches started since 2002", according to this census.
In addition, "a number of congregations (over 500) reported significant growth over the last five years, leading to an additional 6,000 people in church each Sunday."
"Over 52,000 children also now attend church who weren't born in 2002, making a total of at least 70,000 new people in Scottish church life, 1.3% of the population."

Churchgoers in Scotland in 2016. / Brierley Consultancy
ROBERTSON: MUCH WORK TO DO
In answers to Evangelical Focus, the Moderator of the Free Church of Scotland, David Robertson, said the causes of the fall in numbers have to do with "the increasing secularisation of society, the turning away of much of the church from the Bible as the all sufficient Word of God and the inward lookingness of much of the rest of the church."
The growth of Pentecostal groups is related to the appearance of new "ethnic churches", most of them from an African background, according to Robertson.
"There are churches that are growing, including some Pentecostal but mostly associated with Independents and also the Free Church of Scotland (Presbyterian)." The positive trend, therefore, is not enough.
Read the full "Scottish Church Census" report on Brierley Consultancy's website.