For the sixth year in a row, the French Bible Society (ABF), along with the French Union of booksellers of religious literature (SLLR), organizes the Month of the Bible.
It is a national event that takes place every year in March, "to raise interest in the Bible and make it known to the general public", explain the organisers in a statement.
"When the Bible pushes me towards others"
Over 200 bookshops are taking part in the initiative this year, setting up shop windows in bookshops, installing a special table with Bibles, organising conferences or workshops, distributing books, all under the theme: "When the Bible pushes me towards others".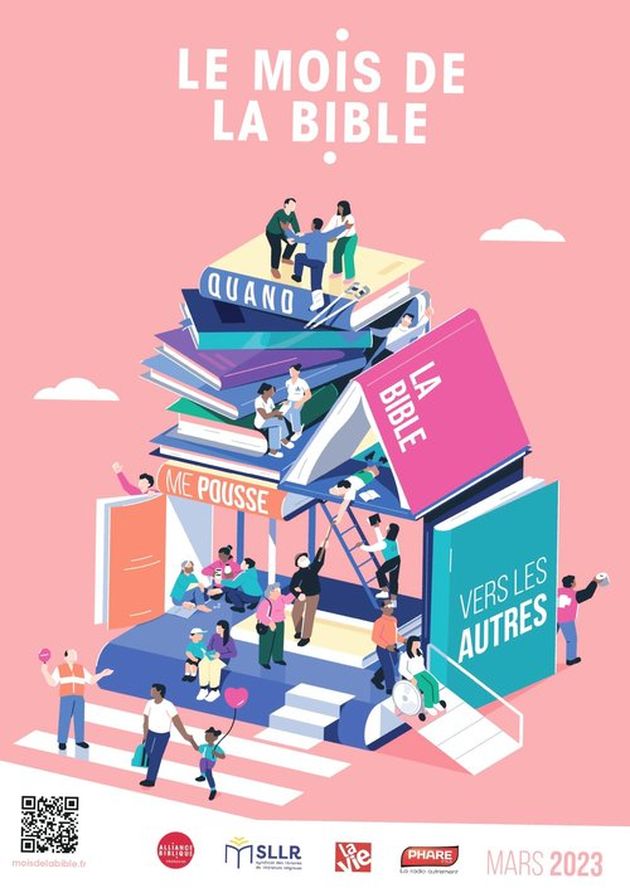 [photo_footer]Poster of the campaign. / ABF. [/photo_footer]
"The event will be an opportunity to show that this multi-millennial work has inspired and still inspires many people to act in favour of their neighbour", pointed out the ABF in a press release prior to the start of the campaign.
The ABF contributes to the project making over 500 posters, 40,000 bookmarks and 30,000 magazines available free of charge to booksellers, who can then distribute them to their customers.
Among the articles in the magazine is an exclusive interview with Dr Denis Mukwege, winner of the 2018 Nobel Peace Prize, who talks about how the Bible feeds his commitment to women victims of rape and violence in the Democratic Republic of Congo. The magazine is also available online.
[photo_footer]The magazine of the campaign. / ABF. [/photo_footer]
Media partnerships to promote Christian social action
In addition to the actions set up in the bookshops, the organisers reinforced partnerships with the weekly magazine La Vie and the radio station Phare FM, to promote the work of Christian solidarity associations with a series of thematic videos.
Furthermore, many other initiatives take place in churches, as well as on the Internet.
The social media of the ABF and the official website of the Month of the Bible will report on the different actions carried out on the ground. The French Protestant Federation also supports this campaign.
You can find more information about the initiative and resources to promote the Bible here (in French)