Early this Tuesday, Russia has announced a new ceasefire and the opening of humanitarian corridors to allow Ukrainian civilians to travel safely from Kyiv, Chernihiv, Sumy, Kharkiv and Mariupol in the direction of their choice.
According to several media, Ukraine began evacuating civilians from the northeastern city of Sumy and from the town of Irpin near the capital Kyiv on Tuesday morning.
"As of 09:30 (0730 GMT), more than 150 people have been evacuated and (evacuation) activities are underway", said Oleksiy Kuleba, governor of the Kyiv region, news agency Reuters reports.
However, the ministry of foreign affairs later denounced that Russian forces were "shelling 8 trucks and 30 buses ready to deliver humanitarian aid to Mariupol and to evacuate civilians to Zaporizhzhia"
The Ukrainian presidency had rejected an earlier humanitarian corridors offer on Monday to evacuate people to Russia or Belarus, claiming it was "immoral" and calling to allow refugees to go to other parts of Ukraine's own territory.
Continued fighting had prevented the opening of the corridors that were agreed between the two sides last Thursday. A second evacuation attempt failed on Sunday after Russian and Ukrainian forces blamed each other for violating the ceasefire.
Furthermore, the Russian government has told Ukraine that it is ready to halt military operations "in a moment" if Kyiv change its constitution to enshrine neutrality, acknowledge Crimea as Russian territory, and recognise the separatist republics of Donetsk and Lugansk as independent states.
Two million refugees
The United Nations Refugee Agency (UNHCR) said that in the first 12 days of the Russian invasion, two million people have been forced to flee Ukraine, seeking a safer place to start again.
The EU Justice and Home Affairs Council approved the Temporary Protection directive last Friday, which grants those fleeing the war "minimum standards of protection and rights, such as residence permits, social welfare, medical assistance, access to education and the labour market, and provisions for family reunification for a period of one year, which can be extended".
However, hundreds of thousands of those fleeing are children, who are unaccompanied or have been separated from their parents or family members. Humanitarian organizations warn that they, along with the large number of women and elderly who have also become refugees, are vulnerable to human traffickers, criminals and smugglers operating in the borders.
Renewed Action Plan Against Migrant Smuggling
According to the Director for European Affairs for the European Christian Political Movement (ECPM), Leo van Doesburg, the directive is not enough and "the EU must urgently implement the Renewed Action Plan Against Migrant Smuggling, which includes measures to prevent families form separation, as search mechanisms to find missing migrants".
"The EU must urgently proceed with assessing the imposition of minimum rules for criminalizing the use of exploited services of human trafficking victims (especially on the field of sexual exploitation)", adds van Doesburg.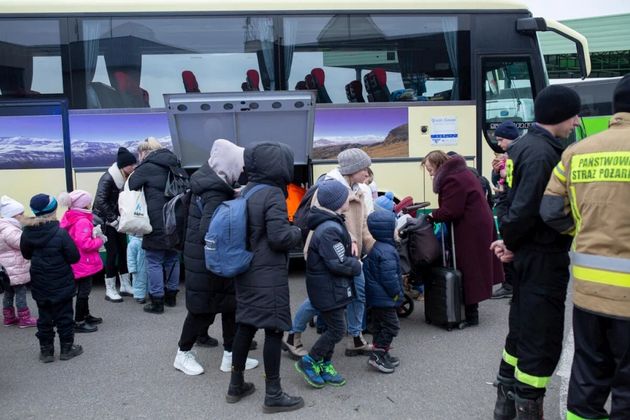 [photo_footer] Refugees from Ukraine, most of them children and women, arrive in Poland at the Medyka border crossing. / UNHCR Valerio Muscella [/photo_footer]
"Heightened risks of violence, exploitation, and abuse"
The international Christian aid organisation, World Vision, has also denounced "the detrimental psychological impact the ongoing crisis in Ukraine will have on children and families".
"We are growing increasingly concerned about the real possibility of children being separated from their parents and families during displacement, without the protection of a caregiver, exposing them to heightened risks of violence, exploitation, and abuse", said Eleanor Monbiot OBE, World Vision's regional leader for Middle East and Eastern Europe.
Lauren Agnew, human trafficking policy expert at Christian charity CARE also warns that "people fleeing the conflict are arriving in Poland, Romania, Hungary, Moldova, and Slovakia, where we know that criminal gangs are waiting to traffic people across Europe and into the hands of exploitative industries".
"Traffickers prey on the vulnerability of displaced individuals, who they see as an opportunity to turn a profit. A crisis like Ukraine is a business opportunity for criminals. We expect a disturbing spike in cases", points out Agnew.
In a statement, CARE calls on "UK ministers to recognise the acute risk of exploitation the people of Ukraine face as they flee war and step-up efforts at home and abroad to challenge this heinous industry".