Over 800 Christian leaders participated in a new edition of the annual European Leadership Forum meeting, which took place virtually, due to the coronavirus pandemic, between 14-20 May.
The online nature of this year's Forum allowed leaders to participate from countries outside of Europe and North America. Eighteen countries from Africa, Asia, Oceania, and South America were represented.
"The event was a great encouragement and inspiration to evangelical Christian leaders from 60 countries. They received specialised training, mentoring, resource sharing, and networking", the ELF organisatinos said.
Specialised training and mentoring
This year there were 25 specialised networks, one of the key points of the Forum, which focused on such diverse areas as Bible teaching, church revitalisation, media engagement, evangelism, organisational leadership, church planting, science, counselling, politics, or youth ministry, among others.
According to the ELF, most of the networks "implemented virtual small groups to build community throughout the week within their network, which was an encouragement to leaders still in the midst of isolation".
Participants were trained in more than 100 additional workshops and seminars by speakers like Wayne Grudem, Ken Sande or Randy Newman, among others.
There have also been over 300 personal mentoring sessions which "allowed participants to talk one-on-one with over 80 experienced leaders in more than 60 mentoring areas", and enabled them "to build community in spite of the unique circumstance we face with Covid-19".
This mentoring will continue in the 25 different year-round mentoring groups that began at the Forum and will carry on through small group webinars and retreats over the course of the next year.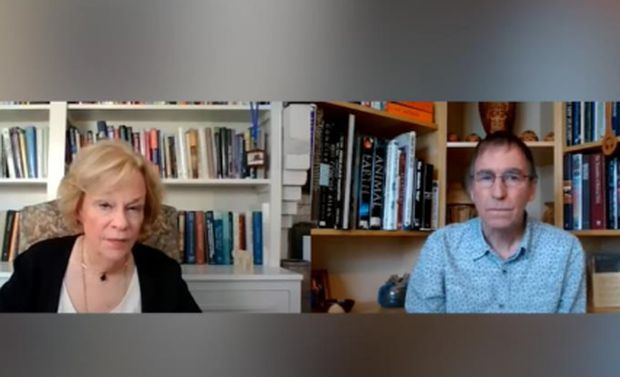 [photo_footer] In one of the evening plenaries, the CEO of International Christian Medical and Dental Association, Peter Saunders interviewed psychologist Diane Langberg. / ELF.[/photo_footer]
Plenaries with well known speakers
Peter J. Williams, CEO of Tyndale House in Cambridge (UK) was in charged of the plenary Bible talks, which this year were on the book of Judges.
He discussed "the fairness of God's judgment and His mercy toward His people, even when they turn away; the importance of choosing wise words and maintaining integrity in our actions; and the call for Christian leaders to unite and stand up in a broken world".
The five evening plenary sessions were given by Pablo Martínez, well known author and psychiatrist; psychologist and trauma expert Diane Langberg, who was interviewed by the medical doctor Peter Saunders; the President of the Southern Baptist Theological Seminary, Albert Mohler; Kristi Mair, teacher of Oak Hill College; and the head of Relational Mission, Mike Betts.
They covered a variety of topics: taking care of yourself to survive in Christian ministry; understanding and responding to abuse of power in Christian leadership; the challenge of living in a post-Christian culture; the apathy of unbelievers to the gospel; and cultivating a healthy life in a church.
"God is faithful"
"This past year, the global church has faced enormous challenges. The Covid-19 pandemic has left Christian leaders feeling burnt out and overwhelmed. Many of us have experienced long-term health effects or are grieving the loss of loved ones. But as we look back, it remains clear that God is faithful", the ELF organisers said.
The 2022 European Leadership Forum is expexcted to take place again in Poland, 21-26 May.