What do you get when you bring together Belgians, French, Germans, Dutch, Swedish, Swiss, British, Italians, Portuguese, Spanish, Brazilians, Egyptians, Peruvians, Americans and Canadians? A feast!
The European conference on Creation Care and the Gospel drew nearly 90 delegates to A Rocha France's Les Courmettes centre near Nice (France), from September 10th-14th, the eighth in a series of regional conferences organised through LWCCN (the Lausanne Movement / World Evangelical Alliance Creation Care Network) and in this case with A Rocha International and the European Evangelical Alliance.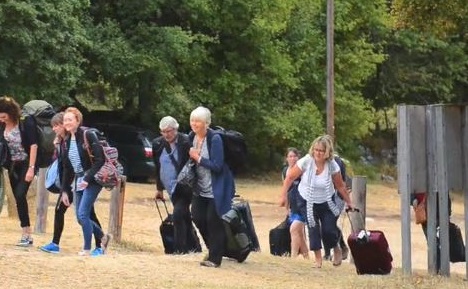 About 90 people from 12 countries attended the conference.
The boundaries of Europe stretched a little with a few attendees from other parts of the world, but that's part of European reality! At a time when Europe faces a range of environmentally-related challenges, the conference was a feast of up-to-date accurate science, biblical teaching and sharing of practical responses fulfilled a vital role in encouraging and equipping Christians to pursue their calling to care for God's world.
We were challenged on life-style choices and encouraged to keep the Sabbath – even activists need to remember to pause, recharge and re-centre in Christ.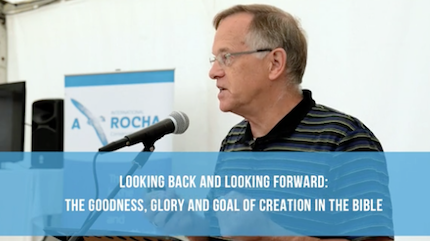 Christopher Wright was one of the many speakers.
"Whatever we do to God's creation either points to, or diminishes, God's glory", Revd Dr Chris Wright, Conference speaker and member of A Rocha International Council of Reference, said in one of the sessions.
Revd Panu Pihkala, Chair of Trustees, A Rocha Finland, emphasised: "We need courage to walk through the dark night of the planet with hope".
Watch this video summary of the conference (6 min.):
The feast continued beyond the meetings themselves, with chef Shelley Spruit serving up a delicious vegetarian spread each mealtime using locally grown and sustainably sourced ingredients. Many committed carnivores were converted to the potential of tasty, meat-free meals! This embodiment of the values discussed gave the week a wonderfully holistic connection of thinking and doing.
People went home inspired to speak out for creation at home, in church and in the work place, and to connect nationally and regionally.
For example, two Swedish couples who attended are planning a creation care conference in the spring. The Dutch delegates are involved in ensuring creation care will be part of Mission-Net, a large youth mission conference in December.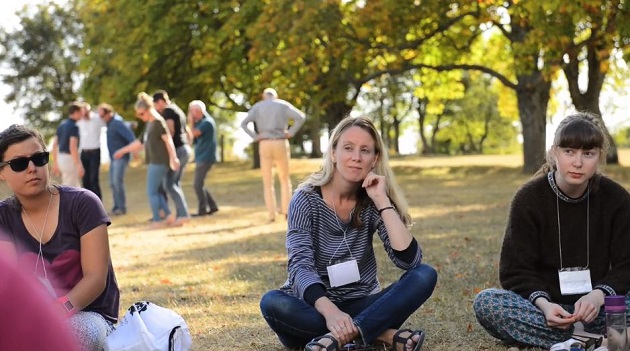 Discussions in groups.
The hope and prayer is that the connections made at the conference will endure and grow, and that caring for the places where we live becomes a hallmark of the Christian church in Europe. Most movements that have changed the world (and the Church) have started tiny, but with God's blessing have had a massive effect: think mustard seeds, yeast, and the impact of a few Reformers 500 years ago!
We had good representation from 12 European countries and it's realistic to hope and pray that this conference will lead to significant impacts in those countries.
ENCUESTA
Nature
Is creation care seen as a priority in your church?
Yes.
29%
No, but it should become one.
48%
No, I believe this issue should not be a priority.
23%
Encuesta cerrada. Número de votos: 117
VER MÁS ENCUESTAS