Spanish biologist, theologian and author, Antonio Cruz, has just published his new book, an Encyclopaedic Dictionary of Animals and Plants of the Bible.
It is a beautifully illustrated work which contains around 800 images, taken by the author over four decades on his own travels to the biblical lands, "that give the reader an immediate insight into each concept", says the publisher, Clie.
The book analyses in detail the over 300 animal and plant species mentioned in Scripture, from the point of view of the natural sciences, philology and biblical languages.



It also provides references of great theologians, who throughout history shared their opinions on some of those species, as well as several devotional applications for biblical study and preaching.
Many of the dictionary entries were published weekly in the Zoé section of Evangelical Focus magazine, translated by Roger Marshall, and have been among the most widely read.
So far, there has been no similar publication in Spanish, nor in English, so that the publisher is working on its publication in English as well.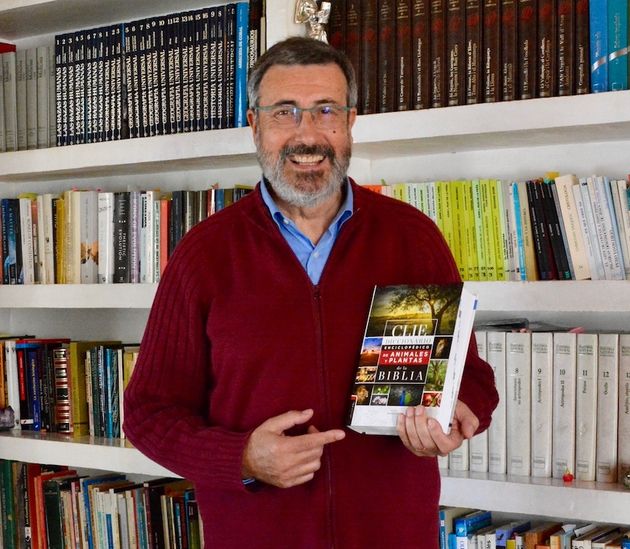 [photo_footer] Antonio Cruz with his latest book. [/photo_footer]
Why a dictionary of biblical animals and plants?
The publisher explains that "the Bible was written in Aramaic, Hebrew and Greek thousands of years ago. Each biblical author used terms he knew to refer to plants or animals in his environment. Those words have been translated throughout history by other terms familiar to the translators of the time".
"Sometimes the translation of certain names did not correspond to the original idea because some species in the biblical regions were unknown. For example, some European translators had never seen the hyraxes of the Holy Land and mistranslated the Hebrew word shaphan as rabbit", it adds.
According to Clie, "this dictionary is a scientifically proven revision of those original words, so that the modern reader can understand their exact meaning. It is a key work for correctly interpreting the message of the biblical text, applying it to our present-day reality".
Many entries include commentaries by great theologians as well as very useful devotional applications to deepen the application of the biblical message. That is why "it is an essential book in the library of every student of the Word of God".
Animals and plants in the Bible
The dictionary talks about God's purpose for the animals and plants of creation, as well as the symbolic value they had in the religious system of the people of Israel.
It provides a list of the worthy species used in the ancient sacrificial ceremony, the nutritious foods of the time, and detailed, full-colour pictures related to the biblical text.
Furthermore, Clie underlines that "etymological definitions of the species bring clarity to the recognition and identification of them".
"The system of Old and New Testament references, as well as the indexes of common and scientific names, make this work an up-to-date encyclopaedia for anyone interested in the flora and fauna of Scriptural times", it concludes.
[donate]