The school day is coming to an end in a villa outside of the big city of Fort Worth. Luke and Seth are sitting in separate rooms with their textbooks.
"I work on poetry," says Seth, 16.
Luke, 13, says that he is particularly interested in science, especially astronomy.
Worked in school
Johnita, 47, is the boys' mother and has a work table in the living room. At this table she evaluates the academic development of her students.
Currently, her husband, Joshua, 46, is on leave from teaching in his job as associate professor of Old Testament at Southwestern Baptist Theological Seminary. Because of this, they can talk more about the teaching.
Their daughter Brooke, 18, has finished her high school curriculum and has started college in Missouri, the state where her mother was born.
"I was a teacher before we had kids," says Johnita.
Had to change her mind
Until 2017, she concentrated on teaching and other tasks at home. Then she started her own business selling microfiber washing products from the Norwegian manufacturer Norwex.
Both parents came from Christian homes but attended public school for all 12 years.
"I knew that I was never going to do home schooling. It was strange people who did it," says Johnita.
Almost doubling
The proportion of American families who home-schooled increased in the period from 1999 to 2012 but stabilized at just over 3%, according to figures from the U.S. Census Bureau.
During the pandemic, the numbers skyrocketed. In the spring of 2020, the proportion was up to 5.6%. In the fall of the same year, it was up to 11.1%.
The proportion was highest among Black Americans, at 16.1%.
Growing classes, concern for children's safety due to school shootings and religious beliefs are among the reasons highlighted in a recent report on CBS. Several major media outlets have mentioned the trend.
In the 2020-21 school year, 3.7 million American children were home-schooled. That is an increase of more than 1 million from the previous year, according to figures the channel has obtained from the National Home Education Research Institute.
Professor Cheryl Fields-Smith, who does research in home education, cites excessive regulation of children in school, combined with a lack of good teaching, as a reason.
"Home schooling is a refuge because the children are protected from such a school environment," said Fields-Smith to CBS.
Impressed by a friend
What changed that made the Williamses choose home schooling?
"I had a friend who had five children. And I was impressed by her," Johnita says. "I asked her if there were any books she had read to decide whether to home-school."
She was recommended the book "For the Children's Sake." It described how much of everyday school life is spent doing unnecessary or unproductive things, including standing in lines.
"I could recognize this from my own experience as a teacher. The children could learn to stand in line at the grocery store."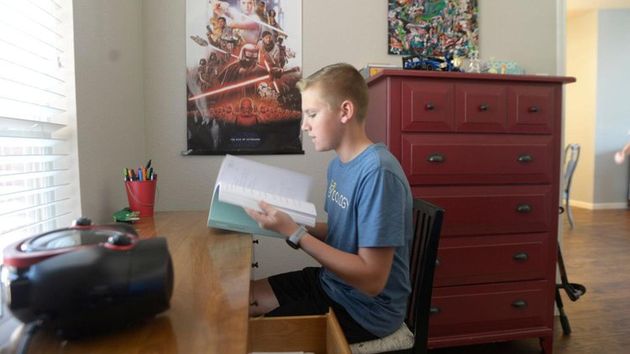 [photo_footer] Luke Williams, 13, is interested in science. Photo: Tore Hjalmar Sævik. [/photo_footer]
Mixed feelings
When the time came for their daughter to start school, Joshua thought they should teach at home.
"Two of the arguments were, you are a great teacher, and no one loves our children more than you do," says Johnita.
Joshua elaborates that he thought his daughter was young to be gone seven or eight hours a day.
Johnita nevertheless does not hide the fact that it was demanding to be responsible for a baby and a 3-year-old at the same time as a first-grader had to learn to read.
"Some would say that it is an advantage that I am a teacher, but I don't always know if it is an advantage. It didn't always feel like it was a good school," she says.
Reading a lot out loud
Reading aloud was one of the things they spent a lot of time on.
"Reading is the most important thing they learn in first and second grade. If you read well, you can learn most things yourself," the father says. At first, Johnita had no contact with other home-schoolers, but eventually she joined a group that meets once a week.
Triathlon and piano
The first question they get from people who are strangers to home schooling is what it does to children's social development.
"They get to join others in sports and activities in the church," Joshua says.
"Our children are social too. It's not like they shouldn't be with others."
Luke plays the piano and participates in a training program called Speech and Debate.
Seth works as a lifeguard and does triathlons. He has taken an interest in Bergen in Norway since a competition with the top international athletes was organized there at the end of August..
'Not driven by fear'
Both parents are aware that some people do home-school out of fear.
"We were not afraid to send them to school. That was not our reason," she says.
"Do you think that home schooling is generally a good idea?" I ask.
"Some are very rigid and say it is the right thing to do. We say that it depends on the children and the situation," says Joshua.
"I don't want to tell anyone that they should do home schooling," she emphasizes. "It's so hard to do that. I don't want to push it on anyone.
Trying school in Germany
Joshua points out that the U.S. is characterized by increasing polarization.
"It seems that schools are a place where this is expressed," he says.
The father points to a dispute about which values should characterize everyday school life. He understands that conservative Christian parents may be concerned but still believes that fear is a poor reason to pull out.
"It is not healthy. I think it may be a lack of trust in God," Johnita says. "It is not healthy to keep your arms around the children all the time to protect them."
For one year, Joshua had a research stay in Germany. Home schooling is prohibited there. The two children of school age had to go to school, which the parents thought worked well, partly because the school day was not that long.
Wanting to quit
The couple evaluate the experience every year and so far have agreed to continue each time.
"What is difficult about this form of education?" I ask.
"I like being their mother, but it is not easy being a mother and a teacher and assessing the work they have done."
Johnita is trained to teach up to seventh grade. This has meant that teaching for middle school and high school has been academically demanding for her.
"There are many days when I haven't felt like continuing, to be honest," she says. "But I think it's best for my kids. And I feel called to do it."
Struggles with selfishness
Sometimes she has been tempted to call her husband at work and say she wants to enroll the children in the school across the street.
"What would you do instead?" I ask.
"Selfish things. I would rather sit and read books, have lunch with friends and work," she says. "I feel very torn between my own wishes and the children's needs. But I have those things in the future. It is such a short time that we have the children with us."
Starting with the Bible
Routines have been important in their everyday life. Since there is always more housework that could have been done, and the children often want to play more, she is keen to start at certain times.
"We start by reading something from the Bible and setting up some things I want each of them to learn. Then I rotate a bit and teach individually while the other two have worked together or separately," she says.
The lunch break is for one hour. Around 1 o'clock, the day is over.
Johnita started out using a Christian home-school curriculum called Classical Conversations. She emphasizes that in her home education, unlike public school, the kids read quality literature.
"Many of the subjects are integrated with each other and characterized by a Christian understanding of reality," she says.
Break on the trampoline
To ensure that the children have good professional development, they complete various tests and receive grades but no more than necessary.
Home schooling is legal throughout the United States, but Texas is one of the states with the least regulation, according to the Homeschool Legal Defense Association.
It is up to the parents to ensure that their children are ready for higher education.
Although the parents are concerned with good professional development, they emphasize that variety is also needed.
"Sometimes I say they can jump on the trampoline or go for a walk in the neighborhood," says Johnita.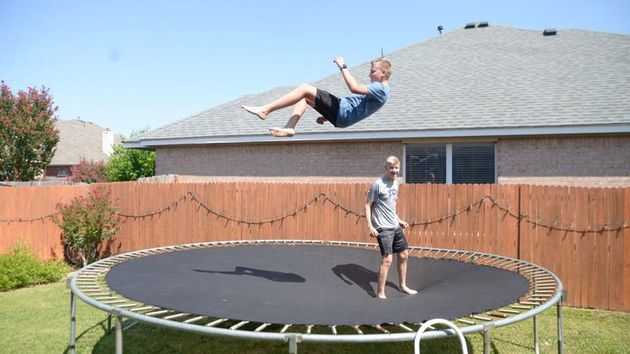 [photo_footer] The trampoline in the families backyard is used a lot. Photo: Tore Hjalmar Sævik. [/photo_footer]
Looking outside the family
Air conditioning inside and near-constant good weather outside create good opportunities for both concentration and variety.
The parents are not only concerned with professional development but also personal education.
"We have tried to have a clear purpose in teaching them to look people in the eye when they speak, give a firm handshake, take others into account and serve them," the mother says. "It shouldn't just be about us and what happens in our family."
"How do you evaluate if the choice you made was good?" I ask.
"It depends on what happens in the future," Joshua says. "But it is very encouraging with Brooke. She has adapted to the new situation as a student very well."
Productive citizens
When it comes to the task of being a parent, what he thinks about is making arrangements for the children to be "productive, God-fearing contributors to society."
As conservative Christians, they do not hide the fact that there are contemporary developments that they are not happy about. Technology's lightning-fast evolution, fluid understanding of gender and lack of respect for authority are three examples.
"But God is not surprised by any of this," Johnita says.
They do not want to opt out of society but fear for cohesion.
"Something must change if the United States is to remain one people," says Joshua.
At the same time, he has learned that most people are more sociable and understanding than the media show them to be.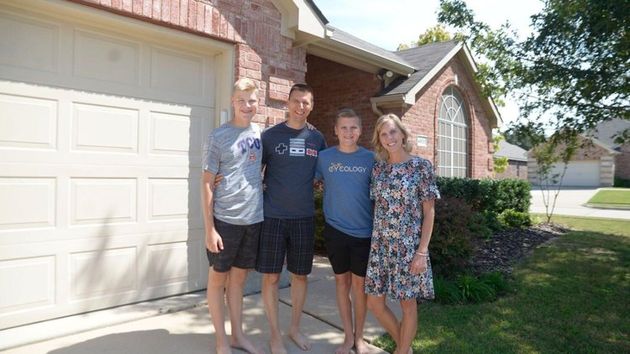 [photo_footer] The Williamses' daughter Brooke, 18, has moved out to go to college, but Seth and Luke are still home-schooled. Photo: Tore Hjalmar Sævik. [/photo_footer]
No guarantees
So how do they prepare the children to live in this very polarized time?
"We pray for them," says Johnita.
"We also think that there are some fundamental values that we want them to care about and, on the other hand, have respect for others," her husband adds. "They need to know what they believe in and be willing to talk to people who disagree with them.
"We have no guarantees, but the blessing lies in the fact that we have been obedient to the calling that God has given us," Johnita says.
Read the first , second and third articles of this series.
Tore Hjalmar Sævik works as a journalist at the Norwegian Christian newspaper Dagen. Some articles from a trip to the US this autumn were translated and republished by Religion Unplugged. The trip to the USA to write this series was supported by the Fritt Ord Foundation in Norway