Last Tuesday, the explosion of 2,750 tonnes of ammonium nitrate unsafely stored in a port warehouse, left more than 140 people death and 5,000 wounded in Beirut, Lebanon.
Since then, many Christian organisations and churhes in the country have started to work in the ground, to help those who have lost everything, including fellow churches that have seen their premises shaken and even destroyed.
"Seeing Lebanese come together to clean the city, and aid one another is a sight that brings a new breath of air. Churches and NGOs, even though directly affected by the blast themselves, are also present to serve others in every way", Arab Baptist Theological Seminary Development and Partner Relations Manager, Loulwa El Maalouf, told Evangelical Focus.
"It devastated the hospital where I worked, my apartment and my university"
Trivina, a young Christian student who collaborates with her parents in the Christian organization 'Together For Family', which works with refugees in Lebanese camps along with Spanish evangelical NGO, Alianza Solidaria, recalled how she lived it.
"I took the car and went towards the port and the hospital where I am doing my internship. After finishing the day, I went back to my house, but I didn't want to be alone and I went to my parents' house. Then, a great explosion shook Beirut".
"It devastated the road I crossed that morning, the hospital where I worked, my apartment and my university. That night, the people of Lebanon did not only sleep with a pandemic or an explosion, but with a very bad economic situation, poverty, hunger and collapse", she added.
A explosion in the midst of a big crisis
"Lebanon is currently under several layers of crises. To begin with, Lebanon hosts the highest number of refugees per capita. In addition, our governments have been deeply rooted in corruption for decades resulting in a severe economic crisis", El Maalouf explained.
Furthermore, "a pandemic left many jobless with no source of a livelihood. And now an explosion that devastated Beirut in an unprecedented way. Many are dead, many are still missing, thousands are wounded and thousands have lost their homes. At the first glance the situation looks hopeless", she added.
"The horrific explosion wasn't an isolated incident in an otherwise stable country. Lebanon is in the middle of an economic crisis. Now, this explosion has taken out the primary port of a country that desperately depends on imports for survival", Marwan Aboul-Zelof, pastor of City Bible Church in Beirut, wrote in The Gospel Coalition magazine.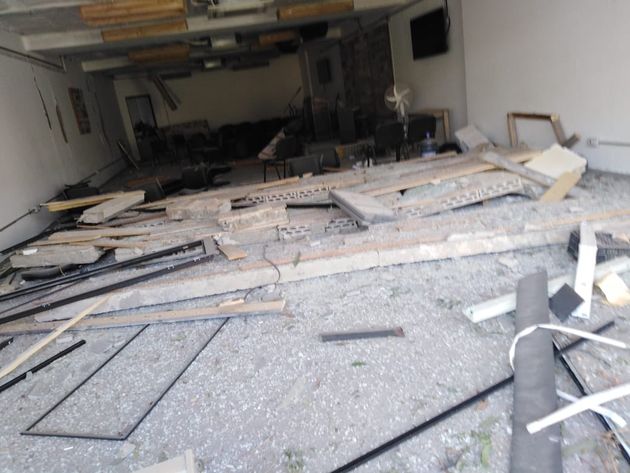 [photo_footer] City Bible church, the closest evangelical church to the blast, was destroyed. /City Bible church / [/photo_footer]
"The church is out there on the street and in the homes of people"
City Bible church is the closest evangelical church to the blast and it has been destroyed, "it is a massive damage. It looks like a war zone", the pastor said in a video on Twitter.
"Our church family is traumatized. There has been major damage to both our campus locations in Nabaa and Sabtieh, as well as apartments and family businesses of people from our congregation have been damaged. People were injured and some were displaced", Lily Malky Njeim, Communication & Partnership Director of Resurrection Church Beirut (RCB), said .
She told Evangelical Focus that "in 3 days we have cleaned and helped a total of 35 places (homes mainly, a nursery, few churches… ), some going from home to home, doing basic repairs and cleaning the debris, others were cooking & giving out food, and others donating and collecting donations".
"Everyone was serving according to their capacity and gifting within their direct neighbourhoods and even in neighbourhoods closer to the site of the explosion", she pointed out.
According to Malky, "the church in Beirut is not contained behind doors and windows, the church is out there on the street and in the homes of people".
"Despite the damages around us, we will remain a lighthouse"
The Lebanese Society for Education and Social Development (LSESD), also known as the Lebanese Baptist Society, has been working in Lebanon for many years, assisting those in along with MERATH, a relief and aid ministry.
They work with the Beirut Baptist School (BBS), which is close to the place where the last took place,so that it has suffered heavy damages.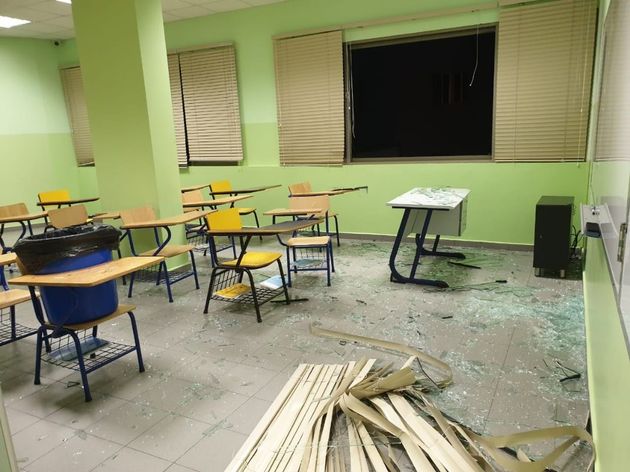 [photo_footer] One of the Beirut Baptist School (BBS) classes devasted y the blast. / LSESD [/photo_footer]
"We were in shock at the beginning, but we woke up the next day with a new hope that we will resurge like eagles,holding to our faith and mission. We thank the Lord for our teacher and our staff", Alice Wazir, principal of the BBS, said in a video released by LSESD.
Tony Haddad, chaplain of the BBS, pointed out that "despite the damages around us, we will remain a lighthouse, because the keeper of the lighthouse is our Lord Jesus Christ, and He will guide us through the darkest time, we believe it with all our hearts".
Basic needs for thousands of people in need
LSESD is also working with local churches "providing food, water, hygiene items, shelter, for families that are devastated by this disaster", Lucas Shindeldecker, director of MERATH, explained.
At the Arab Baptist Theological Seminary, "we were finally able to send our residential students back home last week, and now the dorms are open to receive families who lost their homes. We are eager to serve others as Jesus taught us", El Maalouf told Evangelical Focus.
"Our guesthouse was already hosting many medical workers who are front liners in the battle with COVID-19. Now, our staff, faculty, and many volunteers are working to prepare our building to welcome and serve as many families as we can", ABTS manager addded.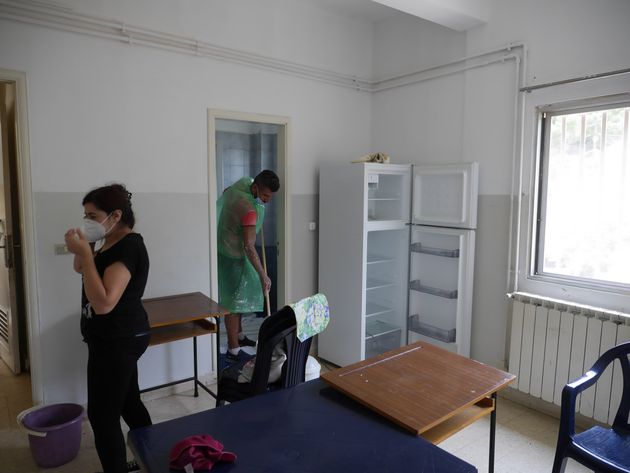 [photo_footer]The ABTS offered its facilities to house families that lost their homes. /ABTS Faceook. [/photo_footer]
Christian organization Heart for Lebanon has been helping on the ground since the first day. More than 60 staff in Beirut have cleaned several churches, apartments, and streets.
"We spent the day making homes of people hazard free and liveable, with new doors, because the doors and windows all fell during the explosion", CEO of Heart for Lebanon, Camille Melki underlines.
Furthermore, they "also give mattresses, blankets, pillows, food, hygiene and survival necessities to families in desperate need. The devastation in Beirut is tragic".
"Beirut's greatest hope is believers who carry the hope and power of the gospel"
According to Marwan Aboul-Zelof, "so much relief work is needed. So many families will need long-term care. But I believe that Beirut's greatest hope isn't a stable economy or honest politicians, but blood-bought believers who carry with them the hope and power of the gospel".
"So, we're praying that the church of Jesus Christ in Lebanon will be a shining light amid all the darkness and destruction", he added.
"Today, my heart is broken for Beirut and for my previous colleagues. Some lost their lives and some are still missing. Please pray for their families! May God have mercy over Beirut, and may we all learn, as Jesus taught us, to first seek the kingdom of God!", Loulwa El Maalouf said in Facebook.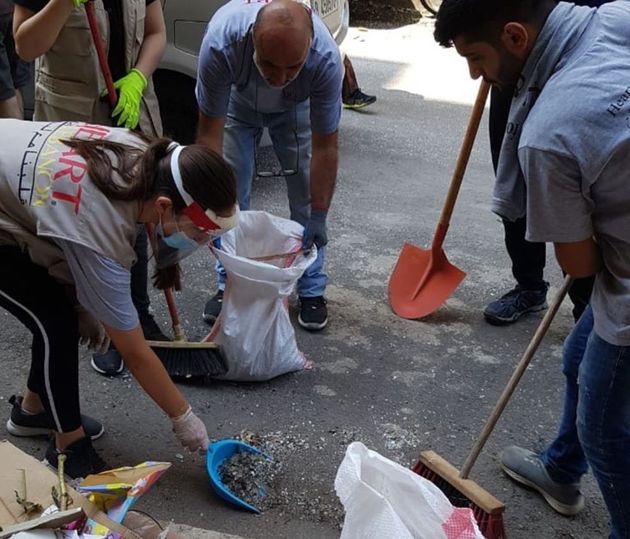 [photo_footer]Heart for Lebanon volunteers help cleaning churches, apartments and streets. / Heart for Lebanon Facebook.[/photo_footer]
"Pray for Lebanon"
The Resurrection Church in Lebanon also calls on Christians worldwide "to pray for those who lost their homes and businesses, who are injured and have a lot of damage done to their homes".
"Pray for churches as they care for their congregations, to have strength in the Lord and be the light for those who might seek the Lord", they add.
Meanwhile, Heart for Lebanon stress that "above all, we value your prayers for the people who have been impacted by this horrible tragedy, and for the Heart for Lebanon Team, so that the light of Jesus will continue to shine through our ministry to the people in Lebanon".
"Pray for wisdom as churches mobilize to care for the hurting, for Christ's strength to be magnified in our weaknesses. Pray also that we would hold fast to the gospel in this incredibly turbulent time, so that the lost would look to Jesus to provide for their greatest need. And believe, with us, that nothing, no recession, no explosion, no devastation, can thwart the power of King Jesus to build his church", Aboul-Zelof stressed.
WEA: "We stand in solidarity with Beirut and call on Christians around the world to pray"
The World Evangelical Alliance has also released an statement, "mourning this tragic loss of life and the additional trauma this disaster causes to an already suffering people. We stand in solidarity with the residents of Beirut and the nation of Lebanon and call on Christians and churches around the world to join us in prayer".
"Pray for healing and restoration, pray for comfort and peace for those who have lost loved ones, and pray that the cause of the accident can be fully investigated and justice served, so that people can find closure", Bp Efraim Tendero, Secretary General of the WEA, added.
The WEA has also launched a donation page for those who wish to support local ministries that respond to the many needs on the ground.