United States continues to be the country with more coronavirus cases in the world. Until 14 May, more than 1.3 million people had been infected.
Like in other countries, there is a big debate about what is the best way to start the de-escalation, in order to prevent further spread of the virus. That de-escalation also affects the churches and ministries.
New York churches to be coronavirus testing sites
In New York, Governor Andrew Cuomo and the state's largest healthcare provider, Northwell Health, have formed a partnership to establish "24 temporary coronavirus testing sites at churches in predominantly minority communities".
Cuomo announced it in a press conference last Saturday, confirming that some of the new church testing sites will open this week while some will open next week.
All testing at the churches will be done by appointment only.
"Minority communities are suffering the most from coronavirus"
The results of the state's diagnostic testing and antibody testing surveys, show that "low-income and minority communities are suffering the most from Covid-19. The largest state-wide antibody testing survey of 15,000 New Yorkers found a greater infection rate in communities of colour".
The Governor pointed out that 20 of the 21 zip codes with the highest coronavirus hospitalisation rates have greater than average African-American or Latino populations.
"It is a cruel fact that when you look at disasters and emergencies, the poorest and most disadvantaged people often pay the highest price, and the COVID-19 pandemic is no different", he said during his daily update on the pandemic.
Cuomo stressed that "this is not right and we have to address it".
"A prevalence of the coronavirus within communities of colour"
According to Northwell Health President and CEO, Michael Dowling, "given the prevalence of the coronavirus within communities of colour, it's imperative to act quickly to prevent further spread of the virus".
"Among the ways we can protect our communities is through testing. Northwell is pleased to offer antibody and diagnostic testing to churches throughout the city and Long Island", he added.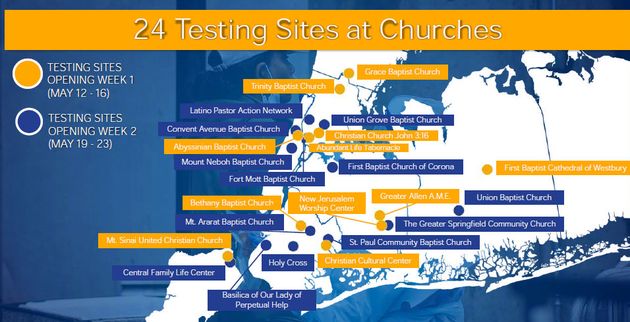 [photo_footer]Churches that will serve as temporary coronavirus testing sites under a partnership with Northwell Health. / New York Governor's Office.[/photo_footer]
Black pastors sent a letter to Trump administration
Last April, a group of black pastors and researchers already warned the Trump administration about this issue, and asked them to address the disproportionate impact of the coronavirus on minority communities.
The pastors sent a letter to several members of the US government, in which they already called on them to work with local government officials to set up testing sites in minority communities hard hit by the coronavirus; and urged 14 states yet to expand Medicaid to do so now.
Furthermore, they asked politicians to immediately utilize the power of the Defense Production Act of 1950 to mobilize manufacturers to produce personal protective equipment; and to urge Congress to pass a fourth coronavirus rescue bill focused on the poor.
Thousands of Californian churches want to open on 31 May
Meanwhile, Church United, a network of approximately 3,000 churches in California representing 2.5 million members, announced that its churches are planning to restart public services on 31 May 31, Pentecost Sunday, regardless of what the governor of the state says.
Governor Gavin Newsom admitted that "congregations from far, coming together in a closed space at a large scale, remains a point of concern and anxiety for us".
"We are working on guidelines for physical distancing and working with faith leaders talking about unique conditions in their own facilities. Nothing is etched in stone", he added.
"Immunity for religious organisations"
First Liberty, a coalition of religious organizations, religious leaders, and a law firm which defends religious liberty in America, said that churches "are concerned about a swarm of lawsuits blaming houses of worship and religious ministries for any person who attended a religious gathering or received food or shelter and subsequently contracted Covid-19".
That is why they wrote a letter to Congress to include "immunity for religious organisations from negligence suits resulting from their serving the public or reopening in accordance with local orders".
In late April, the Department of Justice ordered federal prosecutors to be watchful for state and local orders that overly restrict and exploit religious freedom amid crises.