Around 100,000 people attended the United States national March For Life on 24 January, in Washington D.C.
This year's theme was: "Life empowers, pro-life is pro-woman". The actual march closed three days of activities, concerts, expositions and conferences.
According to the organisation, "pro-lifers converge on the National Mall and march on Capitol Hill on the anniversary of the Supreme Court's 1973 Roe v. Wade ruling which legalized abortion in all 50 states. But this is not just a protest - together, we gather to celebrate life. We envision a world where every life is celebrated, valued, and protected".
Only in the United Sates, 62 million unborn babies have been killed through abortion in the last 47 years.
Such Marches For Life are organised in many other countries around the world, and are usually backed by Christian groups.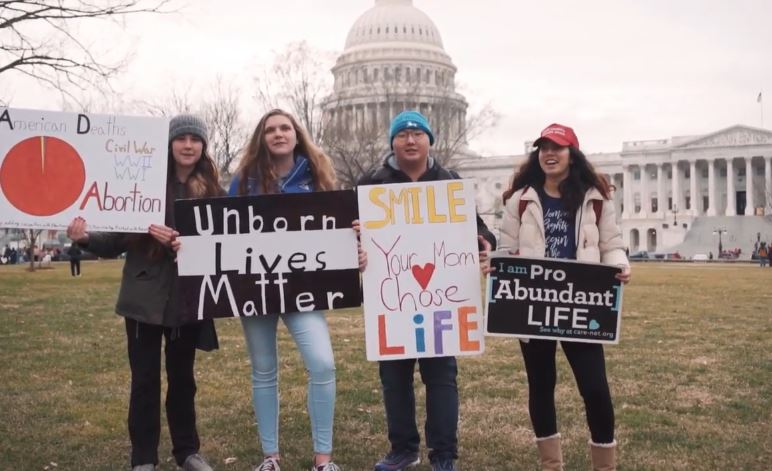 Attendees in front at the Capitol Hill. / Capture video Students For Life
"A PEACEFUL AND ENTHUSIASTIC WITNESS"
Jeanne Mancini, President of the March For Life, said it was "a peaceful, enthusiastic and loving witness to the inherent dignity of the human person". "We are pro-life and we are pro-women", she added as the crowd cheered.
May students and other young people attended the march, with signs such as "We are the pro-life generation" and "I am pro abundant life".
One of the attendees, Sarah Gorman, told news broadcaster CBN that doctors had told her parents that "I was supposed to be born with a mental disability (...) One thing that my mother always remarks on is the pressure they put on her to have and abortion". Her parents finally had her, because they thought "God created her to be exactly who she is". Sarah was born with no mental illness and now is a university student.
"I would say that this culture of death that has spread across our land in this 47 years has led to a culture that embraces violence as a so-called solution to a problem", David Bereit, founder of the 40 Days for Life movement also told CBN.
TRUMP ATTENDS THE MARCH
This was the first time a President of the United States attends the March For Life. Donald Trump emphasised this fact in his address..
"We're here for a very simple reason: to defend the right of every child, born and unborn, to fulfill their God-given potential", he said. "Every life brings love into this world. Every child brings joy to a family. Every person is worth protecting".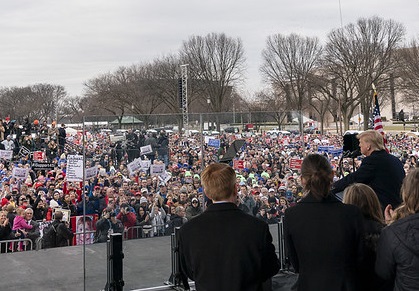 Trump addresses the crowd during the 2020 March For Life. / White House
Trump also used the opportunity to criticise the views of the Democratic Party and their pro-abortion stances.