Last Sunday, August 25, 36 people were arrested and 15 police officers injured, in the last day of demonstrations so far in Hong Kong, according to the official news agency of the Chinese government, Xinhua.
Social media was filled with videos showing images of clashes between protesters and agents, like one of a police officer who, with his gun in his hand, kicked a man who was on his knees while pointing at the rest of the protesters and shooting at the sky, Xinhua reported.
The security forces of Hong Kong said that the action was "heroic" and justified it as "natural reaction", according to the local media Hong Kong Free Press.
VIOLENCE ON RISE
"Things are intensifying even more. What started out as peaceful protests has become more and more violent", the pastor of the Shatin Anglican church, Heewoo Han, told Spanish news website Protestante Digital.
Han explained that "there are few turning points in the movement including what is widely, and in my opinion correctly, perceived as police's collusion with the gangsters in Yuen Long".
"People have been calling for justice and fair inquiry, but the government has not responded fairly or swiftly", he added.
Beijing only blames the protesters, stating that "the Hong Kong police issued a statement of no objection to the Tsuen Wan demonstration, but some violent extremists deviated from the original route and ruined the protest".
It was the first time, since the begining of this wave of demonstrations, that the police used water cannons in Hong Kong.
"We might see more and more aggressive measures by Beijing to control Hong Kong", the Anglican pastor warned.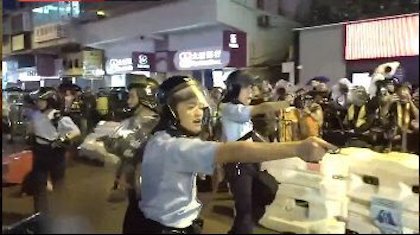 Police officers threatened protestors with their weapon. / Twitter @HongKongFP
IMPOSSIBLE DIALOGUE
The announcement by the head of the government of the Special Administrative Region of Hong Kong, Carrie Lam, to create a "platform for dialogue with people from all walks of life" has not generated credibility.
Lam publicly said that it was going to be "immediately", just after the most massive demonstration recorded so far, which took place 2 weeks ago and brought together more than 1.5 million people. A week later, on August 25, the protesters returned to the streets.
"There are the five demands from the protesters, which are widely known", Han pointed out.
They have called for a complete withdrawal of the bill, the withdrawal of the "riot" characterisation of the June 12 protests, the unconditional release of all arrested protesters, the formation of an independent commission of inquiry into police behaviour, as well as universal suffrage.
"In my opinion, the government has not met any of the five demands, and have not made sufficient effort to assuage the anger and fears", Han said.
A PROBLEM BEYOND THE DEMONSTRATIONS
These claims show a fundamental problem, that is not limited to the current protest movement or the extradition bill exclusively.
According to Han, "there is of course the long term effort to change the public opinions in Hong Kong by installing pro-Beijing university presidents, and applying financial leverage to companies that do business in China".
"Many tycoons and companies have come out 'pro-Beijing' recently, almost certainly because they do not want to lose their clients or profit from China", he added.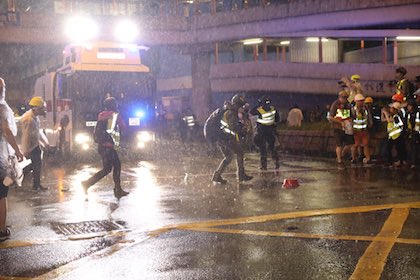 It was the first time the police used water cannons in Hong Kong. / Twitter @HongKongFP
A NEW TIANANMEN?
Many media have already compared the current protests in Hong Kong and those in Chinese Tiananmen Square in June 1989. An idea that some politicians have used too.
"It would be very difficult to reach an agreement if they use violence in Hong Kong. If it is another Tiananmen Square, it will be very difficult to reach an agreement", Donald Trump, said regarding his particular trade conflict with China.
However, "I don't think it will end like Tianamen. Hong Kong is too international and too important even to Beijing for it to end like that", pastor Han pointed out.
"CHURCH NEEDS TO DENOUNCE VIOLENCE AND INJUSTICE"
Earlier this month, the Christian Council of Hong Kong, an ecumenical entity that brings together different Protestant denominations and Catholic leaders, published a statement on social media, stating that "the Christian faith teaches us that we should have compassion in any action".
"If Christians consider to respond to the anti-amendment strikes, the basic principle is that they should not affect the clients or service users, such as emergency rescue, patients, the elderly, pregnant women, children, etc", it added.
It also warned that "the government has not responded to protester appeals. Therefore, the demonstrations and protests continue; violence is escalating; police-civilian relations are tense. The society is endangered in deep crisis".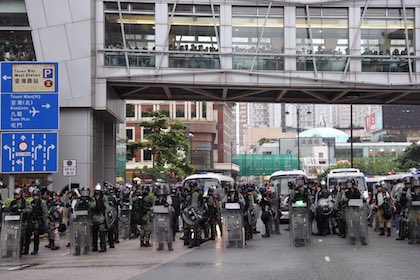 Police officers during the demonstration. / Twitter @HongKongFP
"OUR UNITY IN CHRIST IS MORE IMPORTANT THAN OUR POLITICAL VIEWS"
"The church needs to do a better job denouncing violence and injustice wherever we see it", Han said.
The Anglican pastor believes that "the church is divided over this political issue. However, we do come together each week to seek communion and peace".
"The fact that pro-Beijing and pro-democracy sides can sit side by side and take communion together is a political statement to the world that our unity in Christ is more important than our political opinions", he stressed.
Han told Protestante Digital that in his church, "we are most likely going to hold a forum to understand each side better, though some think it's too late to hold such a forum".
He wants to "try it out, despite the potential for it to be incendiary, because if people can't have this conversation in the Church, then where would they?"
"We are confident that Christ who is the head of the Church, will keep us united in Christ and for the cause of the gospel", Han concluded.