Far from reaching an agreement, the situation in Hong Kong is getting worse, with very bad relations between the government and the the protesters.
Protests have continued this Sunday, when the police have ended up usingh tear gas against the hundreds of thousands of protesters who had returned to the streets, just over 100,000, according to the Administration, and more than 400,000 according to the organizers.
The protesters keep asking the government of the Special Administrative Region to withdraw the extradition Bill that is temporarily suspended, as the head of the Hong Kong government, Carrie Lam, announced a week ago.
They also claim Lam's resignation, and even recently vandalized the headquarters of the regional parliament.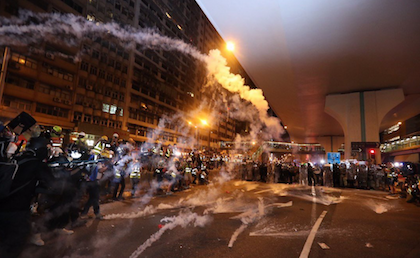 A moment of tension between police and protesters. / Twitter @HongKongFP
CHRISTIANS "URGE THE GOVENMENT TO TAKE THE INITIATIVE"
"The situation is deteriorating. The people of Hong Kong are deeply worried and distressed", the Hong Kong Christian Council said in a statement signed by its Chairperson, Rev. Dr. Eric So Shing-yit, and the Cardinal John Tong, Apostolic Administrator of the Catholic Diocese of Hong Kong .
"We urge the Chief Executive to respond as soon as possible to the strong demands of the public to withdraw the Bill of the proposed amendment to the Fugitive Offenders Ordinance", the statement points out.
Hong Kong Christian Council also calls the government "to take the initiative to confer with the representatives of different factions to seek a solution to the current impasse".
"ALL PARTIES MUST AVOID PROVOCATION"
In order to achieve that, they ask the government to "set up an independent commission of inquiry as soon as possible to find out the truth in an impartial manner".
"All parties must exercise restraint and avoid provocation. Regardless of one's political stance, one should treasure life and refrain from doing anything that might harm oneself or others", they conclude.
So far, the governments of China and Hong Kong have only condemned the demonstrations and protesters.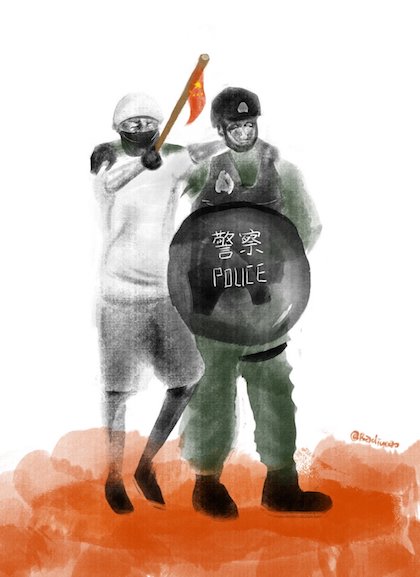 Drawing by Budicao,representing Chinese authorities manipulating the Hong Kong police. / Twitter @HongKongFP, Budicao
GOVERNMENT: "IT IS TOTALLY UNACCEPTABLE TO THE SOCIETY"
"Those behaviours have not only violated the Hong Kong Basic Law and local laws, but also seriously challenged the bottom line of the 'one country, two systems' principle and the authority of the central government", said the Liaison Office of the Central People's Government in the Hong Kong Special Administrative Region (SAR) in a statement.
Meanwhile, the spokesperson of the Hong Kong Special Administrative Region (HKSAR) government, has promised to "deal with these acts in a serious manner in accordance with the law".
"Such acts threaten the law and order in the SAR and 'one country, two systems'. It is totally unacceptable to the society", the spokesperson added.