Nine activists of the pro-democracy 'Occupy Central' movement have been found guilty by a Hong Kong court on Tuesday of public nuisance charges, for their roles in the 2014 protests calling for free elections.
Defendants include Baptist minister of Chai Wan Baptist Church, Rev Chu Yiu-ming, 75; sociology professor Chan Kin-man, 60, and law professor Benny Tai, 54.
Tai and Chan were also accused of playing a leading role in planning and mobilising supporters during the 79-day street occupations in 2014, and inciting to commit public nuisance.
JAILED UP TO SEVEN YEARS
It is not yet clear when they will be sentenced, but they could be jailed for up to seven years.
In a summary of his judgement, Justice Johnny Chan noted that while the concept of civil disobedience is "recognised in Hong Kong, it wasn't a defence to a criminal charge".
"The offence of conspiracy to cause a public nuisance does not have the undesirable effect of curtailing or suppressing civil disobedience at its formation stage or suppressing human rights as the defendants contended", the summary read.
"We will still continue our struggle for democracy. The reason that we committed civil disobedience is because we want justice for Hong Kong people", Tai told Reuters before the verdict.
PRAY SERVICE
Supporters holding yellow umbrellas, a symbol of the demonstrations, crowded outside the courthouse. Tai told supporters: "No matter what happens today, I have the confidence that many people here will strive for Hong Kong's democracy".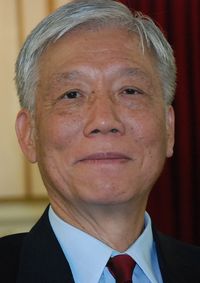 Pastor Chu Yiu-ming. / Wikipedia, CC
Additionally, on Saturday, more than 200 supporters gathered for aworship service before the verdict where the crowd prayed and sang songs.
The venue was Kowloon Union church, where Tai, Chan and Chu first announced their 'Occupy Central' manifesto six years ago.
"WE HAVE TO TAKE BACK OUR DEMOCRATIC RIGHTS"
"What we are facing is the most powerful autocracy in human history and we have to take back our democratic rights from its hand", a tearful Tai told his supporters.
Lord Chris Patten, the last British governor of Hong Kong, released a statement saying that it was "appallingly divisive to use anachronistic common law charges in a vengeful pursuit of political events which took place in 2014".
"UMBRELLA MOVEMENT"
The protests began in 2014, when China decided that it would allow Hong Kong direct elections in 2017, but only from a list of candidates pre-approved by Beijing.
The three activists founded the pro-democracy 'Occupy Central' movement in 2013, and joined with student-led movement to participate in massive demonstrations.
The protests became known as the "Umbrella Movement", because people used umbrellas to shield themselves from pepper spray fired by police to disperse the crowd.
MANY CHRISTIANS SUPPORTED THE PROTESTS
"Many Christians supported the demonstrators", a Christian teacher told Spanish news website Protestante Digital, during the protests.
Although he was sure that the Chinese government was not going to give in, he called Christians to pray "for peace after the conflict. Whatever it happens in the coming days, it will determine the atmosphere of this city for the coming years", he then said.
The demonstrators were finally cleared away by police, having won no democratic concessions from the government.