According to newly released General Social Survey (GSS), the percentage of Americans who don't affiliate with any specific religion is now roughly the same as those who identify as evangelical or Catholic.
The GCC, a biennial project run by NORC (National Opinion Research Center) at the University of Chicago, is one of the longest-running measures of religion in the US.
Ryan Burge, a political science researcher at Eastern Illinois University, has analysed the data, which shows that "nones" represent about 23.1% of the population, evangelicals 22,8%, and Catholics 23%.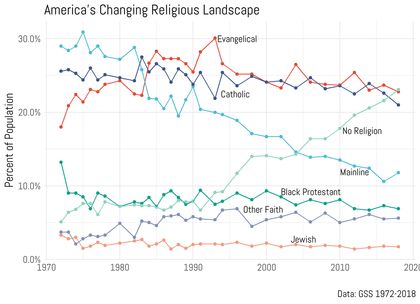 Evangelicals in the United States are holding steady. / Ryan Burge. GSS.
Meanwhile, "mainline Protestants, who have been declining at a steady clip for decades, saw their numbers tick up slightly, from 10.2% to 10.8%".
"Evangelicals in the United States are holding steady. Other than one outlier—a slight peak of 24.7% in 2012—they have ranged from 22.5% to 24 of the US population over the past 10 years", Burge explained.
"NONES TO BE THE LARGEST GROUP IN THE NEXT 5 YEARS"
The "nones" represented only 5% of the population in 1972, but "it's been a constant, steady increase for 20 years now. They experienced big jumps in 1993 and 1998, and have added, on average, 1-1.5 percentage points every 2 years for the last 10 years", he said.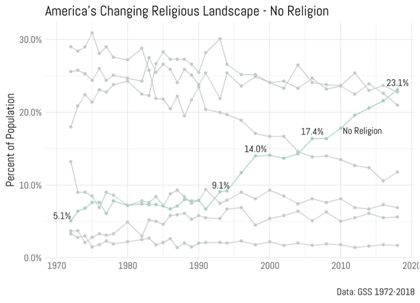 Nones have added, on average, 1-1.5 percentage points every 2 years for the last 10 years. / Ryan Burge.GSS.
"If the nones maintain their growth while evangelicals stagnate, it is statistically inevitable that those of no religious faith will be the largest group in America in the next five years", Burge pointed out.
WHITE EVANGELICALS SUPPORT FOR TRUMP DROPS BUT REMAINS HIGH
Meanwhile, Pew Research released an analysis of multiple recent surveys regarding the opinion of several religious groups about the President of the US, Donald Trump.
According to the analysis, "69% of white evangelicals say they approve the way Trump is handling his job as President, according to our latest polling in January 2019".
"This is somewhat lower than Trump's approval rating in the earliest days of his tenure, when 78% approved his job performance, but is in line with most polls conducted by the Center since the inauguration", Pew added.
It also showed that "between 46% and 55% white mainline Protestants have approved what the President has done since Trump's inauguration, including 48% in the January 2019 survey".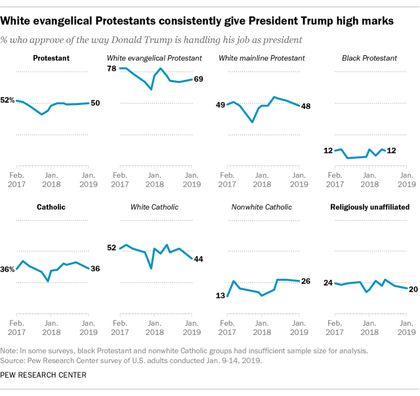 Most US white evangelicals support Trump. / Pew Research.
However, Pew revealed that this approval, "does not mean they have no reservations about him. An August 2018 survey found that roughly half of white evangelicals do not think that Trump has set a high moral standard for the presidency since taking office".
RELIGIOUSLY UNAFFILIATED, THE LOWEST APPROVAL
Among Catholics, although overall support for the President remained at 36%, "non-white Catholic approval doubled from 13% in February 2017 to 26% in February 2019".
"Religiously unaffiliated Americans consistently express among the lowest levels of approval of Trump's performance, ranging from 17% to 27% across the polls we have conducted since the President assumed office", the analysis concludes.