Representatives of the United Nations (UN) and the World Evangelical Alliance (WEA) met last week (March 12th) to discuss how to partner in issues of common concern.
Ban Ki-moon and Efraim Tendero met at UN headquarters in New York and talked about their shared concern of current situations of violent conflict and human suffering, acknowledging an increasing atmosphere of distrust amongst people of faith, when extremist behaviour that disregards life itself is done in the name of religion, the WEA explained in a statement.
Bishop Tendero affirmed WEA's commitment to inter-faith dialogue and peace building, sharing about his personal involvement leading an inter-faith peace delegation in the Philippines at a time of increased tension between the government and the Moro Islamic Liberation Front in Mindanao.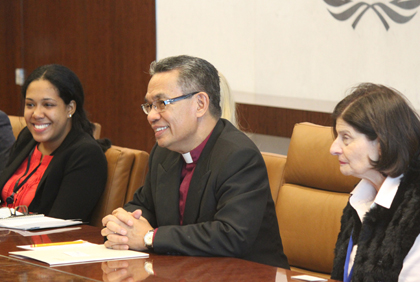 Efraim Tendero in a moment of the meeting. / WEA
He also expressed his appreciation that the UN are offering more opportunities for the WEA and other faith groups to participate and make relevant contributions to reconciliation, poverty alleviation, addressing justice issues such as human trafficking, and the plight of refugees.
"ADDRESS ISSUES AT THEIR ROOTS"
"As Christians, we recognise the weight that lies on the shoulders of the UN Secretary General when dealing with so much suffering in the world", Tendero said after the meeting. "I was impressed with Mr. Ban's sensitivity towards injustice and conflict, and his desire to reach out to faith leaders and build trust."
"As followers of Jesus Christ, the Prince of Peace, we are called to be peacemakers and to be salt and light in the world. With the WEA's constituency of churches in local neighbourhoods all over the world and our teams at the UN, we want to contribute with our understanding of what is needed and practical action steps that help address these issues at their roots."
ENCOURAGING MEETING
Tendero also appreciated the fact that the UN show interest in knowing the opinion of evangelicals. "For many years, we have been engaging with UN bodies and mechanisms in New York and Geneva, representing a constituency of some 600 million evangelicals in more than 120 nations. A meeting with the UN Secretary General only a few days after I took office at the WEA shows how much they value the presence and contribution of evangelicals at the United Nations and the relevance of the WEA as one of the three world church bodies."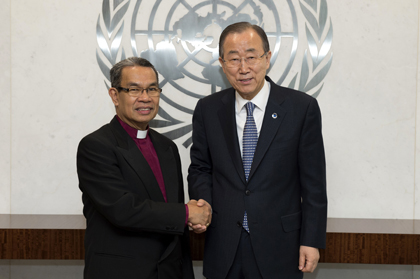 Ban Ki-Moon and Tendero. / WEA
In an interview with Evangelical Focus earlier this year, Tendero said that "the Good News must be able to interact with our socio-political arena in order to bring the transformative values of the Gospel that we proclaim and live out."