Sierra Leone experienced serious flooding and mudslide in Freetown on August, 14th.

The flooding occurred in different parts of the city at Kaningo, Lumley Colbot, Ferry Junction, Kissy , Kroo Bay; Dwarzark ; 7th Battalion and Babadorie.
MORE THAN 400 PEOPLE DIED
The mudslide, which occurred in Motumeh, Regent, Freetown is the worst natural disaster ever, in the history of Sierra Leone. The Red Cross put the death toll at 409.
"Today we are counting more than 400 people dead", Elhadj As Sy, Secretary General of the International Federation of Red Cross and Red Crescent societies, said in Geneva.
Jens Laerke, spokesman for the UN Office for the Coordination of Humanitarian Affairs in Geneva, said the toll "may rise", noting the number of people still missing.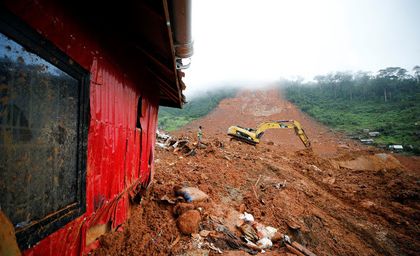 It is the worst natural disaster ever, in the history of Sierra Leone.
The UN humanitarian agency said it still hopes to find survivors "but the chances are getting smaller every day."
Large-scale burials have begun as an estimated 600 people remain missing. People continue to search through tonnes of mud and debris amid the remains of mangled buildings.
"PRAY FOR SIERRA LEONE"
"We have received confirmed reports of some of our member churches who have lost some of their members and many injured in the mudslide", Jonathan Titus-Williams, General Secretary of the Evangelical Fellowship of Sierra Leone (EFSL) told the Association of Evangelicals in Africa (AEA).
He reported that pastors and members, including many children, of The Faith Healing Bible Church, Word of God International Church, New Harvest Global Ministries have died or are wounded or misplaced.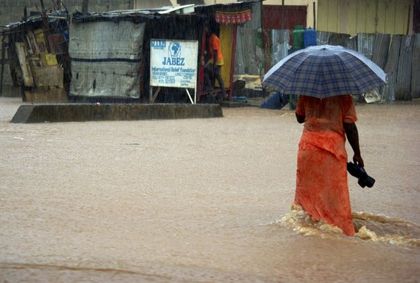 The Red Cross put the death toll at 409.
In the Chapel of Praise Ministry, the pastor and members all died as they were having all night of prayers in the church.
Williams asked African Christians to "continue to pray for Sierra Leone as weather forecast states that there is a heavy tornado heading for Africa and will hit sierra Leone since yesterday and we all in the city are like living in great fear."
AEA SUPPORTS SIERRA LEONE
The AEA General Secretary, Rev. Dr. Aiah Foday-Khabenje, who is a Sierra Leonean, currently living in Nairobi, Kenya, where AEA is located, has issued a statement regarding the flooding.
"We condole and mourn with the people of Sierra Leone, during this time of grief, following devastating floods and mudslides when part of a mountain carved in", he said.

The AEA "wish to magnify the crying call of EFSL, to stand with them in this time of national crisis, in prayer and material support. EFSL is a significant service provider, with ongoing significant societal engagement, since the 1990s when Sierra Leone was plunged into a decade long rebel war and the Ebola epidemic in the region in 2014/15."