According to statistics, persecution is the daily reality of at least 100 million Christians around the world. Christians in countries such as North Korea, Somalia, Iraq, Eritrea, Nigeria, India, Pakistan, Sudan or Sri Lanka risk their lives every day.
Beatings, physical torture, confinement, isolation, rape, severe punishment, imprisonment, slavery, discrimination in education and employment, and even death are just a few examples of the persecution they experience on a daily basis.
20 YEARS OF IDOP
Over the years, the International Day of Prayer for the Persecuted Christians (IDOP) has served as a platform to highlight their stories and advocate their cause. The IDOP has also been a source of solidarity and encouragement to persecuted Christians by reminding them that they are part of a larger, global family of believers.
This year marks the 20th anniversary of the IDOP. It was launched in 1996, following widespread interest in an initial "Day of Prayer for Iran" sparked by the murder of a Christian leader in the country.

20 years of International Day of Prayer.
MORE THAN 100 COUNTRIES INVOLVED
Christians in over 100 countries observed the International Day of Prayer for the Persecuted Church, by joining together to intercede for those who daily suffer for their faith in Jesus Christ.
They are praying for the persecuted in nations around the world on the first three Sundays of November (6,13 and 20). Resources for churches have been made available for free, including prayer points, devotionals, Sunday School materials, hymn sheets and more.
Christian charities and associations like Open Doors, Release International and Christian Solidarity Worldwide (CSW) and many others, also join to organise and participate in the IDOP in different countries.
"IF ONE SUFFERS, WE ALL SUFFER"
"The Bible in Hebrews 13:3 command Christians to pray for those suffering as if they themselves were suffering. In other words, the Bible calls us to not only remember those who suffer but also to identify with them in their suffering", says the World Evangelical Alliance of this day.
And adds: "In keeping with this scriptural imperative, for 20 years, IDOP has united millions of Christians around the world, in the spirit that scripture commands: If one suffers, we all suffer."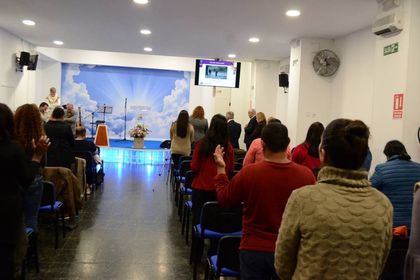 Christians gathered in Spain to pray forthose who suffer persecution.
PRAYING TOGETHER
In Spain, many events have been organized. Some of them, took place last weekend, when more than 2,000 people gathered throughout Spain in about 20 meetings at the same time, to pray for those who suffer persecution. Many others will do it next Sunday.
"What struck us most was that in a video, they do not ask us to pray that they will be saved from persecution, but that God will strengthen them to face their destiny without renouncing the name of Jesus and their faith. We are grateful for participating in this and for awakening the church that 'does not suffer persecution' to pray and cry for the church that does suffer", said Paco Sánchez, pastor of "Nueva Vida" church in Madrid.
Christians in the UK will celebrate IDOP on Sunday November 20th. This year, the churches there will focus on the situation in Sri Lanka, where Christians are under pressure as local authorities use a 2008 government circular to target churches and intimidate pastors.
Believers will will launch a petition calling for the withdrawal of the circular by the government of the country.