The International Lutheran Council (ILC) recently held the 2022 World Conference, where Bishop Juhana Pohjola was elected as its new chairman.
In his acceptance speech, Pohjola thanked the assembly, stressing that he prayed the Holy Spirit would work through him despite his weakness.
"I know that I have big shoes to fill because Bishop Hans-Jörg Voigt has been such an example. If I can imitate him in even some respects, I will be happy to do so", added the Bishop.
He also asked the participants of the conference to "pray for me and for the ILC. I look forward to working with you all very much" .
Pohjola was Bishop of the Evangelical Lutheran Mission Diocese of Finland (ELMDF) since 2021. He previously served as the ELMDF's Diocesan Dean from 2013. He was also a pastor in Helsinki and a visiting scholar at Canada's Concordia Lutheran Theological Seminary in St. Catharines, Ontario.
Acquitted for hate speech
The bishop has been on the front page of the worldwide media, ever since he, along with Member of Finish Parliament Päivi Räsänen, were accused of incitement against an ethnic group. The charges concerned Päivi Räsänen's tweet quoting Romans 1 and her pamphlet on marriage (distributed by the publishing house led by Pohjola).
The ILC responded to that with the statement "A Protest and Call" signed by the leaders of Lutheran church bodies around the world, expressing its concern about the breach of freedom of religion and speech.
They were both acquitted early this year, but the case has been reopened and there will be another trial next year.
Secretary and world region representatives
In addition to Pohjola, the members of the ILC elected a new Secretary (John Shadrack Donkoh of the Evangelical Lutheran Church of Ghana) and its world region representatives to the board of directors for the new triennium.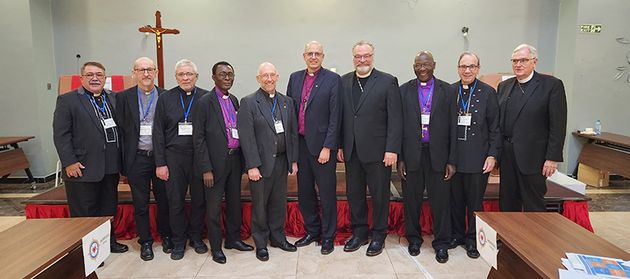 [photo_footer] The new elected ILC board of directors for the new triennium./ ILC.[/photo_footer]
There was also time for regional meetings, and the session finished with President Geraldo Schüler of the Evangelical Lutheran Church of Brazil (IELB) preaching on the theology of the cross.
The ILC is a "growing worldwide association of established confessional Lutheran church bodies which proclaim the Gospel of Jesus Christ on the basis of an unconditional commitment to the Holy Scripture". It aims "to assist and strengthen them in their confessional witness and mission".