Gerardo Amarilla, deputy of the National Party of Uruguay, is the new president of the Uruguayan Parliament, substituting the former president, Alejandro Sánchez.
Amarilla is the first evangelical Christian legislator who has such a high position in the history of Uruguay.
The priorities in his agenda as president are environmental problems, family aids and fighting against poverty. Other priorities are bringing full transparency of the political activities and promoting social media, which "are mass media too", Amarilla states.
DIFFERENT PARTIES IN THE "EVANGELICAL BENCH"
The new president is not the only evangelical Christian in the Parliament, there is a so-called "evangelical bench" formed by different parties.
Álvaro Dastugue is a pastor and a deputy for the National party, representing Montevideo. The former major of Durazno, Benjamín Irrazábal, and the alternate deputy from the Colorado (Red) party representing Canelones, Luis Pintado, are also evangelicals.
Counting all the alternate deputies, councillors and civil servants working in public administrations throughout the country, there are 13 evangelicals officially engaged in politics.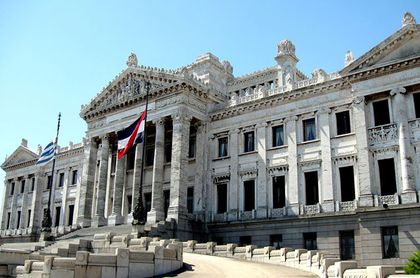 The Uruguayan Parliament.
"TALKING ABOUT YOUR BELIEFS IS A TABOO HERE"
"At the beginning, they looked askance at me, but I did not see it as discrimination", the president recalls.
Amarilla, who belongs to the political movement "Todos" (Everyone), believes that in Uruguay "talking about your religious beliefs is a taboo."
"We have to honestly say what we believe, if we have a religious vision, it gives us a different vision of the world. Wheter it may be that we believe in God or in other things, our vision of the others will be different", he affirms.
A BAPTIST IN THE PARLIAMENT
The new president was born in 1969, and first visited a Baptist church when he was 9. He grew up in this local Christian community in Montevideo, and began his politics career when he moved to the city of Rivera. At that time, there were not evangelicals in the Parliament.
Meanwhile, other politicians with a Baptist background became presidents of United States, like Democrats Jimmy Carter and Bill Clinton.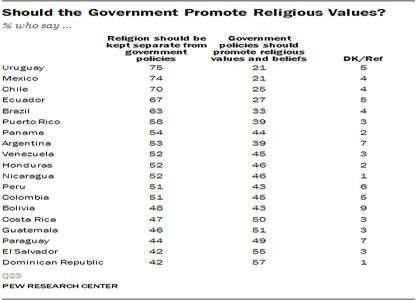 Separation between church and state. / Pew Research
RELIGION AND POLITICS

A 2014 survey reveals that Uruguay is the most secularised country of Latin America, with 38% of atheists, 41% Roman Catholics and 8% of Evangelicals.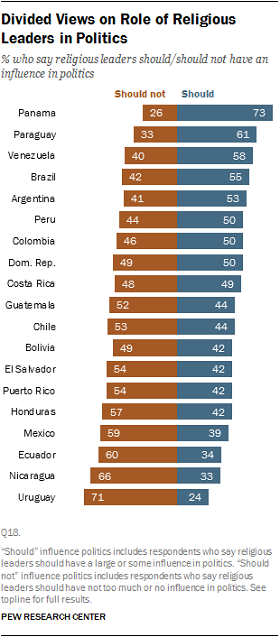 Religious leaders in politics. / Pew Research
The Pew Research Center made a study in 2013 about Religion in Latin America, which showed that more Latin Americans said church and state should be "kept separate" than said the government "should promote religious values and beliefs."
Opinions were closely divided on the role religious leaders should play in politics.
In five of the countries polled – Panama, Paraguay, Venezuela, Brazil and Argentina – the majority argued that religious leaders should have either "some influence" or a "large influence" in politics. But in nine other countries, the preponderance of public opinion leans in the opposite direction.