North Korea has announced that it successfully conducted a hydrogen bomb test, a claim that if true would mark a huge jump in Kim Jong Un's quest to improve its still-limited nuclear arsenal.
The announcement came after South Korea reported a seismic event resembling an earthquake 30 miles from the Punggye-ri site where the North has conducted nuclear tests in the past.
"A SPECTACULAR SUCCESS"
"The spectacular success made by the DPRK in the H-bomb test this time is a great deed of history, a historic event of the national significance as it surely guarantees the eternal future of the nation", a official statement read by a KCNA news reporter, said.
"The DPRK is a genuine peace-loving state which has made all efforts to protect peace on the Korean Peninsula and security in the region from the US vicious nuclear war scenario", it added.
And concluded: The US is a gang of cruel robbers which has worked hard to bring even a nuclear disaster to the DPRK."
North Korea crowds gathered to watch the announcement of the hydrogen bomb test on big screens. Many clapped and cheered.
HYDROGEN BOMB
North Korea conducted its last nuclear test in 2013. If Wednesday's claim is true, it would be the country's first involving a hydrogen bomb.
A hydrogen bomb, also called a thermonuclear weapon, produces a much more powerful blast than atomic weapons like the bombs dropped on Hiroshima and Nagasaki during World War II. H-bombs are much more difficult to make than atomic bombs.
But nuclear experts have questioned whether the size of the blast was large enough to have been from an H-bomb.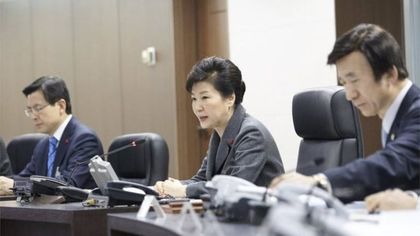 South Korea Presidenr condemned the bomb
"If there's no invasion on our sovereignty we will not use nuclear weapon, this H-bomb test brings us to a higher level of nuclear power", he North Korean state news agency declared.
SOUTH KOREA REACTION
South Korea President Park Geun-Hye hastily convened an emergency national security council meeting as soon as news of the test broke and promised a tough response.
"The test is not only a grave provocation to our national security but also a threat to our future and a strong challenge to international peace and stability", she affirmed.
Earlier, the government in Seoul declared it would "take all necessary measures including additional sanctions by the UN Security Council, so that the North will pay the price for the nuclear test."
OPPOSITION OF JAPAN AND CHINA
Prime Minister Shinzo Abe considered the test was "a serious threat to the safety of our nation and we absolutely cannot tolerate this".
"This clearly violates UN Security Council resolutions and is a grave challenge against international efforts for non-proliferation", he argued.
Chinese government "firmly opposes" the test, said foreign ministry spokeswoman Hua Chunying, noting that it was carried out "irrespective of the international community's opposition".
"We strongly urge the DPRK [North Korean] side to remain committed to its denuclearisation commitment, and stop taking any actions that would make the situation worse," she said. Chinese state television also aired doubts about whether its neighbour could have tested a hydrogen device.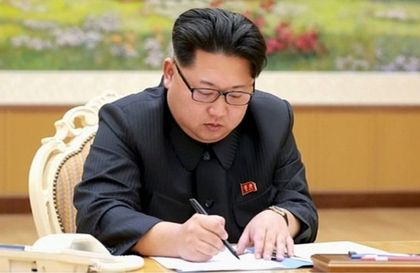 North Korean leader signing the paper to approve the test / Reuters


UN SECURITY COUNCIL MEETING
Ahead of a meeting with the UN Security Council, Secretary General Ban Ki-moon condemned the bomb test.
"It is a grave contravention of the international norm against nuclear testing. I demand the DPRK cease any further nuclear activities and meet its obligations for verifiable denuclearization", he said.
After its meeting, the UN Security Council is considering imposing further sanctions on North Korea after it carried out a nuclear test, the British ambassador has confirmed.
"We will be working with others on a resolution on further sanctions," Ambassador Matthew Rycroft confirmed, according to AFP.
US AND UE ALSO CONDEMN THE TEST
The White House would not confirm a hydrogen bomb test had been carried out but promised to "respond appropriately to any and all North Korean provocations".
"If North Korean H-bomb test reports are true, it is a grave breach of UN Security Council resolutions and a provocation which I condemn without reservation", British Foreign Secretary Philip Hammond wrote on Twitter.
French President Francois Hollande called for a strong reaction from the international community.
"While awaiting confirmation of the characteristics of the nuclear test announced and observed last night in North Korea, France condemns this unacceptable violation of Security Council resolutions" a statement said.
Russia, a North Korean ally, also condemned the test as a "flagrant violation of international law and existing UN Security Council resolutions".
"Such actions are fraught with the possibility of aggravating the situation on the Korean peninsula, which already has a very high potential for military and political confrontation," it said.