Iran and six world powers have concluded an agreement that will lift sanctions on Iran but place strict limits on its nuclear programme for more than a decade.
Under the 159-page deal, Iran will dismantle much of its nuclear infrastructure, while the UN, US and EU will take down a wall of sanctions built around Iran over the past nine years.
"The agreement was the best available option to prevent Tehran from acquiring a nuclear bomb", Barack Obama said, and he promised to veto any attempt by Republican opponents to undermine it.
Republican chair of the Senate foreign relations committee, Bob Corker, has expressed doubts about the deal: "I begin from a place of deep scepticism that the deal actually meets the goal of preventing Iran from obtaining a nuclear weapon."
"Today is the end to acts of tyranny against our nation and the start of cooperation with the world," Iran's President Rouhani said in a televised address. "This is a reciprocal deal. If they stick to it, we will. The Iranian nation has always observed its promises and treaties", he concluded.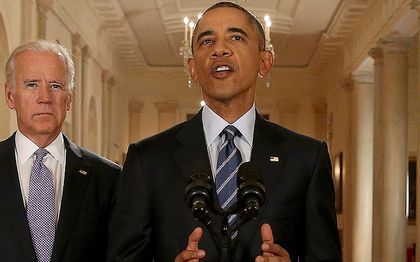 Obama explained the deal in a press conference /AP
"A HISTORIC MISTAKE"
Israel's Prime Minister, Binyamin Netanyahu, denounced the deal and made clear he would continue to pressure allies in the US Congress to derail it. He said it was a "capitulation" and a "mistake of historic proportions."
Senior figures in Iran have hailed the deal as historic. Foreign minister, Mohammad Javad Zarif, who has been leading his country's delegation in Vienna, described the agreement as a "win-win" solution but not perfect.
Yukiya Amano, director general of the International Atomic Energy Agency, said the agreement provided a road map for clarifying Iran's nuclear programme. He "significant step forward". He argued that it would allow him to issue a report on the possible military dimension of Iran's nuclear programme by 15 December 2015.