Suspected Fulani herdsmen attacked a Baptist worship service in north-central Nigeria on Sunday (April 25), killing one Christian, wounding another and abducting five others, sources said.
"The Fulani herdsmen came to our village as the church service was going on," Yakubu Bala of Haske Baptist Church in Manini Tasha village, Kaduna state, told Morning Star News by text message. "They surrounded the church and started shooting. They came at about 9 a.m., and they rode on motorcycles. They shot at us randomly and at anyone they sighted."
Bala said his uncle, Zakariah Dogonyaro, a medical doctor with the Kaduna State Ministry of Health, was shot dead and five worshippers were kidnapped in the attack in Chikun County, in the central part of the state.
Among those abducted were Bala's sister-in-law, stepmother and niece, he said.
A police spokesman, Mohammed Jalige, said in a press statement that in addition to the instant death of Dogonyaro, a man identified as Shehu Haruna was hospitalized for gunshot wounds, and that preliminary investigation found four people were missing and presumed abducted.
The Rev. Caleb Ma'aji, secretary of the Kaduna state chapter of the Christian Association of Nigeria (CAN), expressed condolences to family members of the deceased, the church and the Nigeria Baptist Convention and sadness over the inability of the Nigerian government to protect Christians.
"We wonder, what is the crime of innocent citizens, and how come the terrorists appear more free and protected than the citizens?" Ma'aji said in a press statement. "This is a challenge to the government; indeed a government that is unable to guarantee the safety of its citizens and their properties will be best termed a failed government."
Kidnapping and other crimes have "hijacked" the country, especially Kaduna state, he said.
"The Kaduna state government and the federal government should stop making noise about insecurity and simply act now, before Nigerians will have no option than to turn to self-help," he said.
Samuel Aruwan, state commissioner for internal security and home affairs, said Gov. Nasir El-Rufai roundly denounced the attack "as a shocking act of depraved persons far-removed from humanity."
"The governor added that attacking innocent worshipers who were exercising their natural and lawful right to assemble in worship represented the worst kind of evil," Aruwan said. "The governor sent heartfelt condolences to the families of the deceased and to the Haske Baptist Church."
Two Christian students killed
Two Christian women were among five students killed after suspected Fulani herdsmen kidnapped them and 18 others on April 20 from Greenfield University, also in Kaduna state, sources said.
The bodies of Dorathy Tirnom Yohanna and Precious Nwakacha and a third, male student were found on April 23 in the Kaduna city suburb of Kwanan Bature village, close to the private university located in Kasarami, about 30 kilometers (19 miles) from Kaduna city, Chikun County, according to a statement from the university registrar.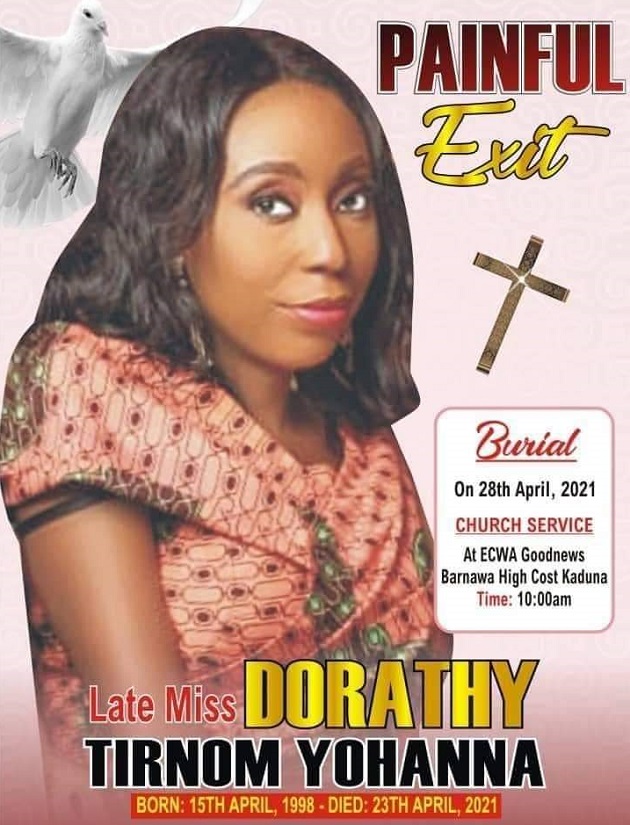 [photo_footer] Funeral notice for Christian student abducted and killed in Chikun County, Kaduna state, Nigeria. / Morning Star News [/photo_footer]
The statement said the students were killed in spite of efforts by institution officials to secure their release.
"Efforts have been made to secure the release of these staff and students, which have not yielded the desired results," the officials said. "There were two female and one male casualties. Further, a ransom of 800 million naira [US$2 million] has been demanded for our abducted staff and students."
The bodies of two more students, unidentified, who were kidnapped from the university were discovered on Monday (April 26), a state official said.
Sim Yohanna, sister of Dorathy Yohanna, lamented her death in a text message to Morning Star News: "My family is devastated seeing my sister's lifeless body. Our hearts are broken by this incident. Our peace is shattered!"
Yohanna's brother-in-law, Yamai David, said in a text to Morning Star News that more of the remaining kidnapped students could be killed if ransom demands were not met.
"What's the sole responsibility of a government to the people?" he said. "Do we deserve to live and die like this in our own country?"
Jonathan Asake, president of the Southern Kaduna People's Union (SOKAPU), said kidnappings are taking place every day in the state.
"The schools are not safe, the roads are not safe," Asake said in a press statement. "The kidnappings have become so rampant. So my thought is that the federal government should declare a state of emergency in Kaduna state."
Nigeria's alarming figures
Nigeria led the world in number of kidnapped Christians last year with 990, according to Open Doors' 2021 World Watch List report. In the 2021 list of the countries where it is most difficult to be a Christian, Nigeria broke into the top 10 for the first time, jumping to No. 9 from No. 12 the previous year.
Nigeria was the country with the most Christians killed for their faith last year (November 2019-October 2020), at 3,530, up from 1,350 in 2019, according to the WWL report. In overall violence, Nigeria was second only to Pakistan, and it trailed only China in the number of churches attacked or closed, 270, according to the list.
Numbering in the millions across Nigeria and the Sahel, predominantly Muslim Fulani comprise hundreds of clans of many different lineages who do not hold extremist views, but some Fulani do adhere to radical Islamist ideology, the United Kingdom's All-Party Parliamentary Group for International Freedom or Belief (APPG) noted in a recent report.
"They adopt a comparable strategy to Boko Haram and ISWAP [Islamic State West Africa Province] and demonstrate a clear intent to target Christians and potent symbols of Christian identity," the APPG report states.
Christian leaders in Nigeria have said they believe herdsmen attacks on Christian communities in Nigeria's Middle Belt are inspired by their desire to forcefully take over Christians' lands and impose Islam as desertification has made it difficult for them to sustain their herds.
The APPG report noted that tribal loyalties cannot be overlooked.
"In 2015, Muhammadu Buhari, a Fulani, was elected president of Nigeria," the group reported. "He has done virtually nothing to address the behavior of his fellow tribesmen in the Middle Belt and in the south of the country."
The U.S. State Department on Dec. 7 added Nigeria to its list of Countries of Particular Concern for engaging in or tolerating "systematic, ongoing, egregious violations of religious freedom." Nigeria joined Burma, China, Eritrea, Iran, North Korea, Pakistan, Saudi Arabia, Tajikistan and Turkmenistan on the list.
In a more recent category of non-state actors, the State Department also designated ISWAP, Boko Haram, Al-Shabaab, Al-Qaeda, Hayat Tahrir al-Sham, the Houthis, ISIS, ISIS-Greater Sahara, Jamaat Nasr al-Islam wal Muslimin, and the Taliban as "Entities of Particular Concern."
On Dec. 10 the prosecutor of the International Criminal Court, Fatou Bensouda, issued a statement calling for investigation into crimes against humanity in Nigeria.