Over 100 people died and more than 600 were injured in Bata, Equatorial Guinea's most populous city, on 7 March by a blast in an explosives warehouse in the Nkoatama military barracks.
Prime Minister Teodoro Obiang said that, due to the explosion, "almost all buildings and homes in the city suffered huge damage".
In the days that followed, several evangelical entities and organisations began to mobilise aid and get it into the country.
The evangelical NGO +Q Salud, which has been providing health care and training in the country for more than a decade, started a fundraising campaign to help the families affected by the explosions. It has also sent two social workers to Bata, to monitor the situation, follow the cases at first hand and distribute the donations collected with greater precision.
Eunice Blanco, a member of the +Q Salud board of directors and social work coordinator at the Vall d'Hebron Hospital in Barcelona, who is one of the people who have travelled to Equatorial Guinea, explains that "for the people here, it is very important to feel supported".
She spoke to Spanish news website Protestante Digital about the situation they are living in the city and how they have found it.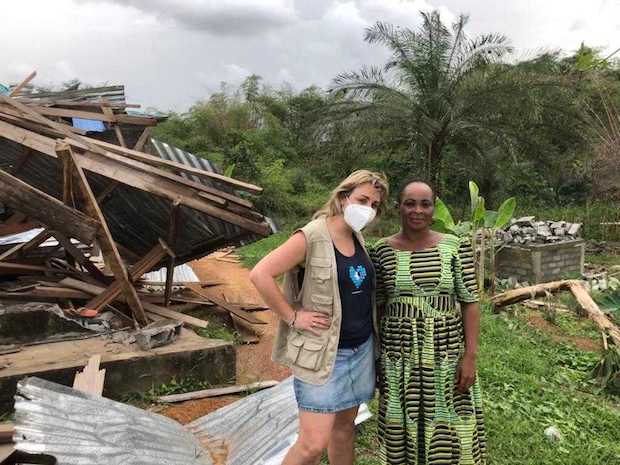 [photo_footer]Eunice Blanco (left) with a woman from one of the worst affected areas of the city. / E. Blanco [/photo_footer]
Question. What is +Q Salud's project for Equatorial Guinea and what is the purpose of the trip?
Answer. For many years, we have come to hold congresses and training at the Faculty of Health Sciences of Equatorial Guinea in Bata. Now, one of our most important projects is to carry out a Specialised Health training. But when the explosions occurred, both the management of the NGO and the aid workers who have collaborated with us showed great interest in knowing how they could help.
Apart from looking after all the health workers we work with, we also thought about raising funds for the victims. People have been very supportive and more than 20,000 Euros have been raised.
We realised that the best way to repay that trust was to come here and see first-hand how we could help.
The goals of this trip are to offer psycho-emotional support to the professionals we work with on a regular basis, because some of them have lost their homes and are sleeping in the hospital.
We also want to carry out a socio-economic study to see how we can help them, and to continue with the negotiations and contacts to develop the training project. We have two social workers here because now it is necessary to make a social assessment of the circumstances of the city and the families that have been affected.
Q. The explosions affected a large part of the city's buildings and facilities. How did you find Bata?
A. The impact of the explosions has been greater than we could have imagined at first. It is estimated that more than a thousand families have lost their homes. Some of them are brick houses, well built, but have lost their roofs. There are others made of boards which have been completely destroyed.
When we talk to the families, many of them have lost a family member, but also their houses, which for many people were their workplace because they used to sell cooked food, and they no longer have that source of income. The impact is at all levels: biologically and socially, but also in terms of family, housing and work.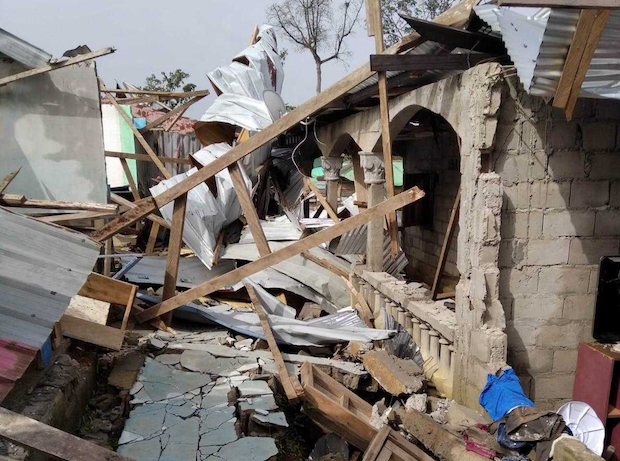 [photo_footer]Almost all buildings and homes in the city suffered huge damage. / E. Blanco [/photo_footer]
Q. What do people tell you, how are they facing this situation?
A. They experience it with surprise and uncertainty. On the day of the explosions, many people didn't know what was going on. Mobile phones were out of order for a few hours. The second blast was bigger than the first, but there were detonations all night long. They all agree on the feeling of uncertainty and great fear for their children.
Some were inside their homes at the time of the explosions. For example, an evangelical pastor died like that, and the rest of the people in the community had just left the church.
They are sad, their looks are sad. And they are also worried, because they don't know how they are going to recover. Furthermore, this has come in the midst of the Covid-19 crisis, which also makes everything more difficult. Now there is a slight increase in the number of cases here.
Equatoguineans are strong and resilient people, with a very strong capacity for self-improvement in the face of adverse circumstances, but they also express sadness, fear and uncertainty. They are starting to bounce back.
There is an evangelical church, which also had a school and houses, that has been destroyed and the first thing that many people in the community have started to build is the church. Their houses are still destroyed, but they have already started to install the timber to rebuild their church.
Q. What role is people's faith playing in the situation?
A. It is amazing to see their faith. They are an example of strength. Psalm 18:2 says that God is our 'rock' and our 'refuge'. It is necessary to remember that in these circumstances and for these people.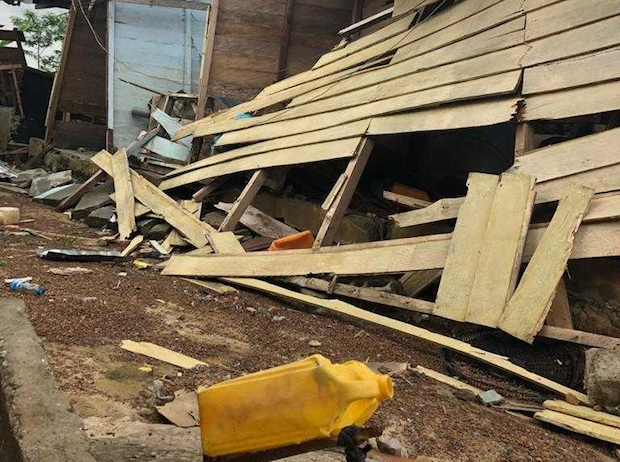 [photo_footer]Most of the buildings made of boards have been completely destroyed. / E. Blanco [/photo_footer]
Q. Many people have lost practically everything and are still focused on helping others. How do you see the solidarity in Bata these days?
A. One person explained to us that the neighbours immediately began to bring sheets, clothes and whatever they considered most necessary to the hospital. Families and friends are taking each other in. Everyone is trying to make sure that no one loses their shelter.
Q. Is there any particular story that impact you the most?
A. The same day we arrived in Bata we went to the area closest to where the explosions took place and we were talking to the families. Many of them are waiting for some kind of commissions from the town hall to come and see the damage they have suffered in their homes. Some of them, when they have to leave, leave their phone number written on what is left of the walls of the house, to make sure they will be called.
Others are still there and refuse to leave because they say that this is their home. If they happen to have a part of the roof that has not been dismantled, they stay there. In that small space they cook and spend the hours, because they still think that this is their home.
We spoke to two women, two sisters. Each had lost her home. There was another sister who had also lost the house where she lived with her children and she died. I remember the sad looks on their faces because they didn't want to leave and because they had to rebuild everything.
We were also talking to another woman who was washing her clothes in a space in her house that had been saved. She said she knew there was water there and that's why she went there to wash. But when she looked up she could see the whole roof lifted up.
[photo_footer]There is still a lot of debris removal work to be done. / E. Blanco [/photo_footer]
Q. The explosion has occurred in the midst of a global pandemic. How are people coping with the health situation?
A. Those who are suffering the most from the pandemic are the people who work in the hospital because the cases are starting to increase. Certain security measures have to be followed, but so far the numbers have not been very high here. They experience it as an overload to the whole situation. Living in lockdown was difficult for them.
Q. How are the health workers experiencing it?
A. Working in the hospital and receiving the wounded they experience it first-hand. Many professionals have been very supportive and have come to the hospital to help. They are tired and are going through a very hard time.
Q. How can people in other countries help?
A. The people here need to feel our support, that is very important for them. The most important strength is prayer. Then, with the financial donations that have been raised, we are directly helping families in need.
It is very difficult for the country's own aid to cover the costs of reconstruction and restoration, so that everything that can be donated and that is directly focused on achieving their autonomy, is welcome.
What we want is not just to give money and food but to go a step further and empower families, so that they become autonomous again and are not dependent on aid. The aid must go in the direction of restoring the balance, so that people can continue on their own.
Learn more about the work of +QSalud by visiting their Facebook page.