Milwaukee Bucks forward Giannis Antetokounmpo has been named the NBA most valuable player of the 2018-19 season.
Antetokounmpo has not had an easy life. He made an emotional acceptance speech after becoming the youngest MVP in eight years.
"EVERYTHING I DO, I DO IT THROUGH GOD"
The Greek foward began his speech by thanking God and the many people who helped him achieve his dreams.
"First of all, I want to thank God for blessing me with this amazing talent, for putting me in the position that I am today. Everything I do, I do it through Him", Antetokounmpo said.
He also thanked his teanmates, the Milwaukee Bucks coaching staff, ownership team and his agents.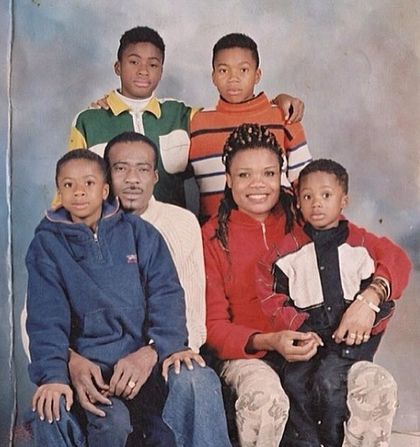 Family is very important for the new MVP. / Thanasis Antetokounmpo instagram.
The Milwaukee Bucks player dedicated his most moving words to his family, specially to his late father, who passed away in 2017: "Every day that I step on the floor I always think of my dad and that motivates me and pushes me to play harder and move forward".
He also took a moment to speak to his four brothers, and to his mother who "always saw the future in us, she always believed in us. She is the foundation of this family. You are my true hero".
"At the end of the day, this is just the beginning. My goal is to win a championship. As my dad told me, always want more but never be greedy. My goal is to win a championship", Antetokounmp concluded.
HARD BEGININGS
Antetokoumpo's history begins in Greece, where he was born in 1994. His parents had emigrated to Europe from Nigeria, looking for a better future for their family.
"We spent a lot of time together as a family, but it was also hard. We did not know if we were going to have money to eat that day or if I was going to get up and not see my parents because they had been deported", the Milwaukee Bucks foward pointed out in an interview.
Giannis started playing basketball in 2007, and he soon showed great physical and technical qualities.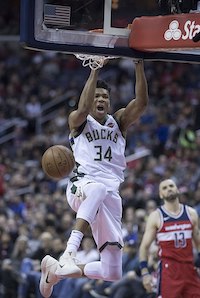 Antetokounmpo is a leader in his team, the Milwaukee Bucks. / Keith Allison, Wikipedia (CC 2.0).
However, he experienced many obstacles at the begining of his career, such as the difficulties to get the passport that would allow him to reach the NBA, because of the unstable situation in which his parents had entered the country.
Far-right parties criticized and even insulted Antetokounmpo, but he has always shown respect for the country where he was born.
In 2013 he signed for the team of Milwaukee, where he has progressed dramatically in his game and has not stopped putting up challenges.
"WALK Y FAITH, NOT BY SIGHT"
"When I was 15 years old, I'd tried to get in the selection of the 12 best players in the school championships. I'd been cut from the top ones. Most of the kids that were in the top 12 do not play basketball professionally. I'm in the NBA", the forward wrote in his blog.
"On the occasion of this story that took place a few years ago, I'll reveal my motto to you, the one that only my family knows about: 'Walk by faith, not by sight'. I believe that this is the right attitude to life for everyone. I just need to be the better son, brother and human being I can", he added.