Four out of five websites sharing child pornography are hosted in Europe, the 2019 report of the Internet Watch Foundation denounced.
The foundation "found record amounts (105,047 URLs) of child sexual abuse imagery last year" around the world, due to the imporvement of "technology to help speed up the detection and assessment of the criminal images".
THE DEMAND IN NETHERLANDS AND THE UK
"47% of all the imagery found last year was discovered in the Netherlands", said the foundation that works to report and remove child sexual abuse imagery on the internet. The country is known for having the most liberal laws on paid sex, though new movements to raise awareness about human trafficking and sexual exploitation are gaining momentum.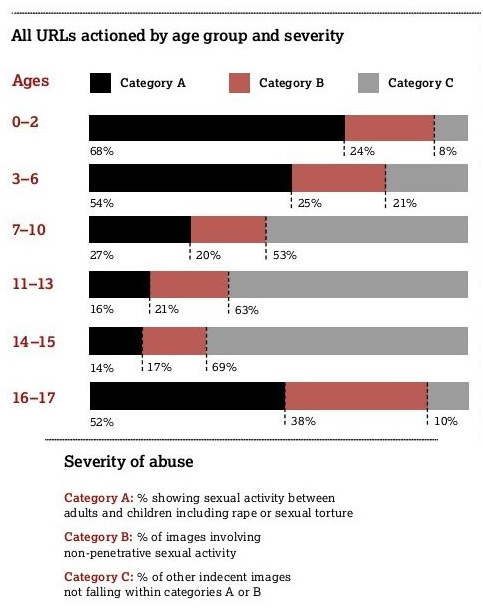 Graph source: Internet Watch Foundation report 2019
"The cause of the problem is the demand. Unfortunately, and as the police tell us often, there are 100,000 people sitting in the United Kingdom right now demanding [these kind of images]. This is a global challenge and no doubt every country's police force will have their own estimations of this criminality".
The good news is, nevertheless, that 2018's figures "show that the amount of child sexual abuse imagery hosted in the UK is at its lowest level ever recorded – 41 URLs. In 1996, 18% was hosted in the UK".
'SIX YEARS LATER, HER IMAGES ARE STILL BEING SHARED'
"IWF has traced the experiences of 'Olivia', a child who was repeatedly raped and sexually tortured from the age of three until she was rescued from her abuser when she was eight. Despite being rescued in 2013, IWF analysts see her images daily, which are still being shared online", the authors of the report said.
In 55% of the cases reported, the IWF says, child pornography portrayed children younger than 10 years old.
"Today most children are tech savvy, but they may not be tech safe", the report says.
Download the 2019 IWF report here.