The European Evangelical Alliance (EEA) has recently published a new paper "to help Evangelical leaders to reflect on how to respond to the LGBT rights agenda in public life".
The authors of the "LGBT+ Rights – Responding to a changing world" guide "pray that it will renew people's confidence in continuing to promote a Good News approach to issues of sexuality and family".
THEOLOGY, QUESTIONS AND EEA POLITICAL STANCE ON LGBT ISSUES
The paper came out after a "collaborative discussion, writing and approval by EEA staff, members and Public Policy Authorisation Team, who are elected by EEA members", the EEA explains.
"It includes brief theological reflections on sexuality" and "it gives questions for evangelicals to reflect on how they might speak and act, being Christ's ambassadors on these sensitive issues".
The document also highlights the EEA's conclusions on its political stance on LGBT rights.
"CHRISTIANS ARE CALLED TO PROCLAIM GOD GOOD GIFT OF FAMILY"
According to the EEA, "across Europe, public attitudes on sex and family life have been changing dramatically for at least the last 50 years".
"In the West especially, nations have strayed far from a biblical understanding of sex and family [...] People, especially children, are being hurt", the paper states.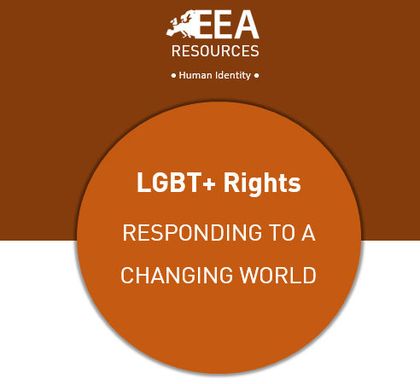 The EEA paper is called LGBT+ Rights – Responding to a changing world.
That is why "Bible-believing Christians are called to proclaim God's good gift of family, based on monogamous heterosexual marriage as the basic and crucial relational unit in society", it adds.
The EEA clearly points out that "moving away from God's pattern for family life is not an option for evangelical Christians".
COMUNICATING THE TRUTH
It believes that "the church's calling is to present the case concerning God's desire for family life to fellow sinners with grace, rather than in judgement".
"There is a place for warning, especially when society as a whole is leaving a creation-based ethic, but the main task for the church should be to tell a better story than secular ideologists: to explore the beauty of the biblical vision of sex and marriage".
The EEA "advocates for a civil public square, in which everyone, no matter their faith or worldview, is able to enter and engage public life on the basis of their beliefs, but that they understand and respect the rights of everyone else to do the same".
FREEDOM OF CONSCIENCE
The paper recalls that "unfortunately, there have been cases where Christians' freedom of conscience has not been protected and they have lost their jobs".
"Human Rights law protects freedom of thought, conscience, religion and of expression ". Therefore, "profoundly held views should be respected and covered by law, and ways must be found to accommodate the rights of all".
Read the full paper here.