The ad includes a picture of a woman wearing a white and gold dress, with severe bruises on her face and body.
The ad copy asks: "Why is it so hard to see black and blue," and then goes on to say that "the only illusion is if you think it was her choice."
The ad recalls one of the most viral of viral memes to hit the internet in recent weeks, which asked social media users to decide whether a dress was white and gold or black and blue.
The picture of the dress was shared around the world on social media, and opened a debate on how difficult it is for the human eye to process certain colours.
The Salvation Army South Africa tweeted its ad Friday morning, noting that one in six women is a victim of abuse. The tweet has been re-tweeted more than 10,000 times, and garnered much praise on social media.
Later on Friday, a second poster was sent out showing a woman with a gash on her lip applying makeup to her face.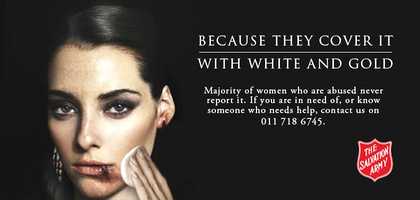 Second poster / Salvation Army
"Because they cover it with white and gold," says the copy, adding that the majority of women who are abused never report it.
John McAlister, national director of marketing and communications for the Salvation Army in Canada, said the success of the viral dress campaign is a concern when more significant issues don't get the same attention, such as homelessness, child poverty and domestic violence.
"In Canada, on any given day, more than 3,000 women are forced to sleep in emergency shelter to escape domestic violence. Many of these women are mothers and are accompanied by young children," McAlister told CTV News Channel on Friday afternoon.
"Sadly, these thousands of women each day are just a fraction of the women who are experiencing domestic violence."