A minister of the Scottish government said she is "sorry" that an institutional campaign against hate crimes seemed to target people of faith.
The "Dear Haters" campaign was funded by the government and backed by Police Scotland. Posters were placed in open spaces such as public transport stations in October 2018. They addressed homophobia, racism, and other areas.
One of these posters, read: "Dear Bigots, you can't spread your religious hate here. End of sermon. Yours, Scotland".
The campaign also said: "Division seems to be what you believe in. We don't want your religious hate on buses, on our streets and in our communities. We don't want you spreading your intolerance. Or making people's live a misery because of their religious dress. You may not have faith in respect and love, but we do. That's why if we see or hear your hate, we're reporting you. End of sermon".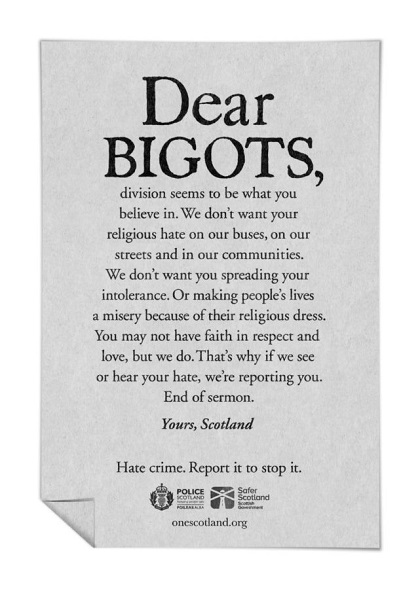 Among others, the state funded campaign targeted religious bigots. / One Scotland
GOVERNMENT: "NO PLANS TO REUSE POSTER"
A member of the government now admitted the poster was not entirely adequate.
"I would like to confirm that the poster was absolutely not intended to target those of faith, and I am sorry if it appeared that it did", said the cabinet secretary for Communities and Local Goverment Aileen Campbell. "We have no plans to reuse this poster in the future".
Campbell went on to say: "I would also like to reassure you that this government values our relationships with our Christian communities and appreciates the valuable contributions they make to Scottish society, including supporting many of our most vulnerable and disadvantaged communities".
EA: POSTER SEEMS TO TARGET PEOPLE OF FAITH
The minister's words came in response of a letter of the Evangelical Alliance Scotland, sent to the government in October.
"There's no definition given here of either bigot or religious hate, and it's almost impossible not to read this on its own as targeting people of faith rather than protecting them as the campaign is claiming to do", the Evangelical Alliance said. "It is an astonishing poster and does exactly the opposite of what is intended".
The Alliance said that a "respectful, plural public square, where all can bring their views and express them with respect, is vital condemned all kinds of hate crimes". But there is a danger: "One person's disagreement with someone's views or lifestyle (such as being a Christian) can be seen by another as hate. Some even use the accusation of hate itself as justification for hostility to those of different faiths".
"For these reasons it's important to be clear about terms and definitions and not allow yourself to be misunderstood. Unfortunately, the One Scotland campaign seems to have forgotten this in relation to the religious hate poster".
I October, the Evangelical Alliance also encouraged Christians to contact Members of Parliament about this issue.
A HATE POLICE?
Other Christians in Scotland described the campaign as an example of the growing pressure on Christians in the area of freedom of speech. The promotion of negative stereotypes in public spaces would only help to encourage self-censorship and a feeling of hostility towards faith expressions.
"At one level the posters seem fine. Who is going to argue against the idea that we want rid of hatred? That people should not call others names, or be violent, or mock and abuse?", said David Robertson of the Solas Centre for Public Christianity.
But "the posters are ambiguous, selective, intimidatory and self-contradictory" he wrote. "The posters say 'love lives in this country, not hate' – whilst encouraging people to hate anyone who dares to disagree with their new State morality".
EVANGELICALS DIALOGUE WITH GOVERNMENT
Evangelical Alliance Scotland.
Christians will "continue to have further discussions with the government relating to its approach to faith generally and hate crime specifically over the coming months", the Evangelical Alliance said, "including the consultation over possible new hate crime laws".
"It is good to have these channels of conversation open" the body representing evangelicals added, "and to see the value that comes from representing our members as we engage constructively with those in authority over us".