Authorities in Eastern Ukraine have regarded many churches and religious organisations as illegal, including all Baptist and Pentecostal communities in the country.
October 15 was the deadline imposed by the self-declared Luhansk People's Republic (LPR), an unrecognised entity in Eastern Ukraine, to churches and organisations for their compulsory re-registration as religious communities.
RE-REGISTRATION DENIED
No Baptist or Pentecostal communities gained the re-registration, as well as Seventh-day Adventists. Catholics are still awaiting an answer, and two religious communities, both of the Ukrainian Orthodox Church, along with the Hare Krishna community, gained registration recently, news agency Forum 18 reports.
Andrei Litsoev, head of the Religious Organisations and Spirituality Department of the Culture, Youth and Sport Ministry in Luhansk, refused to explain the reasons of the rejection and what action officials will take against those meeting for worship without permission.
A NEW RELIGION LAW
The LPR, along with the Donetsk People's Republic (DPR), both backed by Russia, declared independence from Ukraine in April 2014.
This resulted in an ongoing armed conflict between Ukrainian government forces and separatist groups supported by Russia.
The rebel administration currently controls nearly one-third of Ukraine's Luhansk region and has declared martial law.
On February 2, they approved the Religion Law, which claims to guarantee freedom of religion or belief, but imposes a range of restrictions "to secure the defence of the country and the security of the state".
LPR: 'THE BAPTIST UNION, A EXTREMIST RELIGIOUS ORGANISATION'
Local religious organisations need at least 20 or 30 adults living in one district of the LPR to apply for registration. A registration application has to include their names and personal data. Centralised religious organisations need at least five registered local congregations.
Additionally, any community seeking registration has to be approved by an "Expert Commission of State Religious Studies Expert Analysis".
The Religion Law also specified that registration is compulsory, adding that any activity by religious communities that failed to get re-registration would be illegal.
On 26 July, the LPR State Security Ministry announced that it had banned the "destructive activity of the extremist religious organisation the All-Ukrainian Union of Evangelical Christian/Baptist Churches".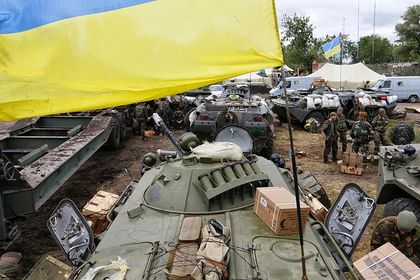 The LPR declared independence from Ukraine in April 2014 in the region of Dombass. / Wikimedia Commons
PERSONAL DATA
The United Nations High Commissioner for Human Rights expressed concern that "procedures for mandatory registration of all religious organizations limit freedom of religion or belief and create protection concerns for parishioners".
A UN report has shown that "some parishioners do not want the 'authorities' to know of their participation in a certain religious organization", because they fear the consequences of giving personal data on their founders in their registration applications.
VIOLENCE AND PERSECUTION
Since June, there have been repeated raids on places of worship, and the re-registration denials have left many communities in a state of uncertainty.
Most of the 44 local Baptist communities which were part of the Ukrainian Baptist Union lodged re-registration applications. However, all had their applications refused.
Meanwhile, the five Pentecostal communities which used to be linked to the Ukrainian Pentecostal Union, received similar rejection letters, representatives of both organisations told Forum 18.
PRESSURE ON PASTORS
Additionally, armed men raided a Baptist church in Brianka on 26 September, and four days later, 12 police officers halted the worship service of Krasny Luch Baptist church and detained its pastor, who is facing possible punishment.
Another Baptist pastor in Krasnodon was summarily handed a 20-hour community service order, after refusing to pay an earlier fine to punish him for leading unapproved worship raided by the police.
Pentecostal leaders have also been persecuted: men armed with automatic weapons, apparently from the LPR State Security Ministry, raided the church and halted its worship meeting.
Officials detained, interrogated, threatened and beat three Pentecostals, two women and a man, for organising a children's summer camp in August which officials considered "subversive".