Spain continues to be the only country offering safe harbour to migrants who are rescued in the Mediterranean.
The last to arrive in Spain has been the NGO Proactiva Open Arms ship, which saved 87 migrants in distress off Libya, and docked in the southern port of San Roque on Thursday after roaming the Mediterranean for days.
The migrants had spent 50 hours at sea on board an inflatable boat, without drinking water, and many suffered burns from a mixture of fuel and salt water before they were rescued on August 2nd.
There were 75 men and 12 boys. The NGO says many of them were "repeatedly abused in Libya".
CHANCE OF POLICY
It is the third vessel to be allowed in the country in two months after Italy refused to take them in.
However, the government has stopped applying the advantageous conditions it offered the Aquarius and other humanitarian aid ships that recently docked at Spanish ports.
The 87 migrants of the Proactiva Open Arms ship "will follow the protocols established for any migrant arrival", said government sources.
They will spend a maximum of 72 hours at the police precinct and be offered a chance to apply for asylum if they wish to.
Eighty-four of the migrants are from conflict zones in Sudan and South Sudan.
This is in contrast to what Prime Minister Pedro Sánchez did when he offered the port of Valencia to the Aquarius, a rescue ship that Italy and Malta denied it permission to dock, and announced that the 630 migrants on board would get a special 45-day residency permit for humanitarian reasons.
ome of the people on board of the Aquarius ship. / Oscar Corral, El País
"Spain has offered one of the best examples of the European spirit in terms of solidarity", said EU Immigration Commission Dimitris Avramopoulos in an interview with Spanish newspaper El Pais last Friday.
"I think that Spain reacted in a very positive way. But it cannot go on this way", he added.
1703 MIGRANTS ARRIVE IN SPAIN THE FIRT 8 DAYS OF AUGUST
According to the International Organization for Migration (IOM), 60,309 migrants and refugees have entered Europe by sea in 2018 through 8 August.
"Arrivals to Spain during the month's first eight days are at least five times those to either Italy or Greece, until this year both much more popular destinations for irregular migrants than Spain traditionally has been", they reported.
IOM's Missing Migrants Project has documented the deaths of 1,524 people on the Mediterranean Sea during 2018, ten during the past week.
Through June, migrant arrivals to Italy surpassed those to Greece by some 3,000 men, women and children. But in the last 40 days Greece has received more migrants, by about 400 arrivals, and could well surpass all arrivals to Italy in 2018 by the end of the year.
Spain holds the record of arrivals with 1,703 irregular migrants entering the country through the first eight days of this month, most rescued by the patrol boats of Coast Guards and the Spanish Guardia Civil.
With those rescues, a total of 24,646 men, women and children have reached Spain. Additionally, according to Spanish authorities, some 3,959 migrants also have attempted to enter Spain irregularly via its African enclaves at Melilla and Ceuta.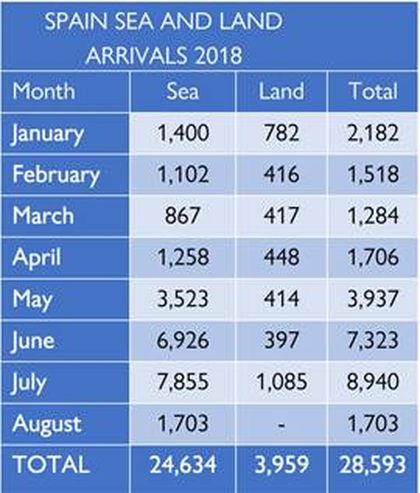 Arrivals in Spain. / IOM
ARIE DE PATER: ´EUROPEANS ARE NOT THE VICTIMS´
Arie de Pater, Brussels representative of the European Evangelical Alliance, in an interview with Evangelical Focus made "a clear distinction between refugees and migrants. I'm always a bit concerned when I hear about the refugee crisis. That's the term that is broadly used, but refugees themselves are not the crisis. It is a political and moral crisis more than a refugee crisis".
"There is a tendency to call the migrant the problem, feeding a rhetoric in which we, Europeans, are the victims. But that is not the case", he added.
ITALIAN EVANGELICAL ALLIANCE: "EVANGELICALS NEED TO ENCOURAGE A PUBLIC DEBATE"
The relationship between these countries has deteriorated due to the opposing viewpoints concerning political migrants in Europe, reaching breaking point over the 'Aquarius' case.
The Vice President of the Italian Evangelical Alliance, Leonardo de Chirico believes that "the whole problem of migration has been politicised. Everything that this said is filtered through political lenses and party lines, rather than being evaluated with reliable data and a Christian worldview. It is now hard to talk about this topic reasonably, and this is not helpful".
"I think that evangelicals in Europe need to encourage a public debate about the future of the continent. This is also key for the migration question", he pointed out.
GERMAN EVANGELICAL ALLIANCE: "OUR WELL-BEING IN EUROPE IS A GOD-GIVEN GIFT"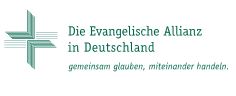 Meanwhile, in a statement published on July 12, the German Evangelical Alliance (DEA) declared that there were "shocked to see that thousands of refugees die in the Mediterranean, in front of the doors of Europe – this cannot be the will of God".
"Our well-being in Europe is a God-given gift - it obliges us to offer ourselves to help and share", the DEA said.
They "appeal the European Union and the governments in European countries to look for common solutions with even more conviction, solutions that are oriented to the need of the people and the rule of law".