Britain has historically been seen as country with a strong Christian heritage. A new study published in January 2017 shows that 55% still believe it is a "Christian country". But the younger generations do not agree with this definition.
The ComRes poll for the new Faith Research Centre (UK) interviewed 2,048 representative adults between January 4 and 5.
Some of the main outcomes are showed in the following graph: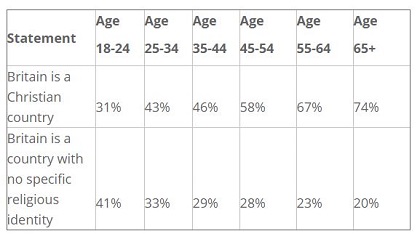 Source: ComRes
While adults aged 45 or more defined Great Britain as a Christian country, only 31% of those aged 24 or younger agreed with that statement.
In addition, "those aged 18-24 were most likely to describe Britain as a country with no specific religious identity (41%)".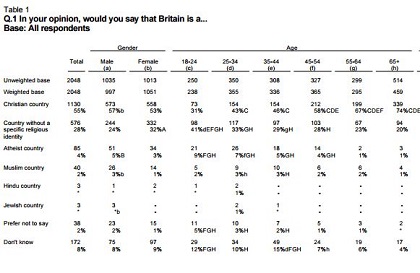 Source: ComRes
Other definitions offered were "Atheist country" (4% of all adults agreed, 9% of those aged 18-24), "Muslim country" (2% of all adults, 2% of those aged 18-24). Almost none of the respondents chose the option "Jewish country" or "Hindu country".
One in ten said they had no opinion on the religious background of Britain.
SHOULD WE CARE ABOUT RELIGION?
The survey also asked about the role of religion in the public arena. The results showed that:
1.- It is important that UK politicians and policy-makers have a good understanding of religion(s) in the UK (52%)
2.- Understanding religion is important to tackle terrorism around the world (50%)
3.- Understanding religion is important to understand the world, regardless of whether you are personally religious or not (54%)
"OVERLOOKING RELIGION IS MISUNDERSTANDING CULTURE"
The new Faith Research Centre will be launched in the UK "to help improve the quality of knowledge about religion and belief by providing robust and impartial evidence of current religious identity, belief, practice and behaviour".
It will be led by Katie Harrison, former Communication person at Christian global charity Tearfund. "Having worked in local communities in the UK as well as in the Middle East and sub-Saharan Africa in refugee camps, urban slums and rural villages, I'm clear that religion and belief plays a huge part in many people's lives, and to overlook it is to misunderstand important drivers of behaviour and culture", she Harrison said.