We have all heard the figures of all those who had fled Ukraine after the Russian invasion. As of February 2023, over 8 million (nearly 20% of the population) were living as refugees in other parts of Europe. Many others were internally displaced.
Evangelical Focus contacted individuals and families in four countries who opened their homes to Ukrainians. This is the first article of a series telling the story from the perspective of Christians who welcomed those fleeing the war.
The church flat for grandma, mum, and the kids
Kévin Mickaël Commere is the pastor of a Baptist Church of Montbéliard (eastern France). The leadership council of his Christian community decided to open the flat above the church building for Ukrainians, and found the chance to host a family of four.
Grandma Halyna and her two grandsons, Ilya and Vlad, arrived on 28 March. "We met them at their arrival in France, after their long and exhausting 'trip'. We were completely new to this situation thus we didn't know what to expect, really", says Kévin. When they first met them, "we immediately stopped thinking about ourselves. A simple glance made us quickly understand what fleeing your homeland meant", he recalls.
Two months later, the mother of the two boys, Tanya, surprised them. She had left her work as dental assistant in Ukraine to come stay with her kids. At the church they will "never forget the relieving reunion" that day.
Now, after almost a year staying in Montbéliart, "they are studying the possibility to continue their journey to Canada".
Adapting to dependence
How was it for the four begin from zero in a town of France? "It would be difficult for us to speak on their behalf, but we know they are very thankful", says the pastor.
Fleeing your homeland is traumatic "and sometimes humiliating". Little things such as not being able to communicate appropriately. "We can imagine how difficult it is for Tanya to communicate with us through her 16 years old son who happens to understand and speak English quite well". Daily situations such as going to the grocery store can turn into something stressful. "Being so dependent on the society where you arrived is very hard for someone who never had to experience it before", says Kévin.
Halyna, Tanya and the kids are Christians, something that has been "a blessing, and makes things easier", says the pastor. "It has been a joy to pray with them, cry with them, cry out to God with and for them".
"Tanya and Halyna are never late for prayer meetings. Even with their limited comprehension (but it's always less true as days go by), they are a part of us, truly".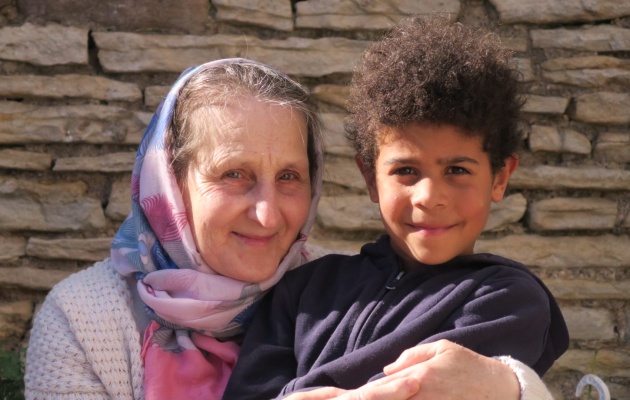 [photo_footer] Halyna with the youngest son of pastor Kévin. [/photo_footer]
The grandmother and the kids call the little flat above the church 'home'. "Halyna told us that her heart was in peace. Even far away from everything she knows, she feels safe, waiting for God to intervene for the salvation of her countrymen and women".
As a church community, they hope to be "as much as possible, sisters and brothers to them, even with our little means. People who care, people who love, people who pray with them and for them".
"In the end, we would have hoped none of this had happened, but our trust is in God", reflects Kévin. "May we, as French hosts, have as much faith as our brothers and sisters from Ukraine".
Delphine and her four guests
Delphine Brabant lives in the village of Delle, just 20 kilometres away, very close to the border with Switzerland. Her hosting adventure, as she calls it, started that same day in March. "They were four women arriving in my house, they all already knew each other from their church at Kyiv".
Nadiia is a lawyer and Manya a logistics manager. Olesya, an administrative assistant in charity, fled the country with her 15-year-old daughter Liza, leaving in Kyiv their 18-year-old son and her husband Taras, who is fighting in the war.
They all stayed in Delphine's house for six months. Also for them, not knowing French made it very difficult to find a job. In September, they left for Canada.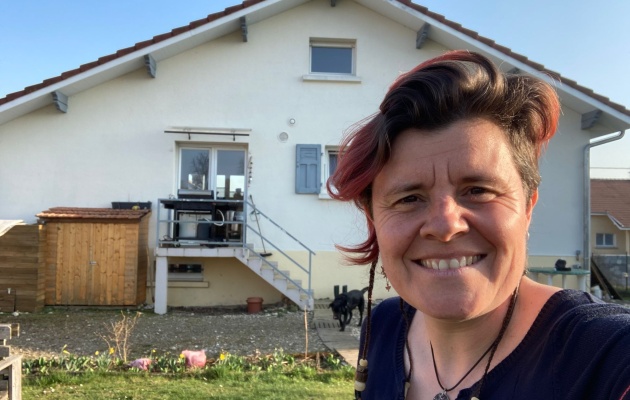 [photo_footer] Delphine and her house, were she hosted the 4 women for six months. [/photo_footer]
How did they experience the half year in France? "I cannot answer for them", says Delphine, but says: "What I can say is that they really didn't expect to stay such a long time abroad. From the beginning, they were sure they would go back home after a couple weeks. It took time for them to accept the idea to invest in life outside of Ukraine".
Delphine's guests attended church with her, and the community set up a phone app that has a live translation function. They also attended a homegroup where Delphine and others read the Bible together. "We were able to share prayer moments in different languages and experience the strength of fellowship and a faith bigger than differences in culture".
Learning first-hand realities of war
"Welcoming those women opened my mind to concrete reality of war", says Delphine. She was impacted by the "physical state and tiredness of these women arriving after fleeing, but also after a month of fear: hiding in shelters, power cuts and lack of basic supplies".
Having the four women at home showed her "the effects of war from inside". Delphine was told about the "stress of air raid sirens which were still coming up in their phone", followed by "the long wait for news from relatives, with the recurrent question of 'is everybody safe?'"
The "anxiety for the loved ones who stayed behind" does not go away. "Even more for a husband fighting somewhere unknown, in an off-connexion zone. The length of days, sometimes weeks without any news, the silent hope that everything is fine".
The host witnessed the "pain that comes with the loss of comfort and of a future", and also the "division in families with relatives in both sides, in Ukraine and Russia". The war "destroys confidence and leads to traumas. It takes different forms for different people, but it impacts everybody, in every age, in every social position, in every political side".
The spiritual impact on hosts
For Delphine, hosting Nadiia, Manya, Olesya, and Liza grew her faith. She learnt from their "total confidence in God sovereign, never doubting, even in tears, that He wants the best for them, for their country, and that nothing of what is happening escapes His control".
Another thing that impressed her was to "the will and need to pray for their enemies".
Spending time with her guests helped her better understand that "we are only passengers on this earth, and that we have on the kingdom to come".
God's love has been very present this six months. A "love that opens hearts and doors without any conditions, a love that trusts without understanding or knowing, a love that gives and receives without counting, a love that doesn't seek its own interest".
"Going into this adventure was a big step of faith… What will I have to manage? Will I be able? My prayer a few days before hosting, in front of so many unknowns, was: 'God, give me your love to welcome whoever and whatever arrives, your eyes to see the needs, your wisdom to find solutions to issues, your strength to work on it, your hands to take care for them'", Delphine recalls.
She realised soon that "I would never be able to comfort them totally, to fulfil their needs, to give them what they wished the most". That frustration became a real "reminder that by ourselves we are not capable of anything. God alone can totally and perfectly fulfil my needs, their needs, every need", she testifies.
A body of people organising homes
The four staying at Delphine's home were part of a larger group of 28 refugees from Ukraine arriving in the region, including the family staying at the Baptist Church in Montbéliard.
For the church of which Delphine is a member, Action Biblique in Étupes, this was a "big project, with lots of logistics to manage, lots of stress due to emergencies, lots of tasks and changes, and lots of people involved".
Looking for places to stay for all the people "was not easy, and to be honest we have had some tensions. But finally, after all, God was above all, He was in control for this adventure He had planned for us. And He made great things happen".
Delphine concludes with this thought: "We saw God's hand. Clearly. Deeply. He showed us He was before us in each step. And despite issues and difficulties I am still amazed to realise how we can see God working and wonderful things He does when each of us just obey in our call".
[donate]