Christian business leaders in Romania are interested in how they can integrate biblical principles into their work, so that they can have influence in the community they are part of.
A movement is beginning to develop which aims to help Christian entrepreneurs to learn about biblical models of leadership and investment.
That is why over 200 Christian business leaders participated in an event in Bucharest organized by Guild Faith Cluj-Napoca, focused on integrating faith in business, where speakers shared their practical experiences with other entrepreneurs and managers.
Business people challenges
"In Romania we face many challenges as business people, we have all kinds of myths in Romanian culture, such as: you can't do business with integrity", said Ruben Marian, founder of Guild Faith Cluj-Napoca to Alfa Omega TV.
Marian pointed out that "it's very hard to remain a Christian in business, because you have so many temptations. That is why we think it is very valuable for business people to gather, because they are quite alone, they don't really receive support. It's quite difficult for them to share with others the level of stress and risk they have".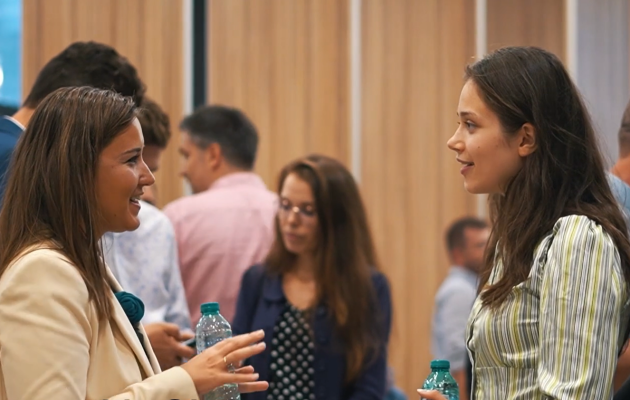 [photo_footer] Participants in the conference. / Photo: Alpha & Omega TV Romania [/photo_footer]
"Ruben and I saw the need, first of all, for us to have a context in which we can discuss challenges that are specific to Christian business leaders, related to the need for community in order to grow and to remain, so to speak, in the right direction as Christians. That's the motivation", explained Daniel Lar, the other founder of Guild Faith Cluj-Napoca.
The workplace as a mission
The conference, called Biblical growth principles for a successful business, was presented by the President of Europartners, Wouter Droppers. He stressed Romania's "huge potential" to develop successful Christian businesses.
"They have an amazing Christian heritage, there are very many Christians entrepreneurs in Romania. They are a wonderful nation with many resources. They have everything it takes and just need to reap the rewards", said Droppers.
Lar underlined that with Wouter's help, they gave answers to questions, presented models related to what Christian thinking means in terms of business, the growth of a business, how we treat our colleagues, our employees and how we view our work as a whole.
"We want to see more and more entrepreneurs who think of business as a mission, as an opportunity to show God and His glory. I was and I am glad, to be part of a movement, to organize an event like this and to encourage one another to bring God to the workplace", pointed out David Miu, director of Extreme Riders Distribution.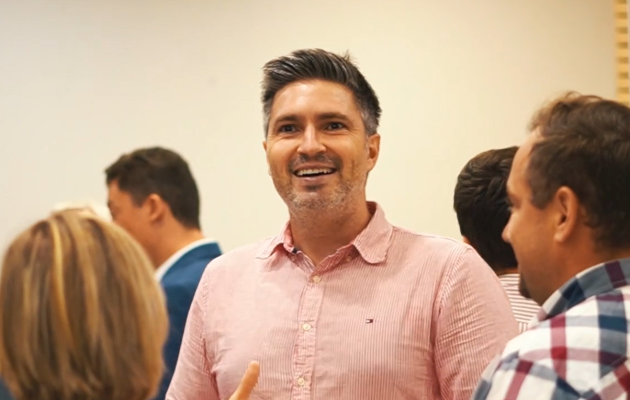 [photo_footer] Participants in the conference. / Photo: Alpha & Omega TV Romania [/photo_footer]
Adiel Bunescu, pastor of Missio Dei church liked "the idea of cooperation and coming together, one plus one doesn't make two, it makes three, four, five... we don't know".
He agreed that business leaders "tend to stay in our own lane, we naturally run in our lane, look at our own problems. But when you come together with others and put what everyone has together, more than just what each does for himself is achieved".
Participants opinions
The over 200 participants learned what Jesus said about the principles of multiplication, how collaboration produces value, and about the integration of faith in business.
"I think the most important idea that we will implement both in our minds and in the minds of employees is that the business is not ours, it is God's. We are just stewards and our goal is to be the best stewards of what God has given us", said Răzvan Luca, an entrepreneur who participated in the event.
For Ioana Luca, another entrepreneur, "you don't work for yourself, and that's a relief. You are not earning for yourself, and again that's a relief, but you do it all for the Lord. Not only you, but also your partners, your employees".
Another participant pointed out that "what is essential in our lives as entrepreneurs, is to seek to renounce self, even when some of us develop all kinds of personalities, some more strong, some more meek. Let's seek to lay aside our own selves and put on God's will and plan".
"We work with people that, regardless of whether they are from one church or another, whether they are Christians or not, each have different personalities, different backgrounds, and it's a difficult job. But investing in people is also the most important thing we can do", said Dan Paloș, a businessman.
Another participant stressed that they "were challenged in Bucharest. I'm glad they came, and travelled down to Bucharest, and thought of us. I'm glad they launched this challenge to form Guild groups and I believe God is calling us to a new work. In these troubled times we need each other".
"The most important thing is what we do after the event. What motivates me now is to push things further in this area. In Târgoviște, a city of Romania, we are starting a group of business people who understand their calling".
"Change of values and principles happens in small groups"
Ruben Marian underlined that although participants "were inspired and motivated, the change of values and principles really happens in small groups".
"That is why we have materials translated into Romanian from several organizations with whom we collaborate, from Faith Driven Entrepreneurs in the United States, Europartners in the Netherlands and many others, and we also have people to provide support and help for all those who want to start a group with Christian entrepreneurs, anywhere in the country", concluded the Guild Faith Cluj-Napoca co-founder.