According to the International Organization for Migration (IOM) last report, an estimated 206,400 migrants and refugees entered Europe by sea in 2016 up to 5 June, arriving in Italy, Greece, Cyprus and Spain.
No fatalities have been recorded in the Mediterranean since Saturday, 4 June. Deaths so far this year are 2,809, compared with 1,838 through the first six months of 2015.
This means that fatalities in the Mediterranean in 2016 are nearly 1,000 more than last year's mid-year total, even though 2016's mid-year finishes in three weeks. Only from May 25 to June 3 , 2,205 has been rescued, and 1,457 are dead/missing.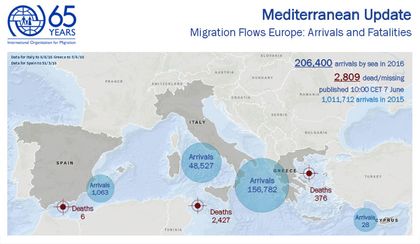 206,400 migrants and refugees entered Europe by sea in 2016 up to 3 June / IOM
SHIPWRECK IN CRETE
The last known fatality took place on June 3, when around reports 342 people were rescued from a shipwreck off Crete. IOM fears some 320 migrants and refugees remain missing, based on testimony received from survivors whom IOM staffers were able to interview in the Italian port of Augusta after their rescue.
Those 320 missing (and presumed drowned) are included in the latest fatalities total, and are in addition to bodies recovered last week by rescue crews.
"Before sinking, a father who was travelling with his wife and two sons entrusted his three-year-old girl to another migrant he met on board", IOM's team recorded. "He said 'I entrust you my daughter because I feel that we will not survive.' He died, together with his wife and the other children. He asked the man to look for his relatives in Egypt, in order to give them his daughter."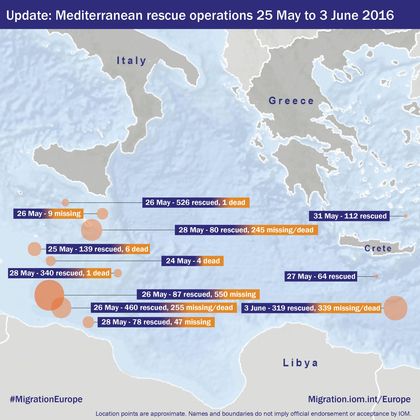 Mediterranean rescue operation / IOM
156,567 HAVE ARRIVED IN GREECE
The IOM report notes the dramatic change in migrant flows occurring on the route between Turkey and Greece's Aegean islands. Some 156,567 men, women and children arrived through 31 May.
During 31 days in May, IOM reports just 1,465 migrants and refugees landed in Greece by sea, which is fewer than the total arriving daily on this route in both January and February.
ERITREANS, THE BIGGEST GROUP IN ITALY
In Italy, the Ministry of the Interior notes Eritreans arriving by sea in the period of 1 January through 31 May, comprise the largest group of arrivals, at 6,076. After Eritrea, Nigeria is in second place with 5,967 arrivals. Other important sending countries are Gambia, Somalia, Côte d'Ivoire, Guinea, Sudan and Mali.

Arrivalsin Italy and Greece
For the most recent month, the Ministry reports 19,925 arrivals, or nearly half the year's total so far. Migrant arrivals in May 2015 were 21,231.
The protection of unaccompanied minors is a major concern. They are at high risk of exploitation and human trafficking for both sex and forced labour. IOM works with the Italian government at the landing points in Italy to facilitate the screening and identification of minors and victims of trafficking so that they can be referred to the responsible authorities for protection and assistance.