According to a recently released poll, the majority of the British doctors are concerned about the government's medical at-home abortion protocol.
The research company Savanta ComRes has surveyed 1,000 general practitioners (GPs) for a poll carried out in February 2021 on behalf of the Society for the Protection of Unborn Children (SPUC) and Christian Concern, to know their opinion about the early medical abortion (EMA) at home, also known as DIY (Do It Yourself) abortion.
On March 2020, at the beginning of the pandemic, the United Kingdom government approved that, following a telephone or e-consultation, women could have abortion pills sent to them in the post by abortion providers up to 10 weeks' gestation.
The scheme was a temporary emergency measure, to protect women from coronavirus, but the government launched a public consultation on whether it should be made permanent, which finished at the end of February.
86% of GPs concerned about coercion and abortions past legal limit
The Savanta ComRes poll shows that "57% of the GPs said they are concerned about women having a medical abortion at home after a phone or video consultation with a doctor".
Furthermore, most of those surveyed (86%) worried about women having a medical abortion past the legal limit of ten weeks, or being coerced into an abortion by a partner or family member.
The poll also finds that 87% believed there could be "unwanted abortion arising from domestic abuse by partners controlling their actions with a telemedicine abortion appointment where the doctor has not seen the woman in person".
Eight in ten (82%) feared abortion pills could be falsely obtained for another person. A report released by Christian Concern revealed that at least 26 clients "were able to obtain abortion pills using false information for a client who does not exist on the NHS register".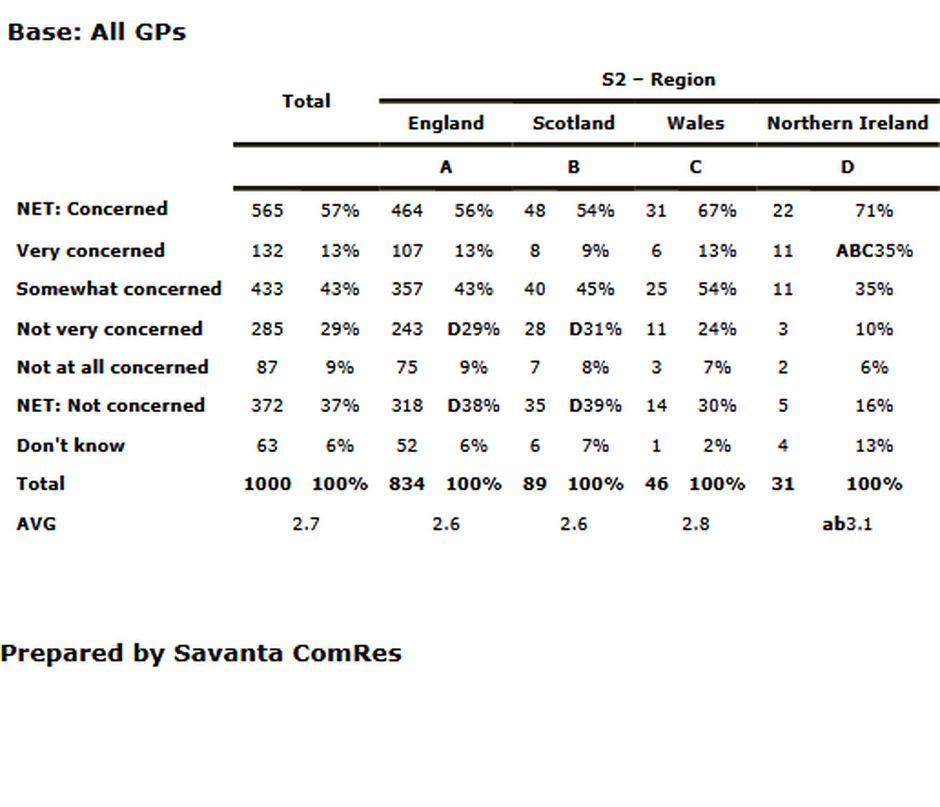 [photo_footer] The majority of the GPs said they are concerned about women having a medical abortion at home. / Savanta ComRes. [/photo_footer]
SPUC: "This reckless policy must end"
"These results are a searing indictment of a rushed, badly-thought through policy. The Department of Health is clearly and completely out of touch with GP's opinion on this issue. This reckless policy must end", stresses John Deighan, Deputy CEO of SPUC.
Deighan warns that "the risks of coercion are obvious, as are the mental health implications for women of having to dispose of a terminated pregnancy themselves".
"Despite the rise in domestic violence during COVID-19 lockdown the government has chosen to abandon woman to DIY abortion, with no safeguarding to protect them from coercion or abuse", adds the CEO of SPUC.
Gregory Gardner, a longstanding GP and honorary clinical lecturer at the University of Birmingham, agrees that "the potential for coercion and medical error is real, and properly acknowledged in the poll by a large majority of GPs".
Andrea Williams, the chief executive of Christian Concern denounces that "the Royal College of Obstetricians and Gynaecologists and abortion providers have cynically jumped on the public health crisis to push through their radical pro-choice ideology at the expense of women".
EAUK: "The lives of unborn children have been devalued",
The Evangelical Alliance of the United Kingdom (EAUK) had already pointed out that the public consultation "means the lives of unborn children have been devalued", and asked "that this temporary measure be ended immediately".
"There are much greater protections for women and their unborn children with in-person appointments. Medical professionals are able to outline the risks, ensuring informed consent. […] There are also more safeguarding provisions to prevent coerced abortions, incorrect use, impersonation or further abuse of a patient", added the EAUK.